Hi everyone, how are you doing? Today, I'd like to report on good news from Michelin Guide that the first Japanese chef to get three Michelin stars, achieving the highest accolade in France.
French restaurant Kei in Paris has earned a three-star rating in the 2020 French edition of the Michelin Guide released Monday, making its owner-chef Kei Kobayashi the first person from Japan to receive the honor in France.
What's the Michlin guide?
Michelin Guides (French: Guide Michelin [ɡid miʃ.lɛ̃]) are a series of guide books published by the French tyre(for cars) company Michelin for more than a century.
The term normally refers to the annually published Michelin Red Guide, the oldest European hotel and restaurant reference guide, which awards up to three Michelin stars for excellence to a select few establishments.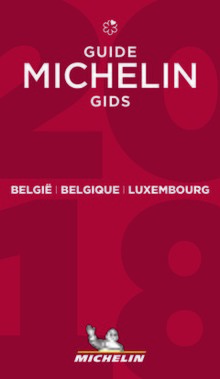 The acquisition or loss of a star can have dramatic effects on the success of a restaurant. Michelin also publishes a series of general guides to cities, regions, and countries, the Green Guides.
The French edition of the Michelin Guide,the bible of gastronomy, for the first time in its history awarded the highest rating of three stars to a Japanese-born chef.
The accolade, unveiled at a ceremony in Paris on Monday evening, went to chef Kei Kobayashi who, according to the guide, "is a virtuoso at marrying flavours and always spot-on with his conception of the dish."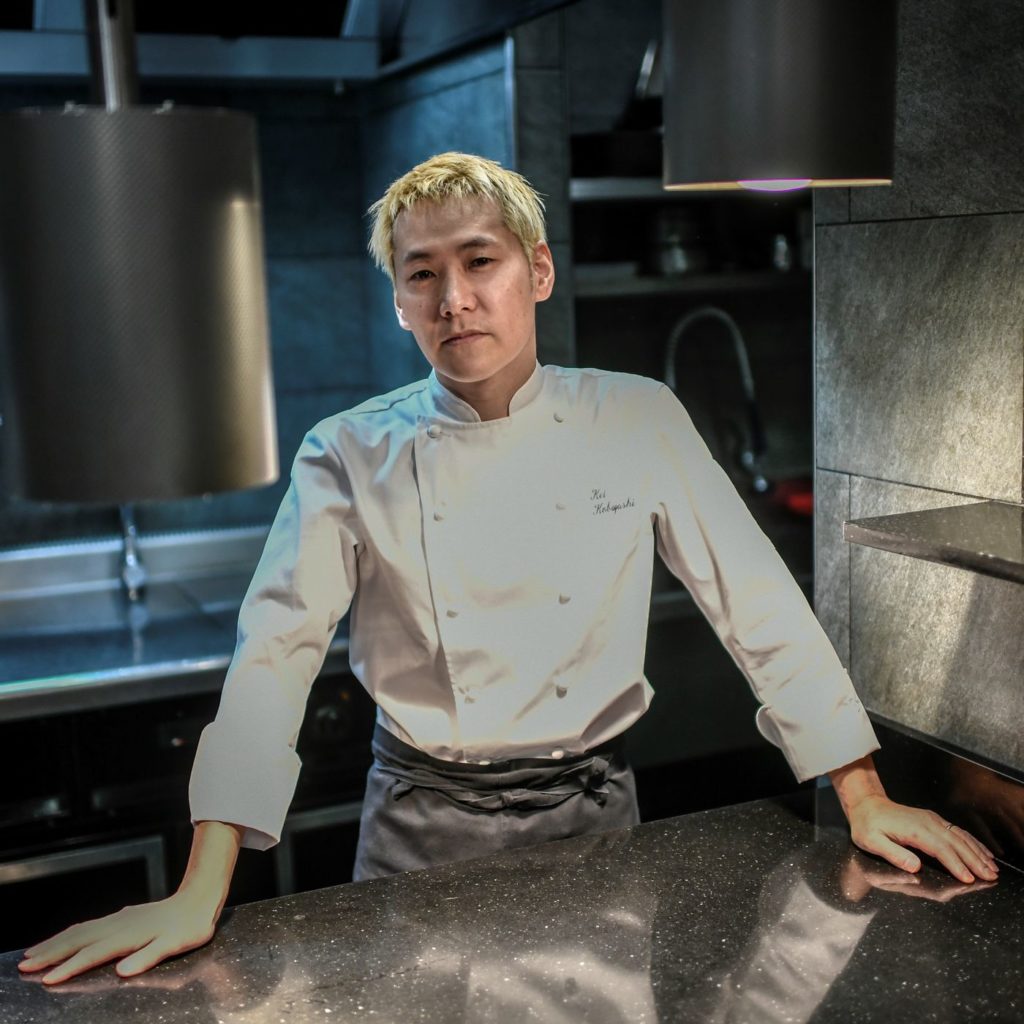 Japan's Kei Kobayashi reacts as he gets three stars in the 2020 Michelin guide for the restaurant Kei
Kei opened in central Paris in 2011 and won a star the following year. Its status in the prestigious guide's listings for France was upgraded to a two-star rating in 2017.
Kobayashi, 42, is known for his unique take on French cuisine featuring Japanese ingredients. At the ceremony unveiling the latest French edition of the Michelin Guide, Kobayashi said he was very surprised by the three-star rating.
"I appreciate France, which has accepted a number of Japanese chefs who are foreigners," he said.
Kobayashi, who hails from the city of Suwa in Nagano Prefecture, central Japan, where his father was a chef in a traditional Japanese restaurant.
He accrued years of experience in French restaurants in Tokyo and Nagano before moving to France.
After being inspired, according to the Michelin guide's biography of the chef, by watching a documentary on French cooking, he moved to France in 1999 and trained under three-star chefs Gilles Goujon.
While further developing his skills in Paris, he served as deputy chef at a three-star restaurant of famed chef Alain Ducasse.
Japan has several dozen restaurants with Michelin stars, but Kobayashi is the first chef from Japan to be awarded the recognition for a restaurant in France, a country seen by some as the touchstone of fine dining.
"How do you achieve it?," he said after being presented at Monday's ceremony with a chef's white tunic with three stars embroidered onto the left breast.
"You need to progress, you need to reach new levels, that's what it is. You need to look for great products and so on," he said. "So you need emotion, you need to share the pleasure with the team."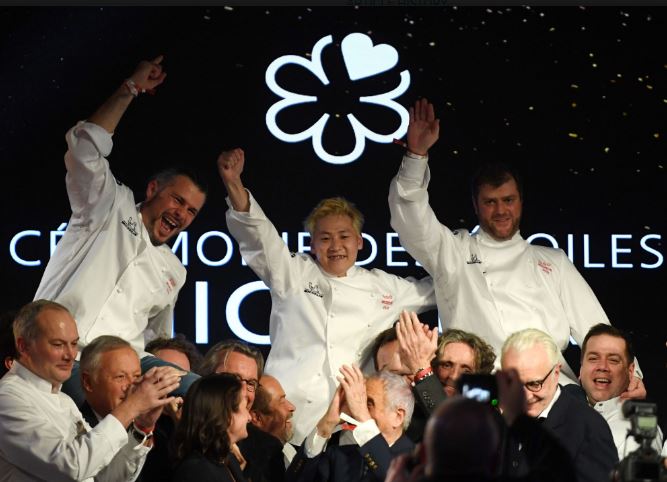 The guide said its reviewers were bowled over in particular by one of the dishes Kobayashi serves at his restaurant: a garden of crunchy vegetables, Scottish smoked salmon, a rocket foam and a lemon emulsion.
Kobayashi was one of three first-time recipients of three stars in the French 2020 edition of the guide, while there were 11 new holders of two stars and 49 newly-minted one-star restaurants.
The guide, which was first published in 1900, has been seeking to embrace innovative chefs, with a particular emphasis on sustainable cooking.
What does three Michelin stars mean?
Michelin stars are a rating system used by the red Michelin Guide to grade restaurants on their quality. The guide was originally developed in 1900 to show French drivers where local amenities such as restaurants and mechanics were.
According to Michelin, restaurants are selected on four criteria: the quality of the ingredients used, mastery of flavor and cooking techniques, the personality of the chef reflected in their cuisine, and the value for money and consistency between visits.
The rating system was first introduced in 1926 as a single star, with the second and third stars introduced in 1933.
According to the Guide, one star signifies "a very good restaurant", two stars are "excellent cooking that is worth a detour", and three stars mean "exceptional cuisine that is worth a special journey".
The listing of starred restaurants is updated once a year.
What are List of Michelin three-star restaurants?
Currently, there are 137 restaurants with 3 Michelin stars based on the 2019 Michelin Guides of the particular city or country.
Countries and Areas by Number of Michelin 3-Star Restaurants

Let's have a meal and enjoy it at the three-star restaurant, shall we?
Finally, will you visit the following blogs of Japanese food producing 29 restaurans awarded by the world's hightest 3-star Michelin rating, as follows; ① Washoku (Japanese authentic cuisine) (Introduction)② Washoku (Japanese cuisine)、No.1 Honzen Ryōri, ③ Washoku (Japanese cuisine)、No.2 Kaiseki (懐石) Ryōri, No.3 Kaiseki (会席) Ryori,④ Washoku (Japanese cuisine)、No.4 Shōjin Ryōri (Buddhist dish) ,thanks