Japan's "World No.1" is something that is surprisingly unknown to many people in Japan.
From the things we always casually see, to the unknown world of nature, to the fruits of hard work and technology, Japan has many "world No. 1s" that we can be proud of.
In this issue of "Actually, Japan is the World's No. 1", we would like to introduce some of Japan's World's No. 1s that are closely related to travel.
What is the airport rated the cleanest among 500 airports in the world?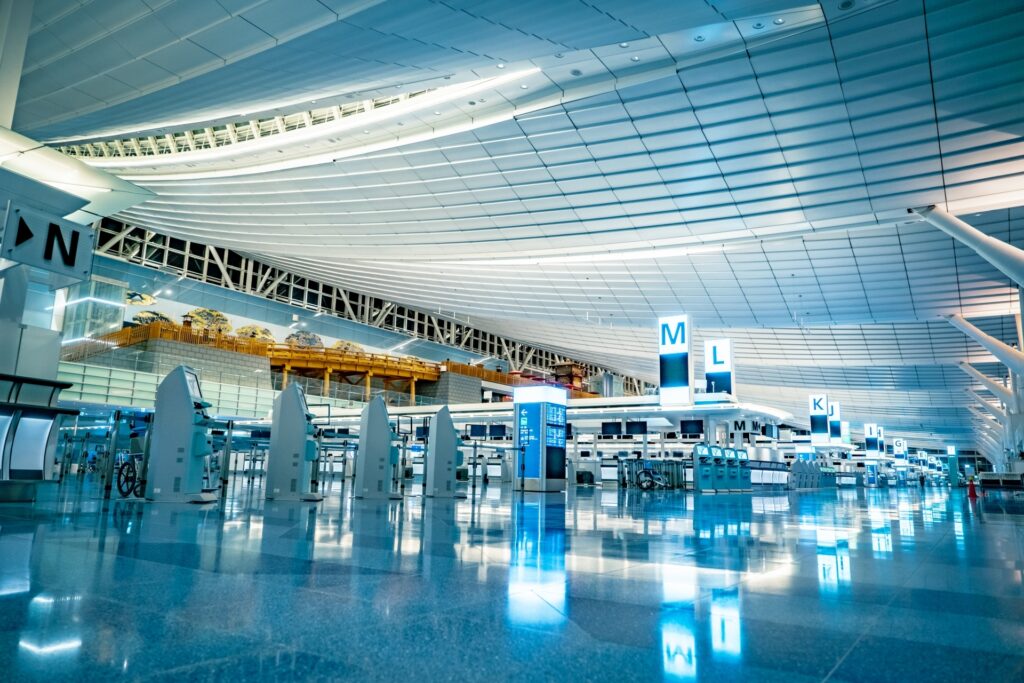 Slightly off topic, but did you finish cleaning at the end of the year in order to welcome the New Year in a pleasant environment?
According to a private survey, not a few people nowadays proceed with cleaning little by little steadily on a regular basis rather than doing it all at once at the end of the year.
Even so, it is said that nearly 30% of people still clean at the end of the year in batches, so I guess those who are reading this article must have done their best to finish the year-end cleaning.
Hi everyone, today is a story related to such cleaning.
Do you know which airports, an essential part of the traveler's experience , are said to be the cleanest in the world?
You may be thinking, "How could I possibly know that?
But Skytrax, an aviation rating company, annually announces the "World's Cleanest Airports" in its "World Airport Awards".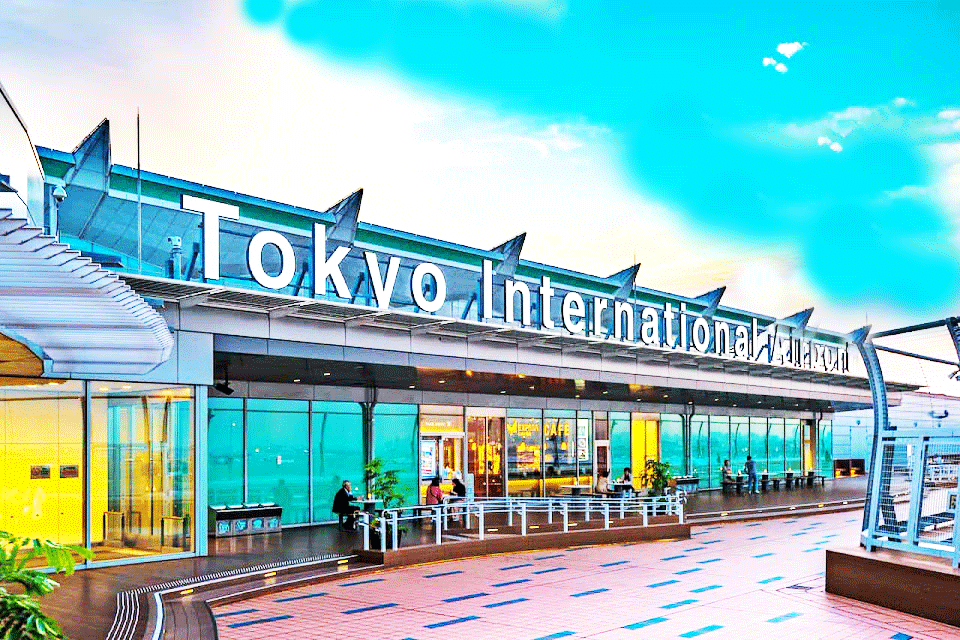 The latest edition (2022) of the study, which covers more than 500 airports around the world, with the free cooperation of people from more than 100 countries, shows that Tokyo International Airport (Haneda Airport) is recognized as the cleanest in the world.
Moreover, it has won this honor for seven years in a row. That's amazing, isn't it?
Cleaners with professionalism and pride
Why is Haneda Airport so beautiful? The answer is generally attributed to Japan Airport Techno Corporation (Ota-ku, Tokyo), which is in charge of beautifying the environment and making the airport a pleasant place to be.
The company's cleaners work at the airport with thorough professionalism and pride, from their grooming and smiles to the way they hold tools and their cleaning manners.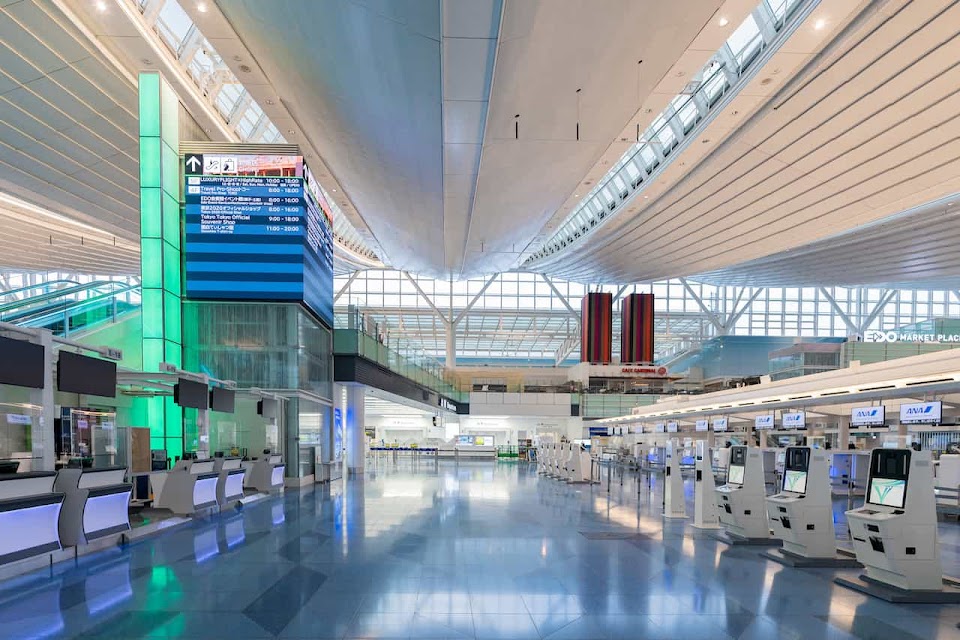 The company has also established its own check system to maintain cleanliness, and in addition to the cleaners, there are staff members who patrol the airport to check for dirty areas.
In addition, there is a well-known "charismatic cleaner" named Haruko Niitsu who motivates hundreds of cleaners and instructs them on cleaning methods.
She has been featured on NHK's "Professionals: The Way of Work" and has published various books, and is considered a top runner in the cleaning industry.
Her motto: Clean with care, especially in places we can't see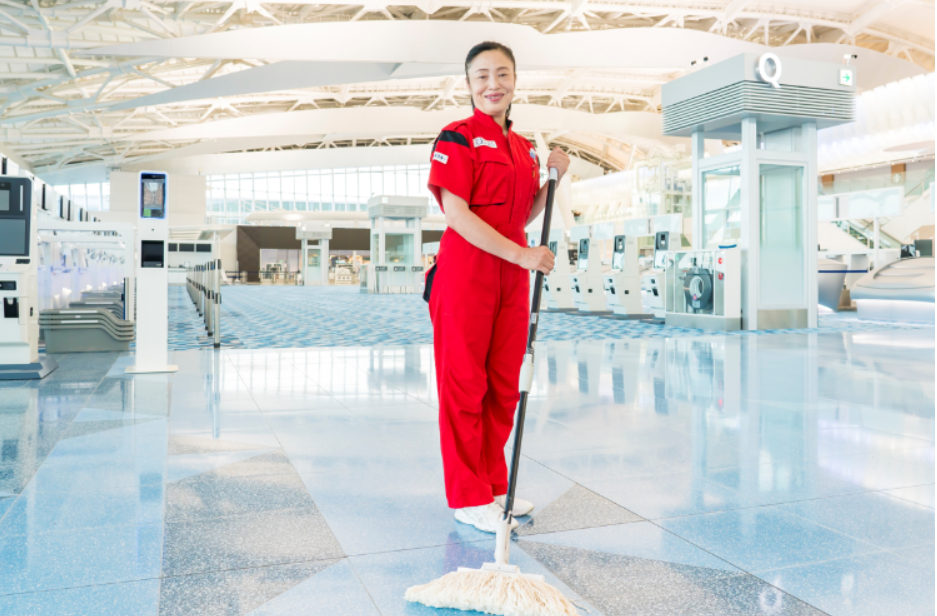 If you have a chance to visit Haneda Airport, take another look at the baggage pushcarts, automatic doors, window glass, exterior walls, escalator railings, and sofas in the lobby.
Seeing the airport in its new state of stunning cleanliness may just make you feel even more refreshed for the New Year and every time you visit.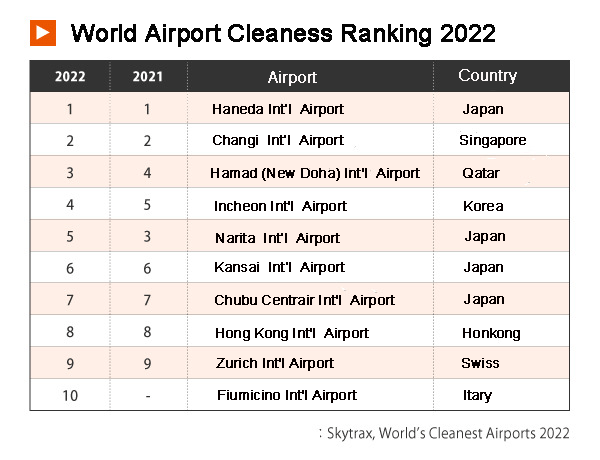 World's Best Domestic Airports
Haneda Airport was further recognized for the overall ease of use and comfort of its domestic flight areas, and for the 10th consecutive year was ranked No. 1 in the "World's Best Domestic Airports".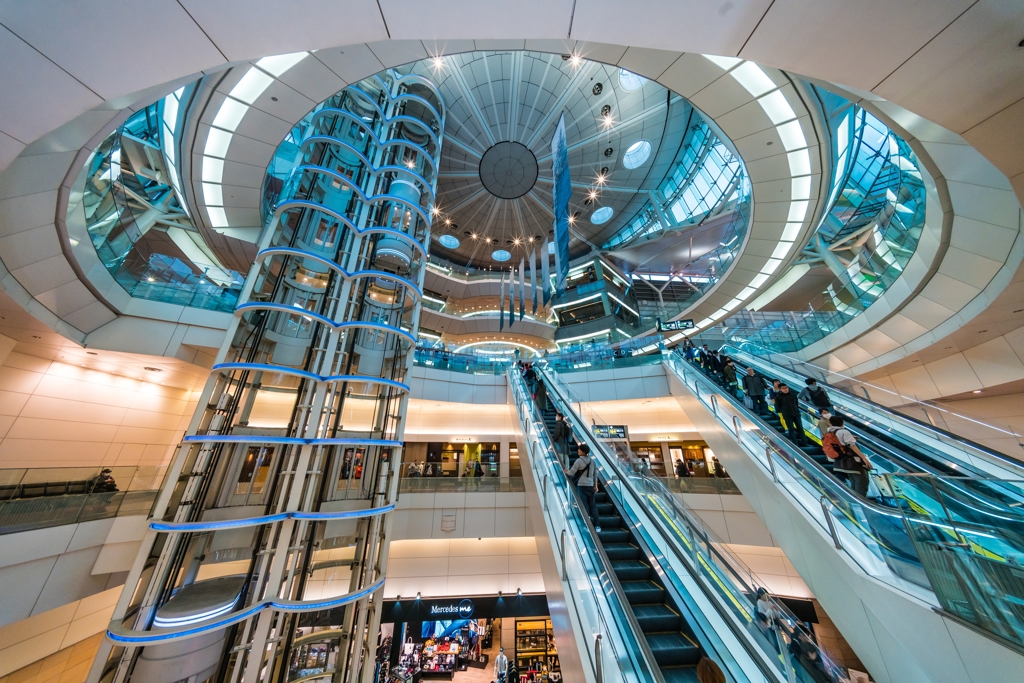 And for the 4th consecutive year No. 1 in the "World's Best PRM / Facilities for the Disabled," which selects passenger terminals with outstanding initiatives for customers requiring assistance during transportation, including the elderly and disabled.
The airport was selected as No. 1 in the "World's Best PRM / Disabled Facilities" category.
Also in this category, Narita and Kansai International Airport (KIX) came in second and third, respectively, with Japanese airports occupying the top three spots.
World's Best Airports
For the second year in a row, Hamad International Airport in Doha, Qatar, was named the "World's Best Airport" for 2022.
Opened in 2014, Hamad Airport served 17.1 million passengers in 2021 while many airports were affected by the Corona disaster, and expansion plans are still underway.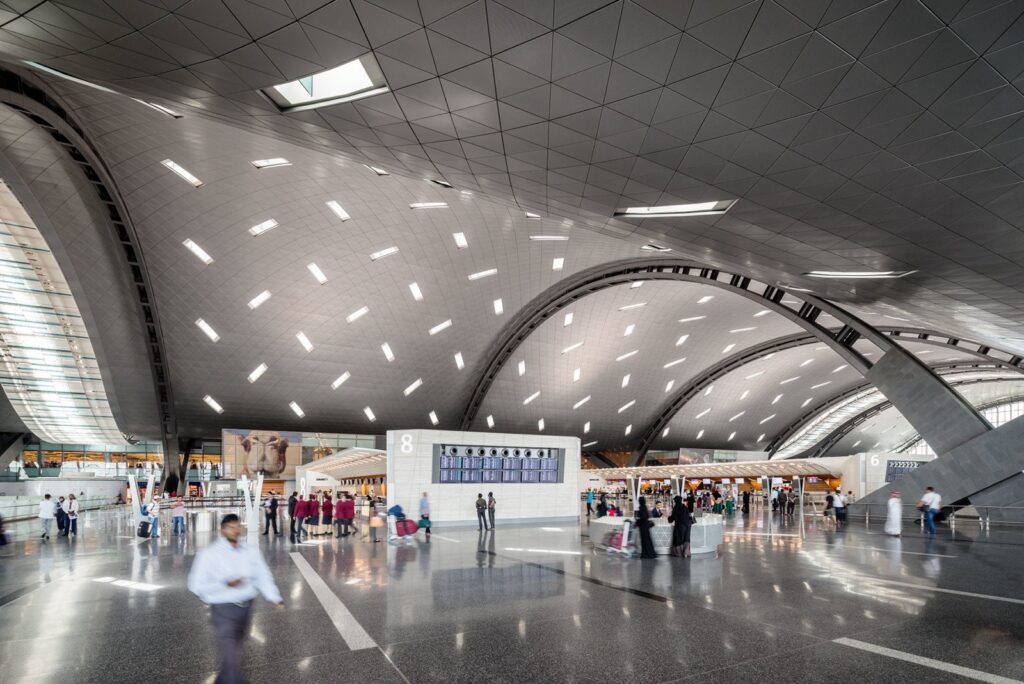 The airport is highly regarded for its luxurious facilities and excellent service, as well as the world's finest airport architecture.
It is a hub for Qatar Airways and is an official partner of the World Cup soccer tournament held this winter.
The top three in this category remained unchanged from last year, with Haneda Airport in second place and Singapore's Changi Airport in third.
Haneda Airport was in second place for the fourth consecutive year, while Narita Airport was in fourth place, up one rank from last year, and Kansai International Airport was in tenth place, down one rank.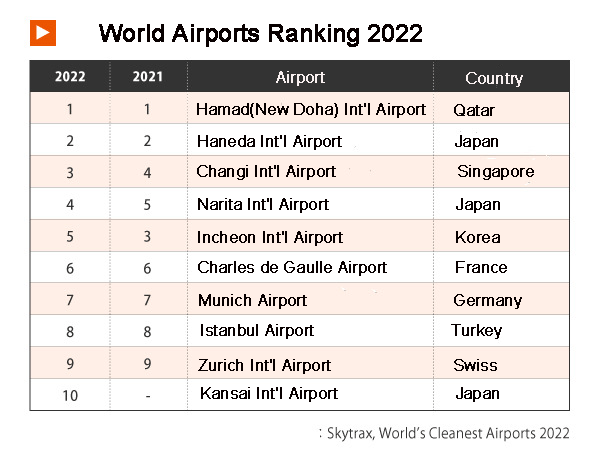 Other awards included Singapore's Changi Airport for "World's Best Airport Staff Service" and "World's Best Airport Dining";
Istanbul Airport for "World's Best Airport Shopping" and "Most Family Friendly Airport";
Nagoya's Central Japan International Airport was named "World's Best Regional Airport";
and Copenhagen Airport was awarded "World's Best Airport Immigration" and Zurich Airport was awarded "World's Best Airport Security".
In making the announcement, Skytrax CEO Edward Plaisted congratulated the winners and said, "The winning airports have had a very difficult couple of years dealing with the many constraints caused by the new coronavirus outbreak and the significant drop in travel demand.
With air travel rapidly returning to normal levels, the challenge for all airports is to provide the highest level of service to their customers as travel expectations rise," he said.
Bon voyage!