Konnichiwa, Hi everyone, Ogenkidesuka? Today's topic is Animation or Anime (Actually this word "Anime" is they say used only in Japan)
Speaking of Animation, I recall instantly of American cartoon "Popeye" just when I was a junior high schood, which was broadcasted from 1959 to 1965 with the highest TV viwing rate of 33.7% and it was televised many times after that.
At that time, Japanese people could commonly afford to get a television set at home, so we could enjoy it heartily.
After "Popeye", we also enjoy "Atom boy" with records 40.3% of the highest ratings in Japan for anime programs and "Sazae-san" with audience viewing 40% at best, and 20% otherwise, and both animes are made in Japan, I haven't almost seen animes after that as I have been busy with my work.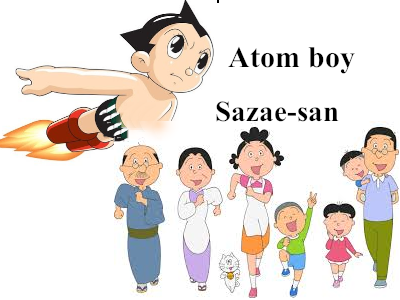 Global market for Japanese anime industry closes to 1 trillion yen in overseas markets
The Japan Animation Association published the "Anime Industry Report" on December 4, 2018, summarizing the trends in Japanese anime in 2017.
The animation industry has the highest value for five consecutive years, reaching 2,152.7 billion (about a little over 2 trillion) yen (about 19 billion dollars) in 2017 at 108.0% over the previous year.
Increase for the first time in a row. This is a high growth of about 1.7 times over the past eight years from 1,254.2 billion yen in 2009.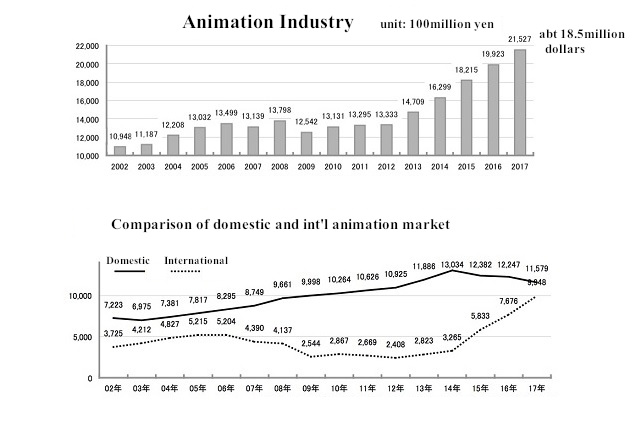 The Anime Industry Market of the Japan Animation Association is a summation of the market size of the end market spent on Japanese anime both in Japan and abroad.
In addition to sales of television, theater sales, video packages and distribution, it also includes a variety of secondary markets, including commercialization, music, live entertainment, and entertainment.
Above all, the overseas market was outstanding in 2017. It shows how much the consumer spent on Japanese animation in countries other than Japan.
This amount is a high increase of 29.6% over the previous year, totaling 994.8 billion yen (You'll see the above chart). It reflects the high popularity of Japanese animation overseas as pointed out in recent years.
On the other hand, the domestic market, contrary to the overall growth, has declined for three consecutive years, compared with 1,303.4 billion yen in 2014, 1,238.2 billion yen in 15 years, 1.224.7 billion yen in 16 years, and 1,157.9 billion yen in 17 years. As a result, in 2017, the overseas market accounted for nearly half of the total.
The growth of the Japanese anime industry is supported by the expansion of overseas markets. In Japan, however, growth areas are divided into stagnant fields. Live areas such as events and concerts increased by 16.3, while distribution increased by about 10.1%. However, the video package and the movie were weak.
Animation is a splendid thing of Japanese culture
It is said that 60 percent of animated videos broadcast around the world are made in Japan lately.
In the meantime, after World War II, we can say that America dominated the movie,animation fields all over the world especially in the 1950s.
When I was in high school days, I very often used to skip the class and go to the movie theater to see almost all American movies, especially spectacular ones like "Ben Hur" starring Charlton Heston made in MGA (Metro-Goldwyn-Mayer Inc.,).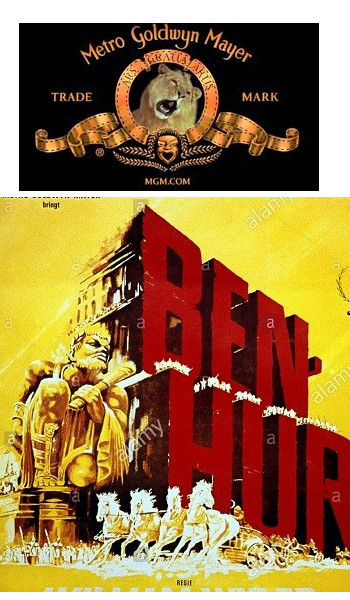 While American movies, animations have been declining year-by-year, as a natural consequence, the sales of entertainment industry such as movies, animated films itself are stagnant for which I miss very much.
In the otherside, however, anime production is currently getting active in China. But a Chinese college student said, "Japanese anime is much more beautifully drawn than Chinese anime. Recent problems in the relationship between China and Japan don't affect my love for Japanese anime."
It was a good news for us Japanese that it is the first Japanese animated film to win an Oscar since Miyazaki Hayao's "Spirited Away" was named best animated feature film in 2003.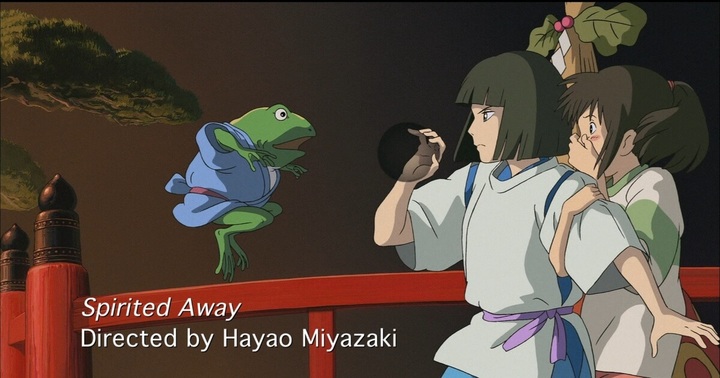 Studio Ghibli
Studio Ghibli, Inc. is a Japanese animation film studio based in Koganei, Tokyo, Japan. The studio is best known for its anime feature films, and has also produced several short films, television commercials, and one television film.
It was founded on 15 June 1985, after the success of Nausicaä of the Valley of the Wind (1984), with funding by Tokuma Shoten. Studio Ghibli has also collaborated with video game studios on the visual development of several video games.
Six of Studio Ghibli's films are among the 10 highest-grossing anime films made in Japan, with Spirited Away (2001) being the second highest, grossing over US$290 million worldwide.
Many of their works have won the Animage Anime Grand Prix award, and four have won the Japan Academy Prize for Animation of the Year. Five of Studio Ghibli's films have received Academy Award nominations.
Spirited Away won the Golden Bear in 2002 and the Academy Award for Best Animated Feature Film in 2003. Totoro, a character from My Neighbor Totoro, is the studio's mascot.
On 3 August 2014, Studio Ghibli temporarily halted production following the retirement of director Hayao Miyazaki, who co-founded the studio with the late Isao Takahata.
In February 2017, Toshio Suzuki announced that Miyazaki had come out of retirement again to direct a new feature film, How Do You Live?, with Studio Ghibli.
The name Ghibli was given by Hayao Miyazaki from the Italian noun ghibli, based on the Libyan-Arabic name for the hot desert wind of that country, the idea being the studio would "blow a new wind through the anime industry".
Why did you come to Japan? (You wa Nani shi ni Nippon e?)
Why did you come to Japan? (Yū wa Nani shi ni Nippon e?) is a Japanese television programme presented by a comedy duo known as "Bananaman". It is a regular programme on TV Tokyo on Monday evenings.
Due to its popularity, it was moved to the prime time evening slot on Mondays from April 2013. In the programme, a team of interviewers go around various airports in Japan, with Narita International Airport as their main reporting hub, and ask non-Japanese arrivals "Why did you come to Japan?".
They then attempt to follow the interviewees on their journeys around Japan, in a process called mitchaku shuzai (lit. "close-contact reporting").
The show is narrated by Nigerian-born TV personality Bobby Ologun, with additional voiceovers provided by Daniel Kahl and Carolyn Kawasaki.
The programme has featured coincidental encounters with celebrities at the airport, including British actor Benedict Cumberbatch and American former baseball player Leron Lee.
Among many interviewees, there are many who say they watch Japanese animation on TV, are moved to study Japanese, and learn about their favorite culture. That's why they come to Japan.
And among them, there was one good example of a 26-year old American from Michigan to become "Ninja".
Ninja influenced on Japanese Anime from USA
Aichi Prefecture/Province has recruited Ninjas (a Japanese secret agent in feudal times (with almost magical powers of stealth and concealment) to promote the attraction of Prefecture and the audition was held in March 15, 2019.
John Patrick Jandernoa, 26, from Michigan, USA, was chosen from 20 applicants of non-Japanese because of his japanese language skills and his acrobatic skills, taking advantage of his experience as a dance performer.
He was attracted by an Animation of Ninja on TV when he was little and he has longed for being a Ninja. So he started to acquire Japanese language.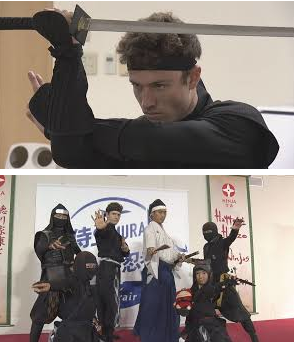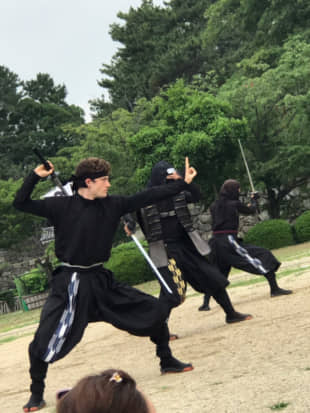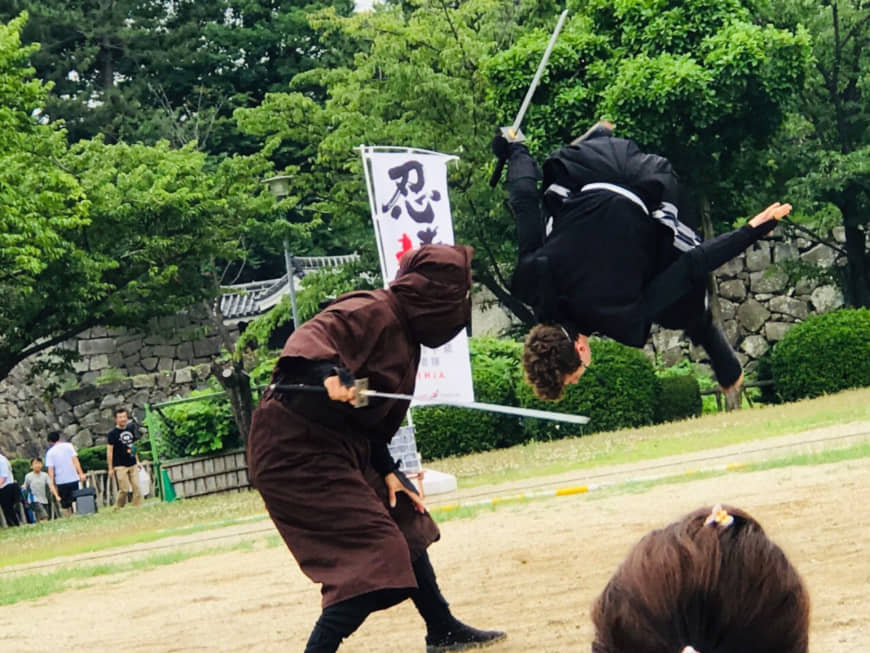 World No.2 Tennis Player : Naomi Osaka is known as a comic book lover, especially Japanese Anime and Manga.
The Women's Tennis Association (WTA) announced its new ranking on Jan. 28, 2019 and named Osaka the new No. 1 in the singles category. It is a historic first for an Asian and Japan tennis player–woman or man–to soar to the top of the list.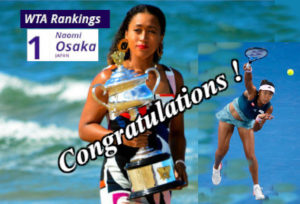 According to the latest report of June 24, 2019, however, sorry to inform you that she ranked the second, but she will be back to the top again, I hope.
Finally, we have similar blogs, "Manga" and "Anime film 'Mirai' wins Annie Awards" to be worth a visit,
And other blogs, ninja,and Newly Appeared World No. 1 Tennis Player Naomi Osaka
thanks