Hi、everyone  how are you?  Today's subject is "Raiho-Shin" (visiting deities) that is newly 10 places decided by UNESCO's Intergovernmental Committee on Nov. 29, 2018.
UNESCO added 10 "ritual visits of deities in masks and costumes" of Japan to the Representative List of the Intangible Cultural Heritage of Humanity.
Where are 10 Raiho-Shin (Visiting Deities)?
The following is a list of "Raiho-shin, ritual visits of deities in masks and costumes" added to the UNESCO Intangible Cultural Heritage list.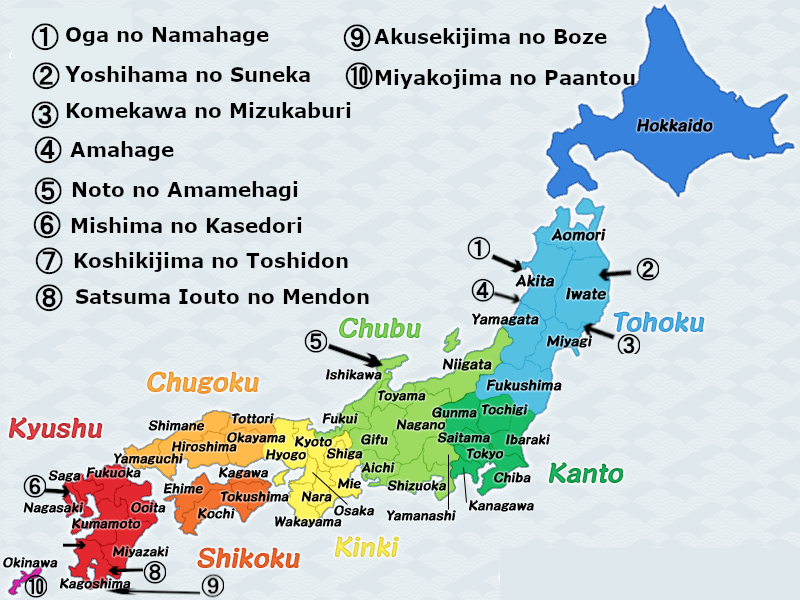 The decision to add the visits by the deities, known as "raiho-shin" in Japanese, was made during a meeting of UNESCO's Intergovernmental Committee for the Safeguarding of the Intangible Cultural Heritage in Port Louis, Mauritius.
As the newly registered visiting deities will be added to the existing entry "Koshikijima no Toshidon," a raiho-shin from an island in the southwestern Japanese prefecture of Kagoshima, the number of Japan's intangible cultural heritage listings will remain at 21.
In the raiho-shin rite, a person dons a mask or a costume to look like a certain deity, and visits neighborhoods or houses around New Year's Eve, New Year's Day or other special occasions to warn lazy residents and bring luck to the locals.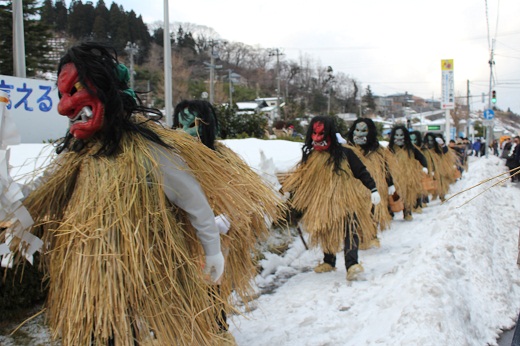 "Namahage" visiting deities descend from the mountains with torches in hand into Oga, Akita Prefecture
Besides "Toshidon," which was registered in 2009, the updated listing includes the deities "Oga no Namahage" from the northwestern prefecture of Akita, "Noto no Amamehagi" of Ishikawa Prefecture along the Sea of Japan, "Miyakojima no Paantou" from the southernmost prefecture of Okinawa and others ranging from the Tohoku region in the north to Okinawa, over eight prefectures.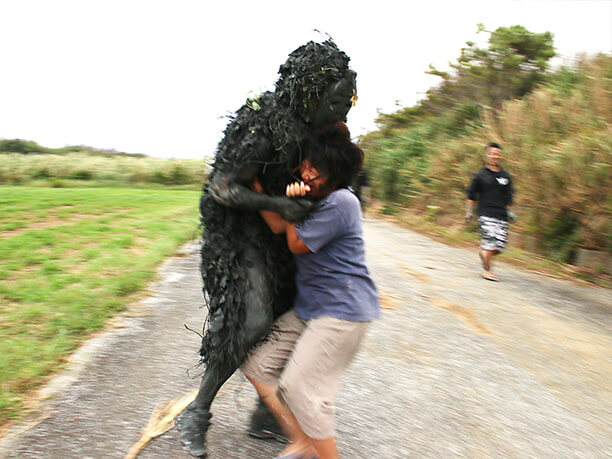 Paantou at Miyakojima, Okinawa
All 10 raiho-shin are already designated as Important Intangible Folk Cultural Properties by the Japanese government.
As "Namahage" resemble Toshidon in their visits to homes to bring good luck on New Year's Eve, calls to make a separate entry for them on the UNESCO list had been rejected in the past.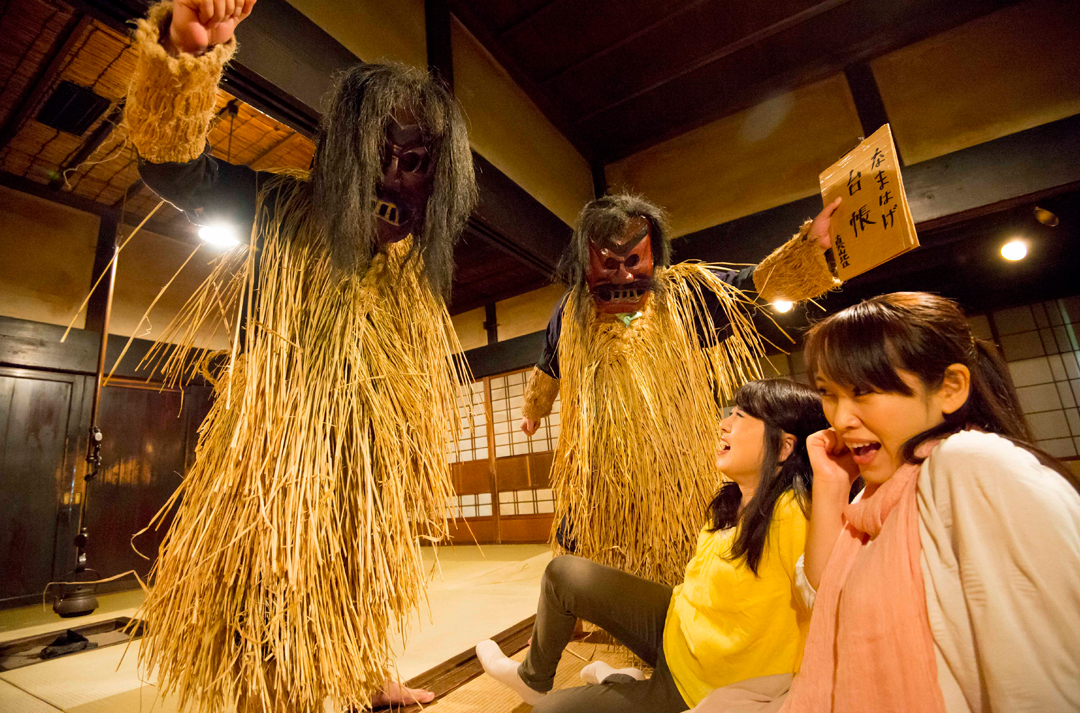 In the festivals, which take place annually on days marking the beginning of the year or when the seasons change, local residents step into the role of gods, often decked out in outlandish costumes and frightening masks, issuing warnings as well as messages of joy.
Because of this, the Japanese government submitted a proposal to have all of the raiho-shin added to a single listing in March 2016. As UNESCO puts priority on proposals by countries with few listings, Japan's application was not up for examination last year.
A festival in Miyakojima, Okinawa Prefecture, featuring foul-smelling "Paantou" deities and one in Oga, Akita Prefecture, in which "Oga no Namahage" deities make their return, are among the newly recognized heritages.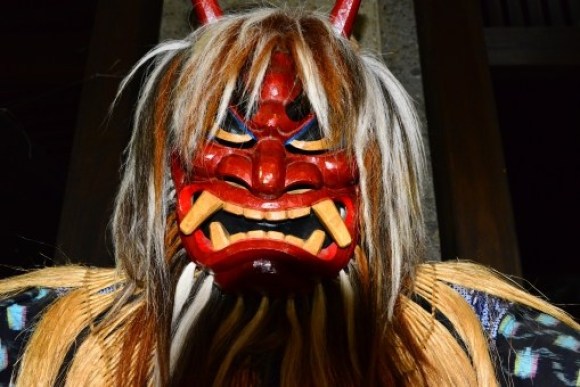 Oga no Namahage
As it is difficult to register individual events similar to those that already have the status in the same country, the central government decided to seek recognition for the 10 festivals as a group by adding nine similar events to "Koshikijima no Toshidon" (Toshidon deities on Koshikijima island) in Satsuma-Sendai, Kagoshima Prefecture, which was inscribed in 2009. The strategy proved successful.
The Intangible Cultural Heritage list covers the performing arts, festivals, social customs and traditional craftworks.
Traditions in other countries that newly received UNESCO's protected status include Jamaican reggae music and perfume-making techniques in southeastern France.
Facing chronically low birth rates and a declining population, the local areas concerned have been struggling to find a way to continue their folk rituals.
Residents hope that the UNESCO approval will boost efforts to hand down the important cultural assets to future generations.
More than 100 residents of Oga, Akita Prefecture, burst into cheers when a UNESCO official announced the decision during a deliberation open to public viewing at the Oga city government building.
"Oga no Namahage" deities, also on hand, let out roars of joy: "We did it!"
On New Year's Eve, Namahage demons visit homes to frighten children with the traditional phrase, "Are there crying children here?"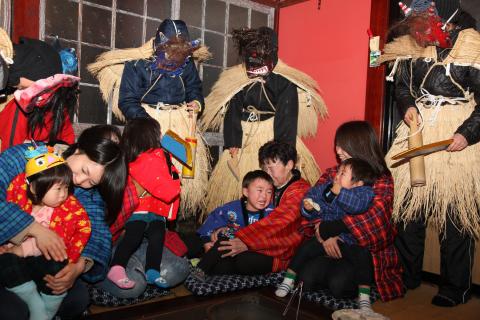 Ahead of the UNESCO registration, the number of applicants for the test to become an official "Namahage dendoshi" (Namahage evangelist), held by the Oga City Tourist Office and other entities since 2004, saw an increase with more than 100 would-be evangelists, exceeding the quota of 90, applying for the Dec. 2 test this year.
The number of such examinees had been falling since it peaked in 2005 with 112 candidates and fell below the quota in recent years, with around 70 to 80 candidates.
Makoto Amano, 59, a volunteer guide for Oga Peninsula and a certified Namahage evangelist, was delighted by the UNESCO recognition, saying, "I am happy that the ritual is seen as valuable.
"We may need to gear up to receive more tourists as a next step."
In the Yoshihama district of Ofunato, Iwate Prefecture, there is a traditional ritual called "Yoshihama no Suneka" (Suneka of Yoshihama) that has continued for more than 200 years to pray for abundant harvests and good health in the coming year.
On Jan. 15, which is traditionally referred to as "minor" New Year's Day in contrast to the "major" holiday on Jan. 1, residents portraying Suneka gods dress in monster costumes and scary masks, visiting about 300 homes in the community to scold people for being lazy and teach children good behavior.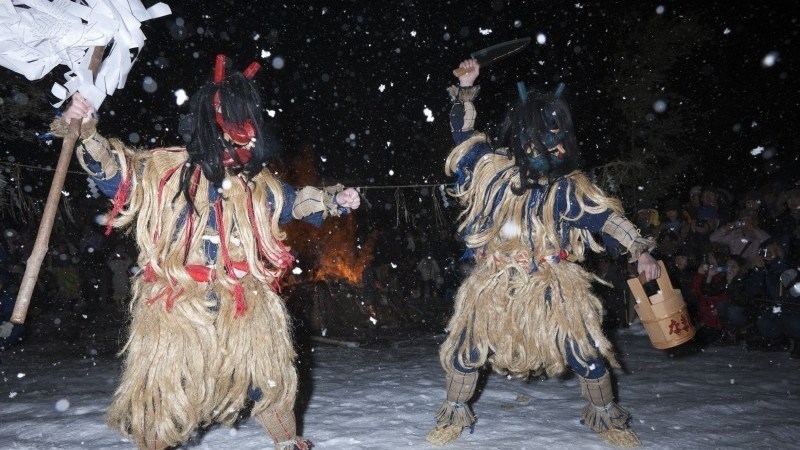 Traditionally, adult men have played the role of the Suneka deities, but some children who were originally admonished for laziness, have started playing the role.
Since around 2000, a ritual preservation group has teamed with city-run Yoshihama Junior High School to visit homes while staging the annual ritual. Elementary school children have also taken part.
"I'm grateful that our small community has something to boast about to the world," said Momoka Yoshida, a third-year junior high school student who participated in the ritual.
Hisayoshi Kashiwazaki, who heads the preservation group, renewed his commitment to the historical intangible cultural asset, saying, "We will strive to hand down Yoshihama no Suneka as the tradition it has always been."