Hi everyone, how are you? We had an excited 15-day from Nov11 ~ Nov25, 2018 in the Kyushu Grand Sumo Tournament, resulting "young sumo wrestler" Takakeisho's championship.
Takakeisho, I've little known him before because his rank is Komusubi in the division and this is probably the same as ordinary Sumo fans except Sumo specialists and/or Sumo-lovers.
Komusubi, it is ranked the lowest in "titleholders", that I'll talk roughly about the rank and division.
Makuuchi is the top division. It is fixed at 42 wrestlers who are ranked according to their performance in previous tournaments.
At the top of the division are the "titleholders", or "champions" called the san'yaku comprising yokozuna, ōzeki, sekiwake and komusubi.
If you are more interested in the Sumo world, please browse through the following URL about Sumo I described in more details there.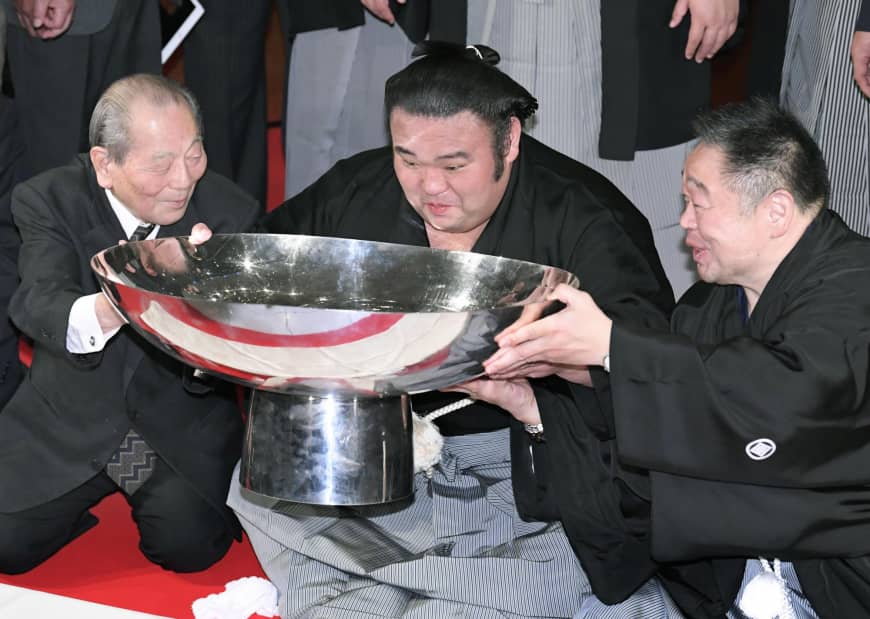 Takakeisho (center) celebrates after winning the Kyushu Grand Sumo Tournament on Nov25, 2018
Takakeisho's victory in the Kyushu Grand Sumo Tournament made him the third wrestler to lift a maiden Emperor's Cup in 2018.
Sumo hasn't seen a breakthrough on that scale in nearly two decades.
Not since Musoyama, Takatoriki and Kaio triumphed in January, March and May of 2000, respectively, have three championships been taken by first-time winners in the same year.
Takakeisho also emerged victorious while ranked at komusubi. Of the four ranks in the top division, komusubi is the one with the fewest championships by far.
That, of course, is mainly due to the fact that there are normally only two men at the rank and their schedule is brutally tough.
Just nine of 489 tournaments since 1909 have finished with a komusubi as champion — a success rate of 1.6 percent.
As interesting as those figures might be, there is one other number with a far greater significance: 22(years old).
That's Takakeisho's age and it's important because, along with the fact that Mitakeumi is just 25 years old, it heralds the arrival of sumo's next generation.
Who's Takakeisho, young sumo wrestler?
Takakeishō Mitsunobu, born August 5, 1996 as Takanobu Satō is a professional sumo wrestler from the Hyōgo Prefecture, Japan.
He made his debut in November 2014 and quickly reached the top makuuchi division in January 2017, in his 14th tournament.
He then won his first championships in the highest division in November 2018, four years after his debut in sumo.
He wrestles for Chiganoura stable. His highest rank has been komusubi. He has won five special prizes and three gold stars for defeating a yokozuna.

Takakeisho with Height; 1.75 m(5 ft 9 in), Weight;170 kg (370 lb)
Early life and sumo experience
Sato's given name of Takanobu was based on yokozuna Takanohana, who would eventually become his stablemaster. In early primary school Satō was active in full-contact karate and was runner up for the championship in a national competition.
However, Satō's father was determined that he become a sumo wrestler, and in his third year he began participating in sumo at a local dojo (training hall).
After primary school, he entered a junior high school known for its sumo program.
In his third year there he won a national championship and took the title of junior high school yokozuna or grand champion.
Encouraged by his father to eat hamburgers and French fries, his weight increased from 30 kilos in the third grade to 80 kilos by sixth grade.
He then moved to eastern Japan and entered the private high school Saitama Sakae, which had an athletics course.
In his time there he had two successive championships in the free weight category of both the Kantō regional high school sumo tournament as well as the national junior sumo tournament.
In total he took 10 national titles in his high school years.
In his third year, he was also champion in the free weight category of a world junior sumo tournament held in Taiwan.
Satō was quite eager to join the pro sumo world, so after high school, he decided to forego going to university and competing in national sumo tournaments (which would have given him a chance to later gain makushita tsukedashi status) and quickly joined Takanohana stable.
In January 2018 Takakeisho made his sanyaku debut at komusubi, the first member of Takanohana stable to reach this rank since his stablemaster established the stable in February 2004.
He fell short with a 5–10 record, and withdrew from the following tournament in March due to injury with only three wins.
He returned to the komusubi rank in September 2018 and secured a winning record. Shortly after this tournament his stable was dissolved and he moved to Chiganoura stable.
Finally, right now it looks as though 2018 was just the start. It's not a stretch to imagine next year might see six different winners including at least a couple more first-time champions, I hope.