Hi、everyone how are you? Today's subject is "Kōyō 2 (Autumnal foliage)", of which is touted as "Upside-down maples"
Have you ever heard or seen Sakasa momiji (Upside-down maples) of fall foliage in the mountains before?
What's Sakasa momiji (Upside-down maples) of "Koyo 2 (Autumnal foliage)" then?
There is one in Sogi-town, Toki-city, Gif-prefecture which is one of Must-see autumnal foliage in Japan, famous for its "Upside-down maples" reflected on the pond particularly at around evening time.
The reflection of the maple, ginko tree, and the colored leaves of the azalea on the surface of the pond in the illuminated park look truly spectacular.
I'm sure if you would be there, you couldn't stop admiring how beatiful combination of upside-down sight.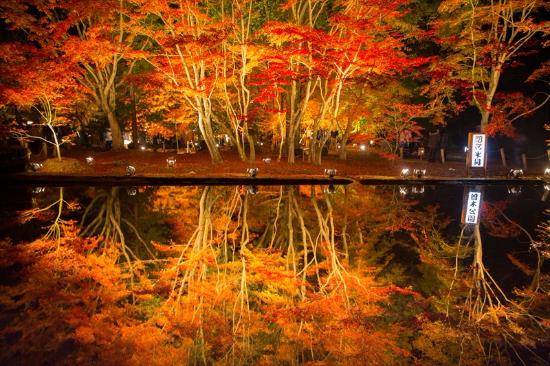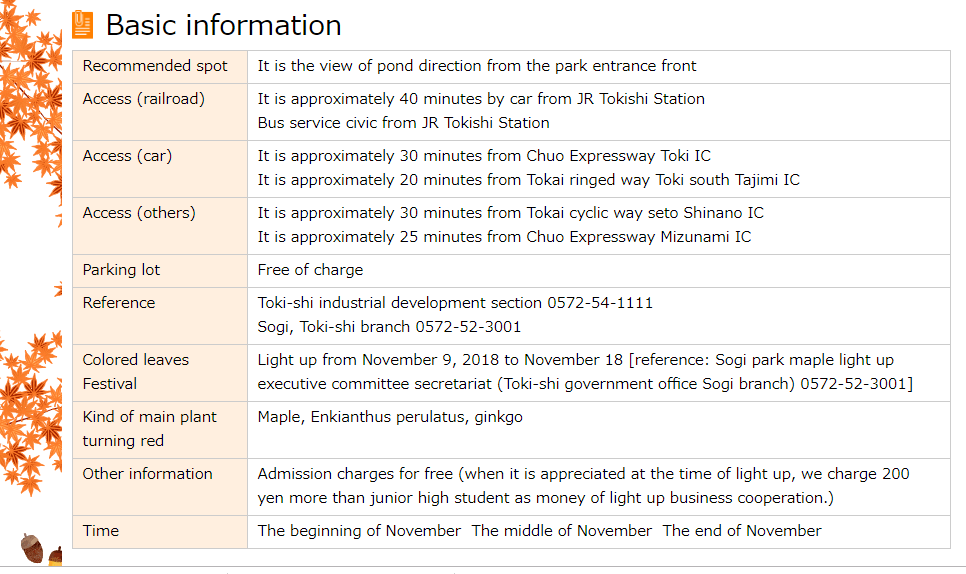 At the same time, I have a site of "Koyo 1 (Autumnal foliage)", so please browse it.
Neighboring colored leaves spot information
I'd like to recommend places of interest located in the same region as follows,
1) Kokei-zan Eiho-ji Temple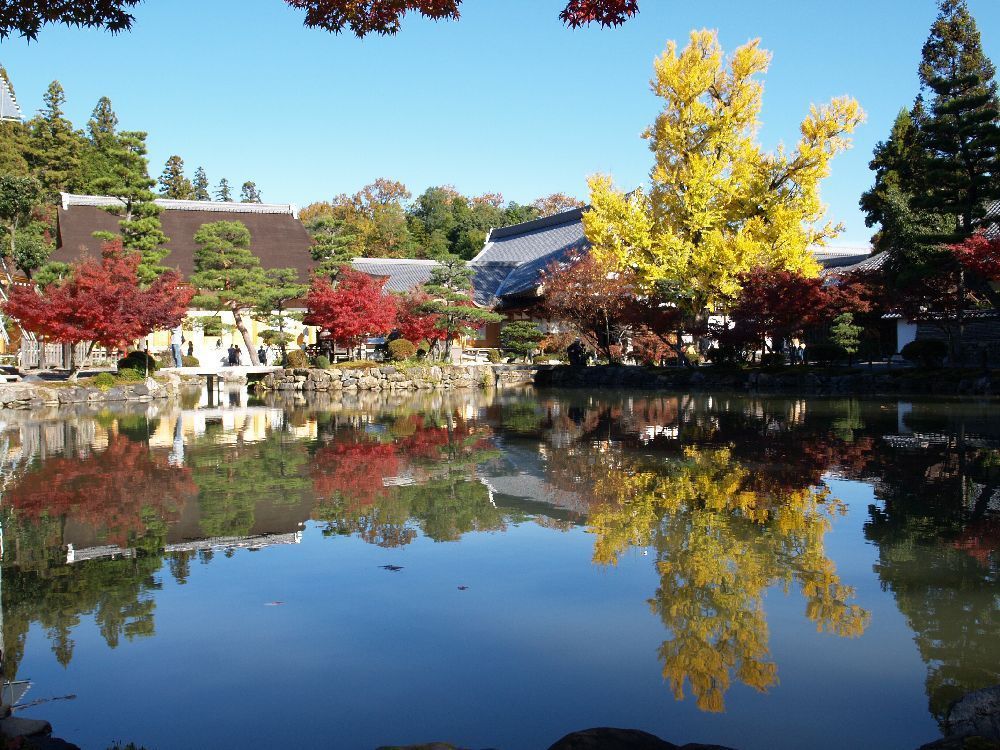 1-40,Kokeizan-cho,Tajimi-shi, Gifu-ken
Amidst the tranquil atmosphere of the national treasures Kannon-do and Kaisan-do, the view of the colored leaves is worth seeing.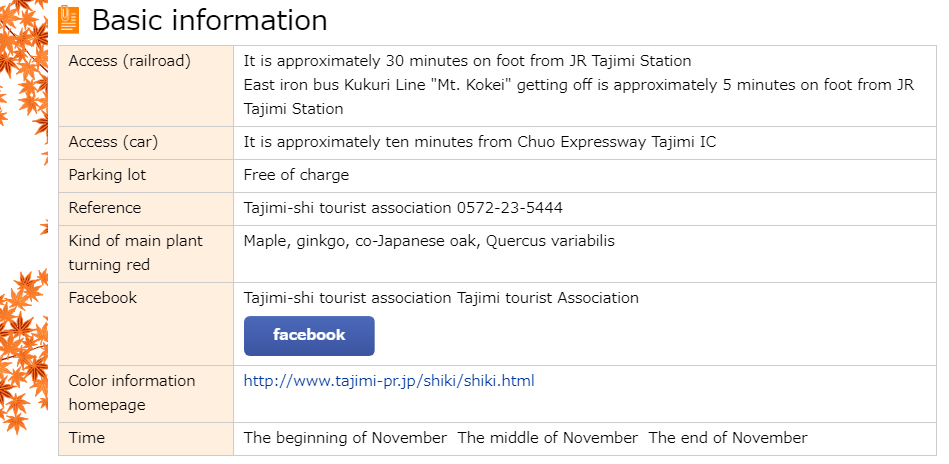 2) Iwayado Park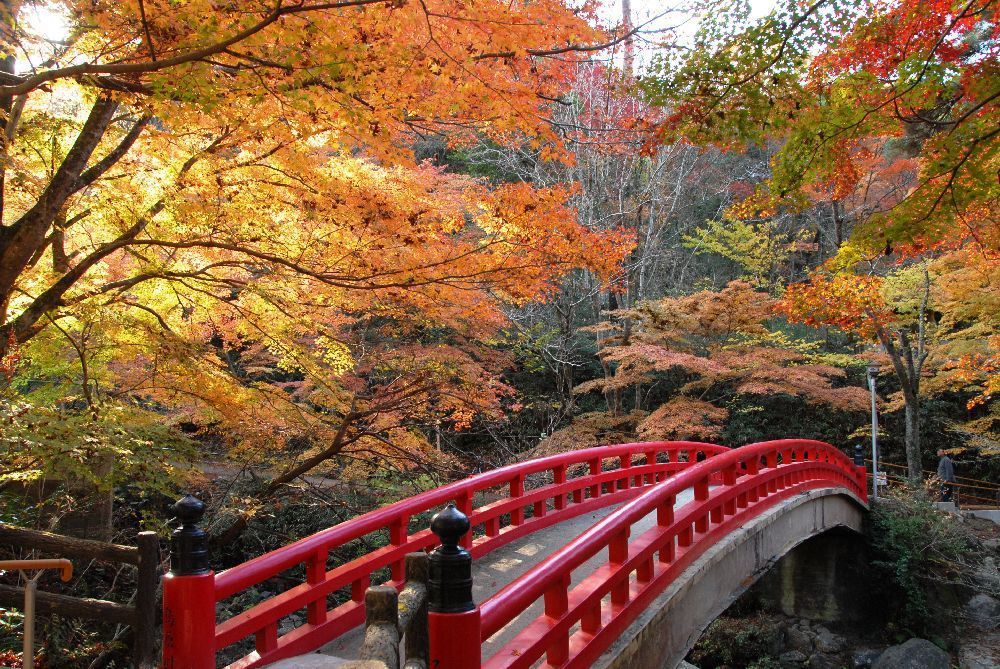 81, Iwayacho, Seto-shi, Aichi-ken
One can enjoy a leisure walk along the Toppara River in the quiet valley while looking at the bright colored leaves.
Small shrine of a big rock "Iwayado," Gyomyo-ga-taki Waterfall and Seto Otaki Waterfall scenes of powerful nature are also recommended.
On a clear day one can expect an excellent view of Nagoya Station area from Iwasuyama Observatory deck
.
During a light up period, not only various scenes created by the refection on the river surface are beautiful, even the light up of Gyomyo-ga-taki Waterfall and Seto Otaki Waterfall is magnificent.
In addition, light art of the bamboo that is put up in every place of the walk route lightens up the feet with fantastic light.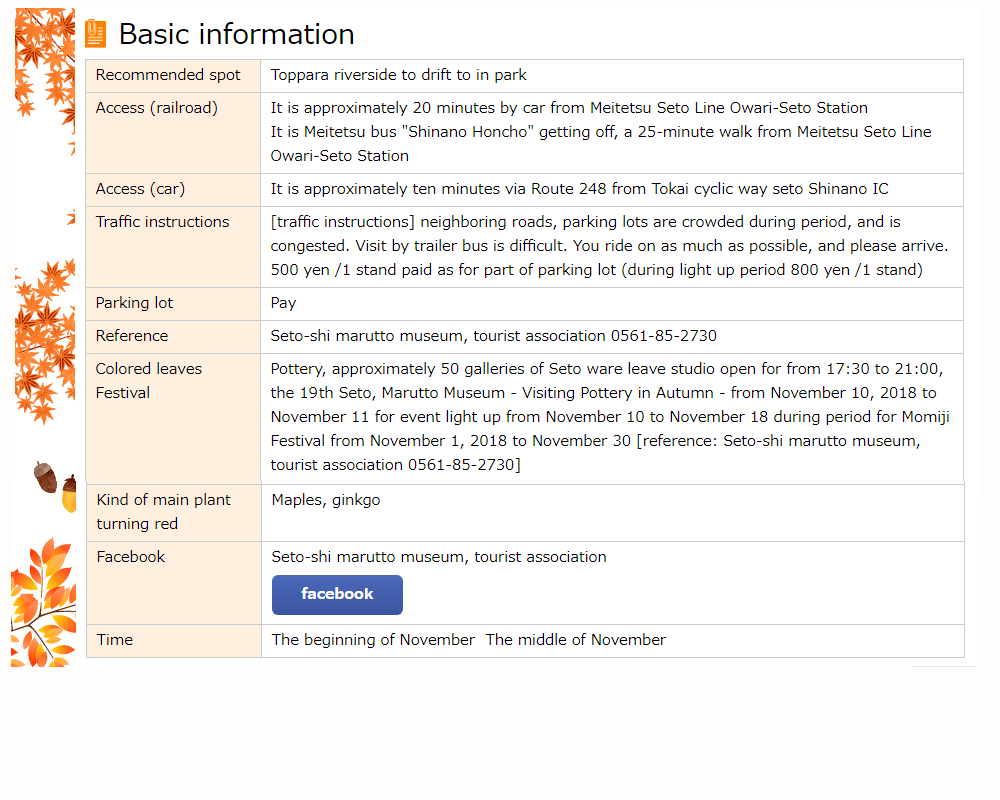 3) Sanage-jinja Shrine fall foliage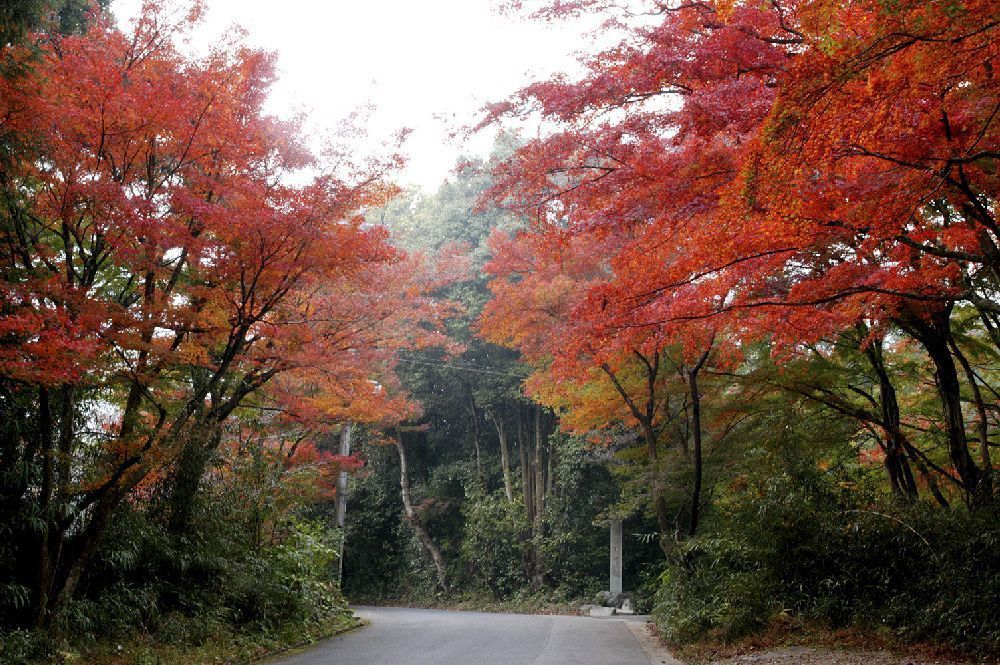 Ojiro, Sanagecho, Toyota-shi, Aichi-ken
Colored leaves of Tosho-ji Temple Daihiden in the foot of Sanage are beautiful. It has been worshipped as Ryozen (holy mountain) since olden times.

4) Koran-kei Gorge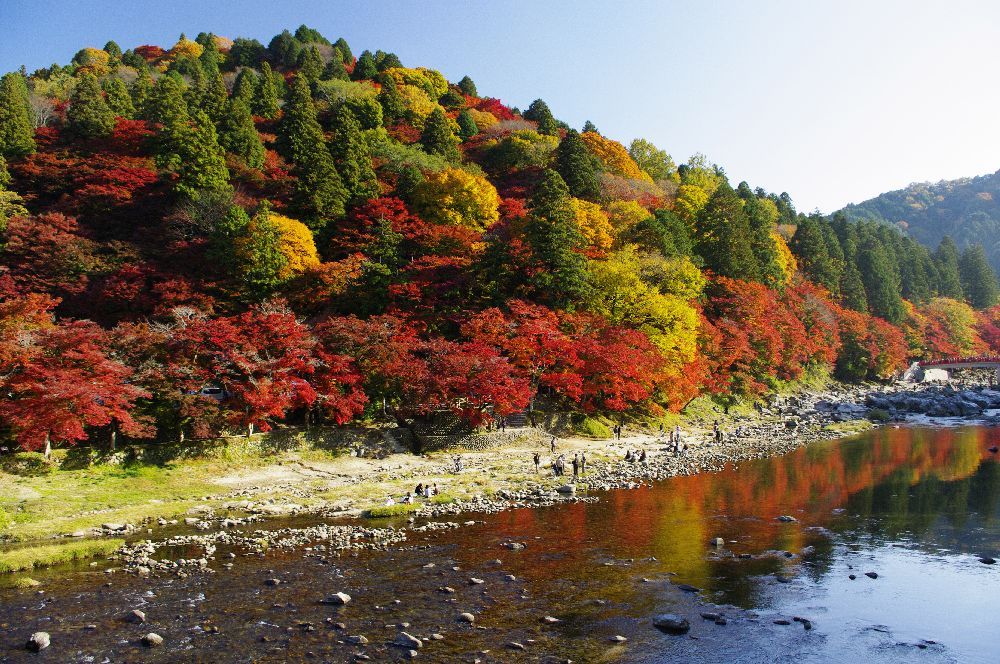 Iisaka,Asuke-cho,Toyota-shi, Aichi-ken
The maple trees at Kouran-kei are said to have been planted 380 years ago by the 11th abbot of Kojaku-ji.
Kouran-kei with the beautiful contrast between the approximately 4000 maple trees and the clear river presents a magical scenery, unlike any view during the daytime, with the whole mountain illuminated in yellow from after sunset to 21:00 hours.
The JAZZ Night in Koran-kei (November 3 and 4, 9th to 11th, two stages between 17:30-20:00) livens up the autumn atmosphere.
The popular Sarumawashi and the tea ceremony are also held during the daytime and a variety of food booths and souvenir stores are open during the period.
Moreover, visitors can enjoy the various events held including an exhibition held in the town designated an Important Preservation District for Groups of Traditional Buildings.
Please apply for your memorial picture for the Instagram Photo Contest. Bus routes connecting Yakusa and Koran-kei are scheduled to service (November 10th to 30th).
Many travel agencies offer bus tours that take visitors directly from a railway station to the site, and these are well worth checking out.
Visitors can very conveniently access Koran-kei since these buses ply changing routes to avoid traffic jams.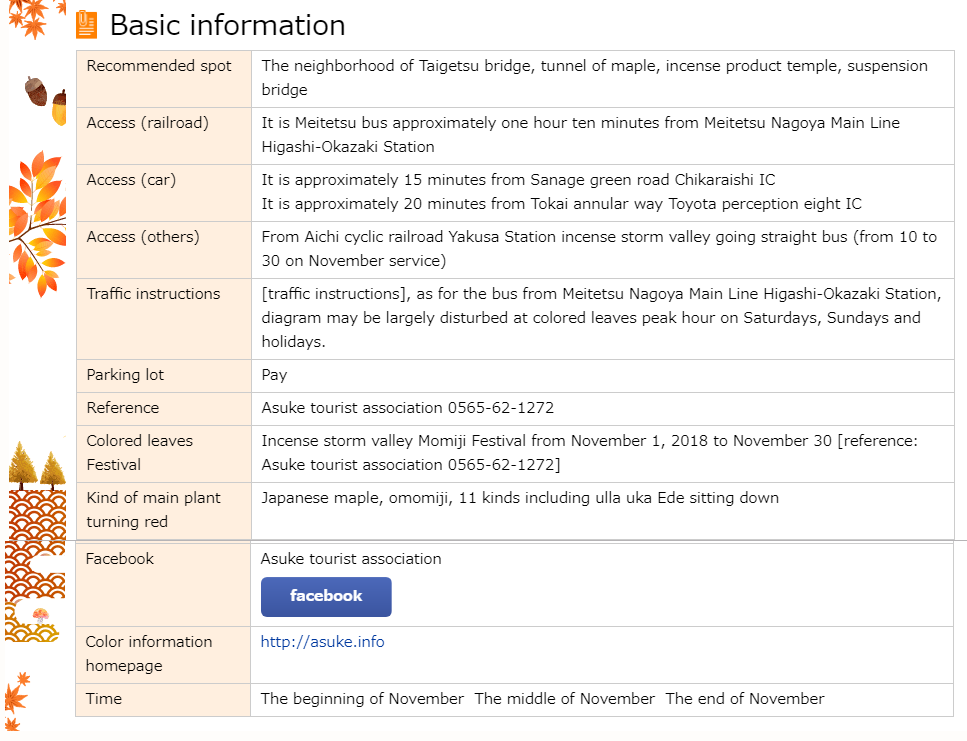 Finally, why not take an Onsen (hot spring) after enjoying autumnal leaves in order to heal your tiredness watching red-colored leaves again while soaking in the onsen.
Oh! I'll bet you feel like being in the paradise!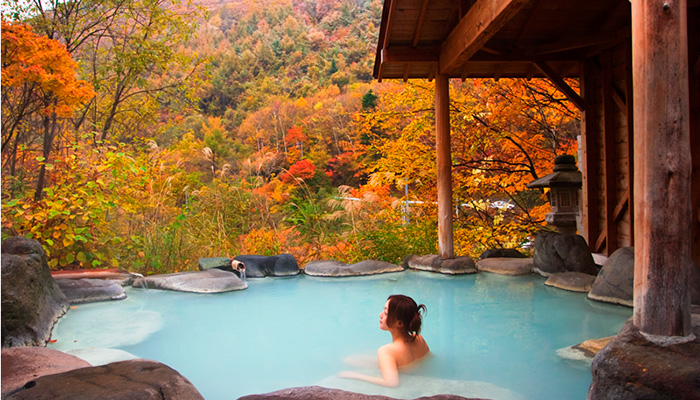 At the end, "Kōyō (autumn folliage)" to be well worth a vist, thanks