Second case after the war, the first time in 55 years
A state funeral was held on September 27, 2022 at the Nippon Budokan in Tokyo's Chiyoda Ward for former Prime Minister Shinzo Abe, who died after being shot during a speech in the Upper House election.
This was the second state funeral since 1967, the first in 55 years after former Prime Minister Shigeru Yoshida in 1967.
According to the Cabinet Office, 4,183 people from Japan and abroad, including foreign dignitaries, such as U.S. Vice President Kamala Harris, Indian Prime Minister Narendra Modi, Australian Prime Minister Anthony Albanese, South Korean Prime Minister Han Duck-soo and Singapore Prime Minister Lee Hsien Loong were also among the foreign dignitaries present, who came primarily from 218 countries and regions around the world.
 (Upper) Kamala Harris,、Narendra Modi,and Anthony Albanese   (Lower) Thomas Bach, Nicolas Sarkozy, and Theresa May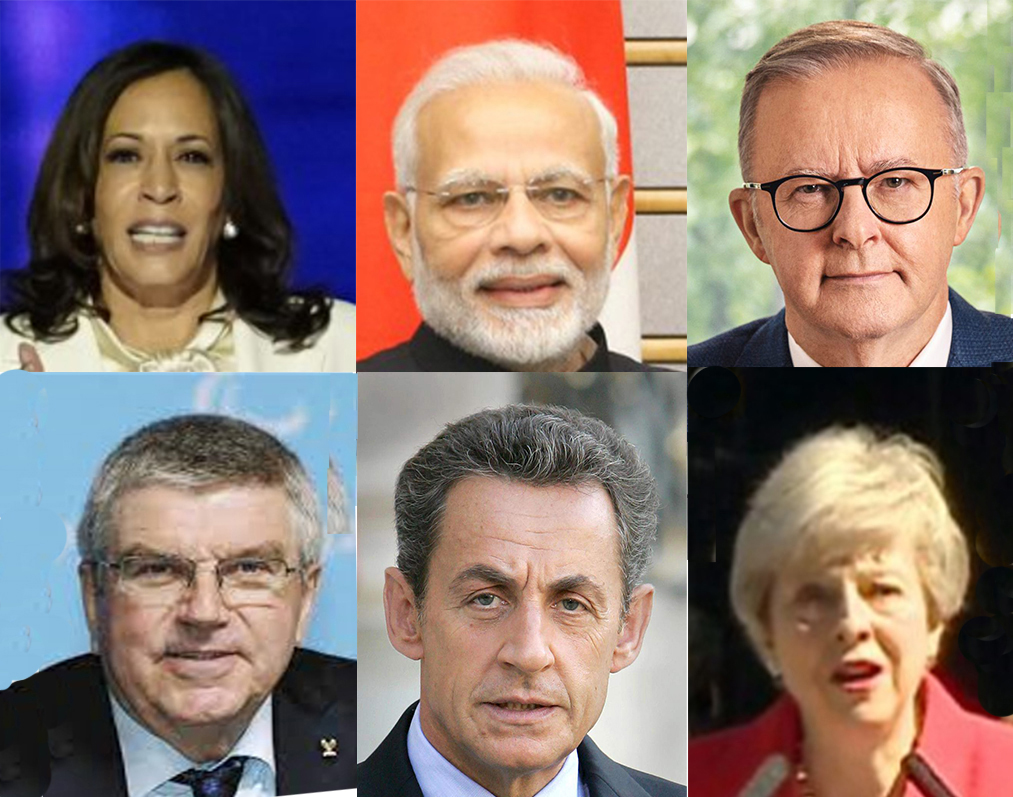 In addtion, Former British Prime Minister Theresa May and former French President Nicolas Sarkozy, who had been close to Abe during their tenures, likewise came to bid him farewell.
Also in attendance was Thomas Bach, the head of the International Olympic Committee and who had built a trusting relationship with Abe over the Tokyo Games bid and the issue of the Games' postponement.
National Anthem, one minute silence prayer
While there was a long line of people waiting to lay flowers at a nearby park, total of 26,000 people visited the public flower offering at Kudanzaka Park near the event site.
A long line formed at the entrance on the Chidori-ga-fuchi side from early in the morning, and the scheduled time was advanced by about 30 minutes.
The general offering of flowers was scheduled to end at 4:00 p.m., but was extended until after 7:00 p.m. due to the large number of attendees.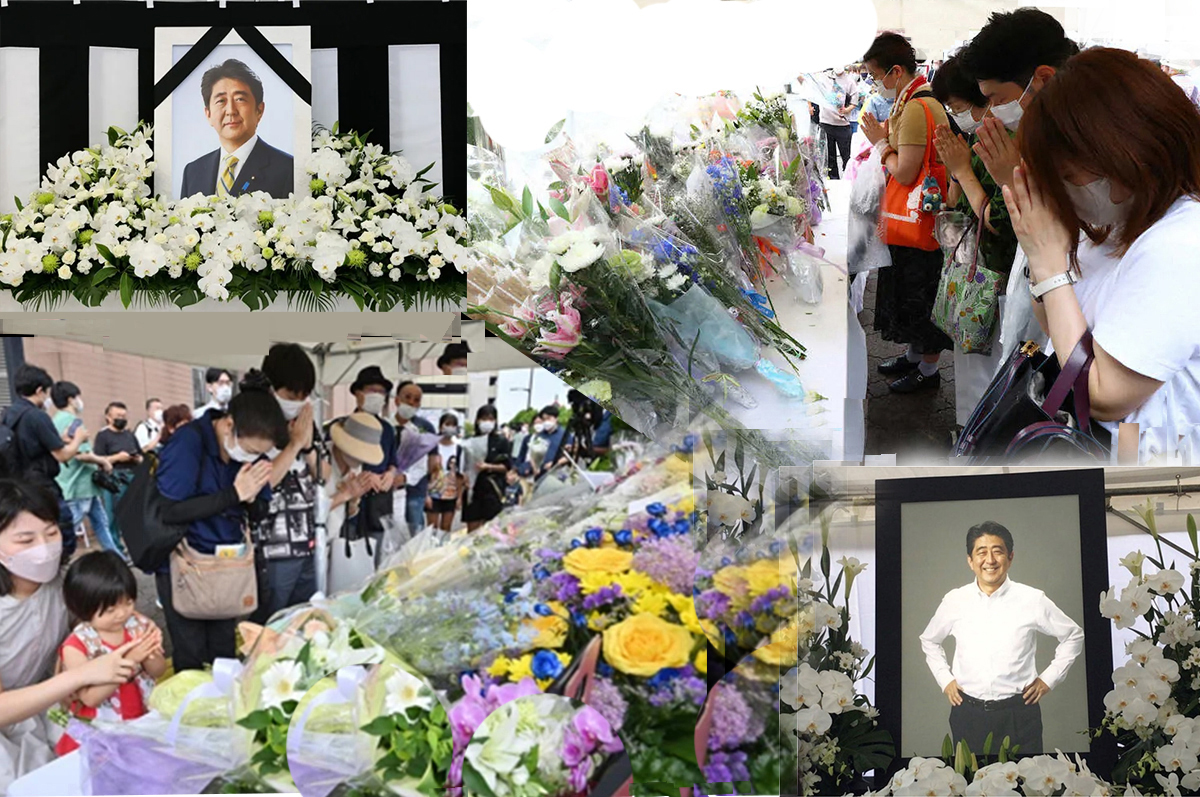 Moe Toyoda, 36, an office worker in Taito Ward, Tokyo, arrived at the venue at around 6:00 a.m. After offering flowers, he said, "He made Japan a comfortable place to live.
I thought of myself as one of the many seeds sown by former Prime Minister Abe, and I vowed that I would make sure it would bloom".
Takako Miura, 45, a housewife from Taito Ward, who was with the group, prepared a large bouquet of flowers, saying, "My friends said, 'I can't go, but I want you to convey my feelings. I still can't believe he is gone. (I was deeply moved when I saw [Mr. Abe's] picture.
Deputy Chief Cabinet Secretary Yoshihiko Isozaki recalled, "We were able to successfully hold a solemn and heartfelt national funeral that could respond to the condolences of many people."
Nearly or more 520,000 people give "digital flowers" to former Prime Minister Abe
The number of people who have made a "digital offering of flowers" to express their condolences to former Prime Minister Shinzo Abe has exceeded 520,433 (as of September30,2022).
A person in charge of the organization operating the service said, "We were surprised by the response, as we started the service not knowing whether 10,000 people would donate flowers or not.
Some people wrote that they were saved by the content of other people's messages to Mr. Abe, and we believe that not only their condolences but also their genuine feelings have spread.
The "Digital Donation of Flowers" is a free service that allows people to express their condolences and gratitude to Mr. Abe on the Internet.
The service was organized by the "Former Prime Minister Abe Digital Flower Donation Project Executive Committee," a group of venture business executives in their 20s and 30s, and began accepting donations on August 25, Abe's "49th day.
Flowers can be offered in five different varieties, including lilies and chrysanthemums, and a message can be written to Mr. Abe.
On September 8, when the number of flower donors reached approximately 100,000, the committee delivered some of the messages to Mrs. Akie. The messages can be viewed on the website (https://offering-flower.com/) for the time being.
In the otherside movement, however, according to a nationwide poll conducted by the Social Research Research Center, 62% of respondents oppose state funerals.
Why is this state funeral called controversial?
there were also demonstrations in the vicinity of the site, indicating mixed opinions on whether or not the ceremony should be held.
Opponents of the funeral have repeatedly held rallies in front of the prime minister's office, parliament building and elsewhere and filed lawsuits demanding that the event be scrapped.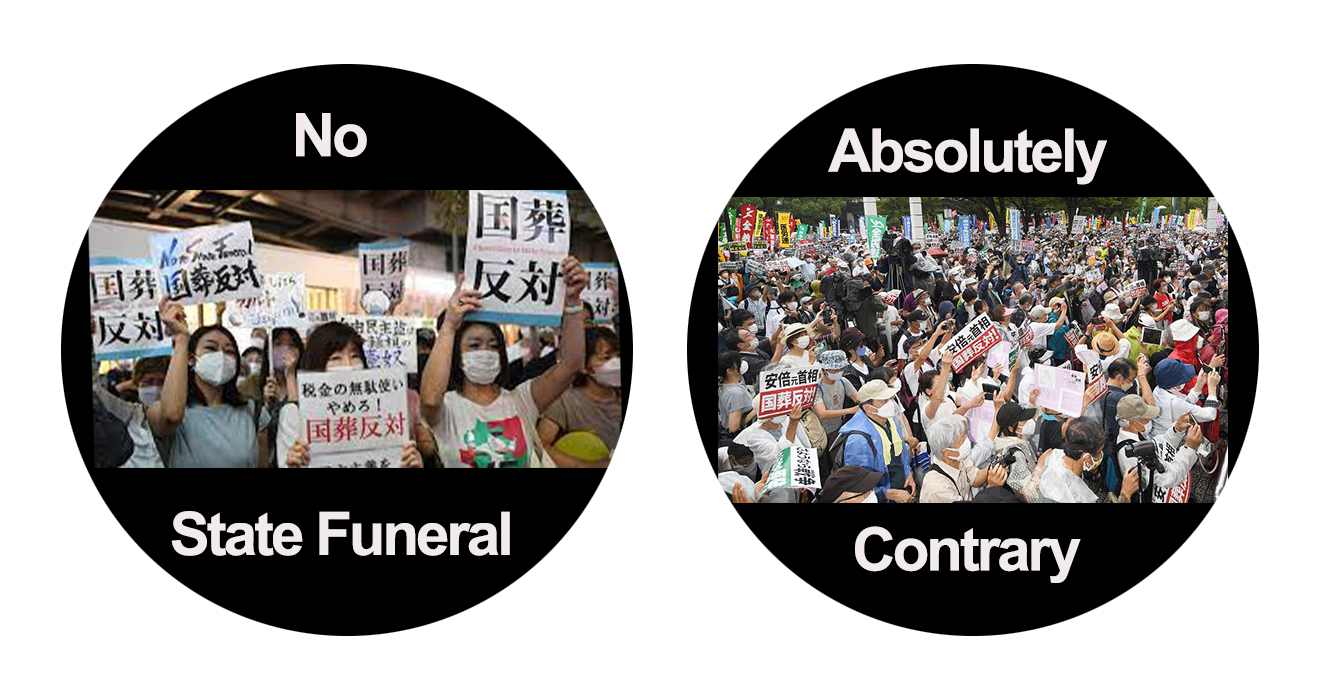 Earlier this month, a man set himself on fire on a street near the prime minister's office, police said, apparently intending to commit suicide in protest against the planned state funeral.
Why?
-Most of the reasons for opposition are "not worthy of a state funeral," "opaque decisions," and "high costs."
I will put my pen down in hopes that the upcoming Diet session will come to a conclusion so that similar problems do not arise in the future.
The interior of Nippon Budokan