Hello everyone, how are you doing?  Today's topic is "Ohenro Pilgrimage from London".
According to the newspaper of March 4, 2018, British couple will be held a wedding ceremony at the holy place, one of the 88-Ohenro(Pilgrimage) temples in Shikoku (one of four main archipelago in Japan, about two-hours fly from Tokyo) at around  the end of this March,  at of which they visited when they were on a pilgrimage on May last year.
Both of them are not Buddhist and they don't speak Japanese, however, something prompted them to do that.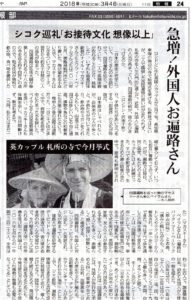 As I contributed  a blog to this site, of whose title is Ohenro(Pilgrimage),  the numbers of pilgrmage doer have been increasing recently, particularly non-natives.  Survey says,  the numbers  from foreign countries are zero in 2004, 78 in 2010, 184 in 2015 and 323 in 2017.
The pilgrimage originated from the retracing the steps that the  high priest "Kobo Daishi" travelled around Shikoku to spread Buddhist teachings around 1,200 years ago.

Kūkai, also known posthumously as Kōbō-Daishi (The Grand Master Who Propagated the Buddhist Teaching), 774–835, was a Japanese Buddhist monk
What's the merit from Ohenro Pilgrimage ?
When we visit temples ,  first thing we do is to greet the Buddha with two chapters at the temple's main hall and Daishodo.  And  the true purpose is to clear and correct our hearts by casting sutra and to accumulate merits.
It is generally said that " Accumulated merits  means  "there is the ability to bring out excellent results for good conduct"
We can say again that for a good deed to chant the sutra and to cleanse our hearts,  as a result it will receive good rewards.
Currently the numbers of pilgrimage is roughly 150,000 annually, however, 90 per cent pilgrimage doer by bus.  So ten percent persons only on foot, it  means  15,000 or so.  And the numbers who completed the whole arduous jorney are about 2,000~3,000 persons.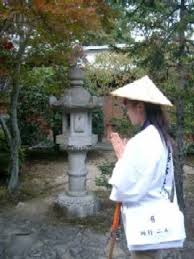 I'd like to continue the subject about the Britsh couple、under such severe situations, on the first day to begin pilgrimage, he kneeled down to propose her for marriage and started their arduous pilgrimage.  Of course they had sometimes giving up the journey in facing unexpected troubles, but they finally completed 50-day ordeal.
After 50-day hardships,  a future husband says "this was a valuable trial for life",  another future wife says " Back to basic",  and whereas both of them enjoyed stress-free and forgetting  busy-technology world  even though they had been fighting painful pilgrimage.
About ten persons including their parents and friends are visiting the wedding site from England to attend the wedding party.   Congratulations! and Happy  Ever After!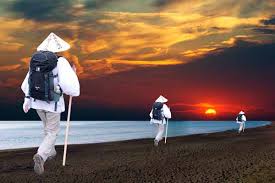 From ths story, therefore, are you interested in doing pilgrimage, Shikoku Ohenro, once in your lifetime? 
In my case,  I've made Mount-Ontake-climb pilgrimage every summer.  So far I've climbed  11 times  and pray at the shrine which stands at the top of the mountain.  As it is an active volcano,  it erupted  on September 2014, killing 63 climbers.   That was happened just after one month when I climbed there,  so I could escape from such an accident.
The upper image was when I (right person) underwent "waterfall ordeal" during climbing there.
There are many places to go on a pilgrimage in Japan such as Shikoku Ohenro,  Mt.Ontake,  Mt. Fuji and so on.   Whichever you like to choose will do good for you  and why don't you try it for receiving reward from god ,  I pray.