Happy New Year!   how's your New Year holidays?   We'd like to present you beautiful sceneries of Mt.Fuji and light-up wisteria on New Year that would heal your heart.
We have two attractive sceneries of Mt.Fuji from Niondaira Yume terrace and light-up wisterias at Ashikaga park .
img src="https://japanophilia.xyz/wp-content/uploads/2020/01/キャプチャ-2.jpg" alt="Mt.Fuji, wisteria" width="500″ height="410″ class="alignnone size-full wp-image-9265″ />
Visitors to Nihondaira Yume Terrace in Shizuoka take in views at sunset, with Mount Fuji in the background
With prime view of Mt. Fuji, Shizuoka terrace is reeling them in
Visitors are flocking to an observation facility here designed by a famed architect and offering a stunning view of iconic Mount Fuji.
Nihondaira Yume Terrace is situated atop a 300-meter-high mountain, giving tourists a panoramic view of the surrounding area.
Mount Fuji and Shimizu Port can be seen on the northeastern side of the deck, which has a circumference of 200 meters.
At 3,776 meters high, Mount Fuji is Japan's highest peak. But it is often obscured by clouds in summer, and can be more easily viewed in autumn and winter.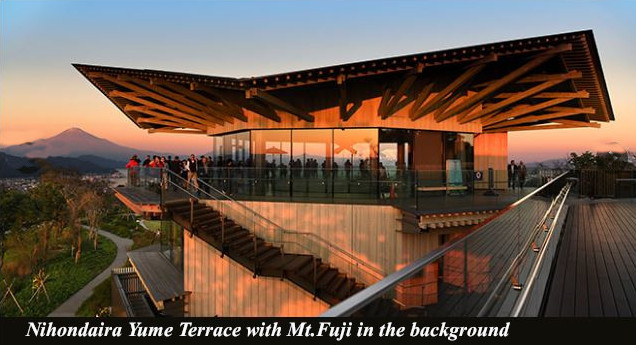 Mount Fuji looms large in the background, seen from Nihondaira Yume Terrace
The Southern Alps lie to the north of the observation facility, while the Izu Peninsula, a designated UNESCO Global Geopark, can be seen on the east side behind Suruga Bay.
The initial annual target of 300,000 visitors by Shizuoka Prefecture and Shizuoka city, which built the facility, was reached within just three months.
A total of 1.18 million people visited Nihondaira Yume Terrace by Nov. 2, the first anniversary of the opening of the facility and an affiliated exhibition center, which were both designed by Kengo Kuma, the designer of the new National Stadium for Tokyo 2020 Olympic and Paralympic Games.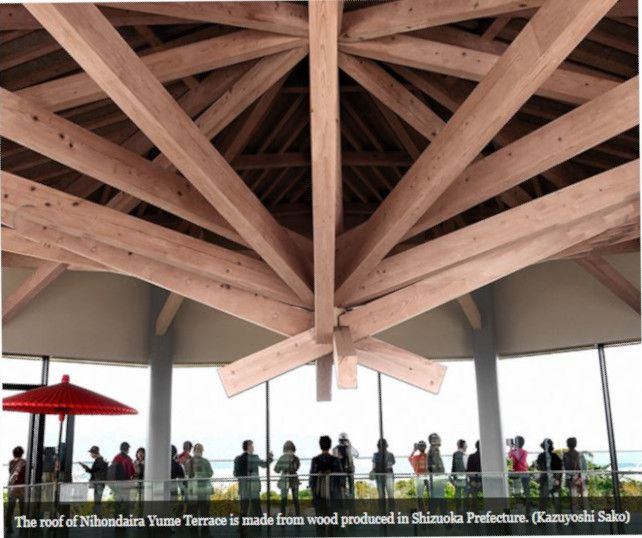 The Nihondaira district, which is home to the observation facility, became well known for its scenic beauty after commentator Tokutomi Soho (1863-1957) called it "the greatest landscape across the nation" during the late Taisho Era (1912-1926).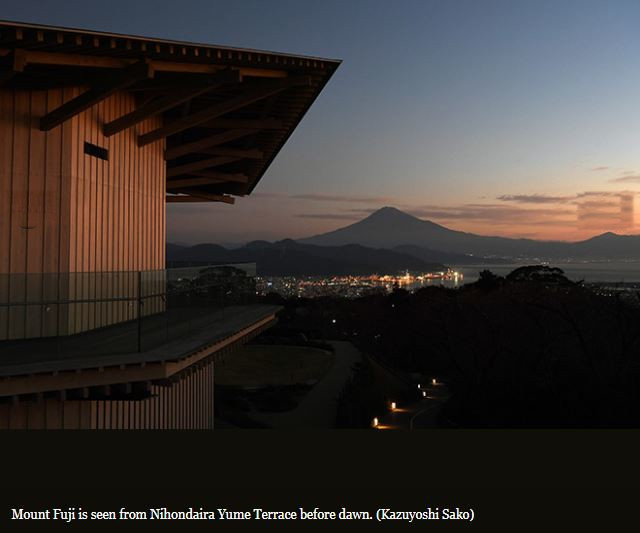 In the early Showa Era (1926-1989), Nihondaira was chosen as one of the 100 prominent views of Japan.
Nihondaira Yume Terrace is a 30-minute car ride from either the Shizuoka or Shimizu interchange on the Tomei Expressway and a 20-minute ride from the Nihondaira-Kunozan Smart Interchange, which opened in September.
It is a 40-minute bus ride from JR Shizuoka Station.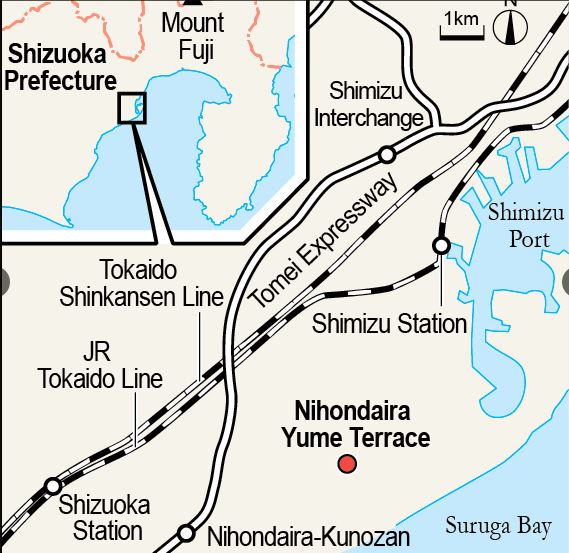 Great wisterias at Ashikaga park lit up in colorful fantasy at night
Not even flooding from a major typhoon could turn out the lights at Ashikaga Flower Park here, which is rewarding visitors with the nighttime illumination of its famed great wisteria trees.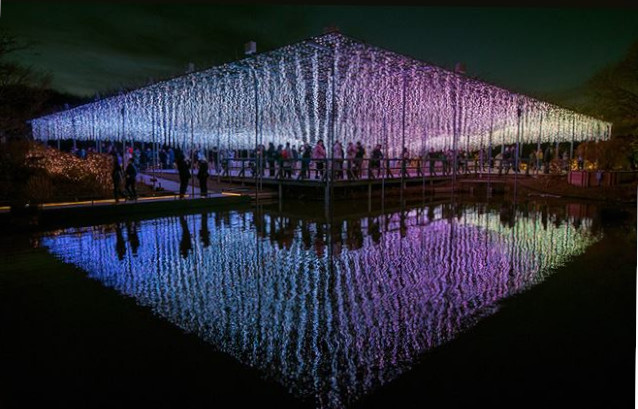 Lights in four colors representing the park's wisterias in full bloom, rose pink, purple, white and yellow, are reflected on the water at Ashikaga Flower Park in Ashikaga, Tochigi Prefecture
About 5 million bulbs, including LEDs, are lighting up the wisteria trees in rose pink, purple, white and yellow colors to match those when in full bloom.
The park, spanning about 94,000 square meters, was temporarily closed after it was almost entirely inundated when Typhoon No. 19 made landfall in eastern Japan in October last year(2019).
After recovery work carried out by the park staff, the lighting display started in early November, one week later than initially scheduled.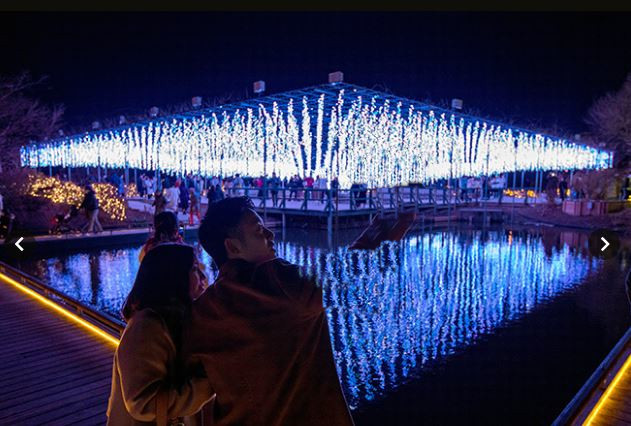 The trees are lit up from 4:30 p.m. to 9 p.m. on weekdays and until 9:30 p.m. on weekends and national holidays.
The night illumination will continue through Feb. 6.
Finally, we have "Fuji-san ( Mt.Fuji ), the mother mountain to the Japanese" being well-worth to browse, thanks