2025 World Expo, Congratulations!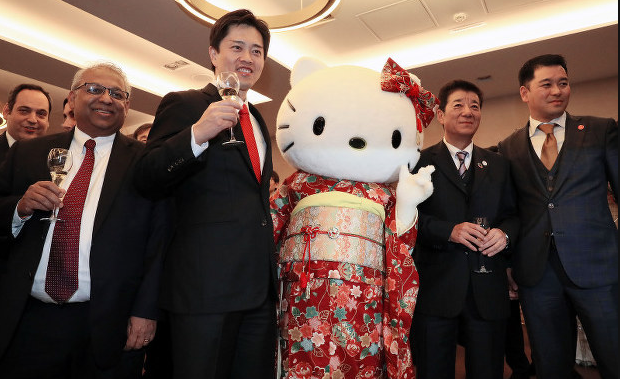 Osaka Gov. I. Matsui, second from right, and Osaka Mayor H.Yoshimura, fourth
from right, pose for a commemorative photo with Hello Kitty at a reception in
Paris, on Nov.23, 2018, after the city of Osaka was selected to host the World
Exposition in 2025.
Hi  everyone  how are you? Today, first, I'd like to congratulate Osaka, the third biggest city and Kansai region on selecting as host of the 2025 World Expo.
The western Japan city of Osaka beat out a Russian city to be named host of the 2025 World Expo in a runoff vote here on Nov. 23, bringing the event back to the commercial hub after 55 years.
Shouts of joy in Japanese erupted in the Paris auditorium when the 170 member states of the Bureau International des Expositions voted Friday in favor of Osaka's bid.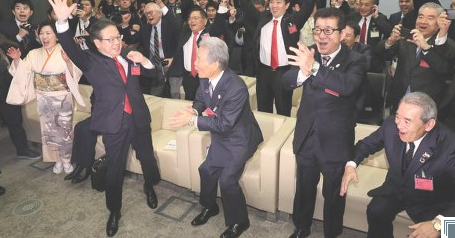 Minister of Economy, Trade and Industry Hiroshige Seko and other Japanese officials rejoice after Osaka won the right to host World Expo 2025, at the OECD Conference Centre in Paris, on Nov. 23, 2018.
Dark-suited officials hugged and jumped up and down, and Japan's economy and trade minister, Hiroshige Seko, said he felt "Excellent! I'm excited! I also feel a heavy responsibility to make Expo 2025 successful."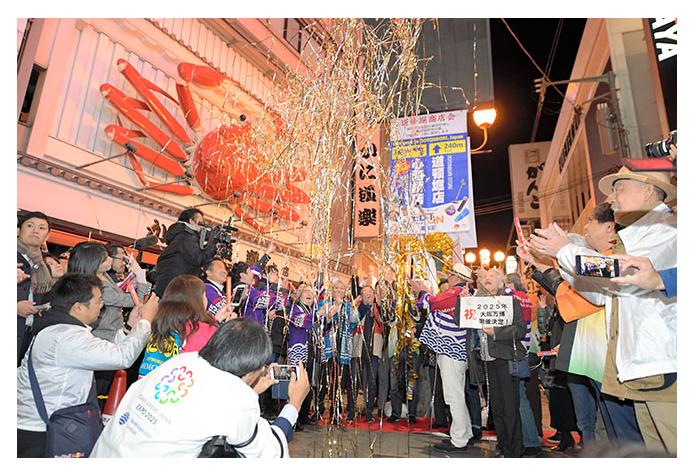 Residents of Osaka celebrate by breaking a decorative paper ball early on Nov. 24 after the city was selected as host of the World Expo in 2025
What's the World Expo?
World Expos for short (world fair, universal exposition, or international exposition , known officially as International Registered Exhibitions, are organised every five years.
Their themes are designed to raise awareness of and find responses to universal challenges of our time, to showcase achievements of nations as well.
These exhibitions vary in character and are held in different parts of the world. The most recent international exhibition, Expo 2017, was held in Astana, Kazakhstan.

Kazakhstan's 2017 World Expo
And the nest World Expo will take place in Dubai(UAE) between 20 October 2020 and 10 April 2021 under the
theme "Connecting Minds, Creating the Future".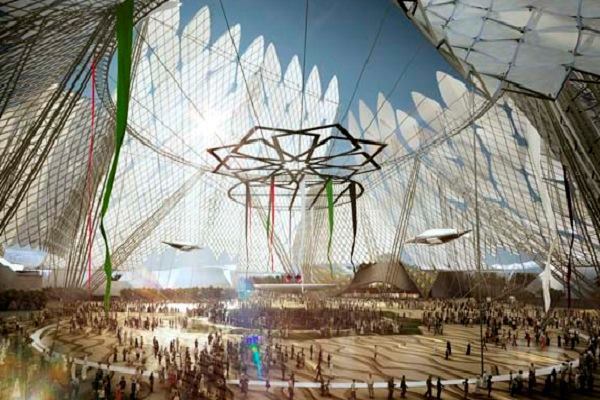 Dubai 2020 World Expo
Since the 1928 Convention Relating to International Exhibitions came into force, the Bureau International des Expositions (BIE; English: International Bureau of Exhibitions) has served as an international sanctioning body for world's fairs.
Four types of international exhibition are organised under the auspices of the BIE: World Expos, Specialized Expos, Horticultural Expos (regulated by the International Association of Horticultural Producers) and the Triennale di Milano.
Depending on their category, international exhibitions may last from three weeks to six months.
History of fairs
The best-known 'first World Expo' was held in The Crystal Palace in Hyde Park, London, United Kingdom, in 1851, under the title "Great Exhibition of the Works of Industry of All Nations".
The Great Exhibition, as it is often called, was an idea of Prince Albert, Queen Victoria's husband, and is usually considered to be the first international exhibition of manufactured products.
It influenced the development of several aspects of society, including art-and-design education, international trade and relations, and tourism.
These events have resulted in a remarkable form of Prince Albert's life history, one that continues to be reflected in London architecture in a number of ways, including in the Albert Memorial later erected to the Prince.
This expo was the most obvious precedent for the many international exhibitions, later called world's fairs, that have continued to be held to the present time.
Since their inception in 1851, the character of World Expos has evolved. Three eras can be distinguished: the era of industrialization, the era of cultural exchange, and the era of nation branding.
Industrialization (1851–1938)
The first era could be called the era of "industrialization" and covered, roughly, the period from 1800 to 1938.
In these days, world expositions were especially focused on trade, and were famous for the display of technological inventions and advancements.
World expositions were the platforms where the state-of-the-art in science and technology from around the world were brought together.
The world expositions of 1851 London, 1853 New York, 1862 London, 1876 Philadelphia, 1889 Paris, 1893 Chicago, 1897 Brussels, 1900 Paris, 1901 Buffalo, 1904 St. Louis, 1915 San Francisco, and 1933–34 Chicago were landmarks in this respect.
Inventions such as the telephone were first presented during this era. An important part of the image of world's fairs stems from this first era.
Cultural exchange (1939–1987)
The 1939–40 New York World's Fair diverged from the original focus of the world's fair expositions. From then on, world's fairs adopted specific cultural themes; they forecast a better future for society.
Technological innovations were no longer the primary exhibits at fairs.
The theme of the 1939 fair was "Building the World of Tomorrow"; at the 1964–65 New York World's Fair, it was "Peace Through Understanding"; at the 1967 International and Universal Exposition in Montreal, it was "Man and His World".
The fairs encouraged effective intercultural communication for the exchange of innovation.
The 1967 International and Universal Exposition in Montreal was promoted under the name Expo 67. Event organizers retired the term world's fair in favor of Expo. (The Montreal Expos, a former Major League Baseball team, was named for the 1967 fair.)
Nation branding (1988–present)
From World Expo 88 in Brisbane onwards, countries started to use expos more widely and more strongly as a platform to improve their national images through their pavilions. Finland, Japan, Canada, France, and Spain are cases in point.
A large study by Tjaco Walvis called "Expo 2000 Hanover in Numbers" showed that improving national image was the primary participation goal for 73% of the countries at Expo 2000.
In a world where a strong national image is a key asset, pavilions became advertising campaigns, and the Expo a vehicle for "nation branding".
Apart from cultural and symbolic reasons, organizing countries (and the cities and regions hosting them) also utilize the world exposition to brand themselves.
According to branding expert Wally Olins, Spain used Expo '92 and the 1992 Summer Olympics in Barcelona in the same year to underline its new position as a modern and democratic country and present itself as a prominent member of the European Union and the global community.
At Expo 2000 Hannover, where countries created their own architecture, the average pavilion investment was about €12 million. Given these costs, governments are sometimes hesitant to participate, because benefits are often assumed not to outweigh the costs.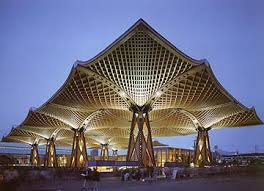 At Expo 2000 Hannover
Tangible effects are difficult to measure, but an independent study for the Dutch pavilion at Expo 2000 estimated that the pavilion (which cost around €35 million) generated around €350 million of potential revenues for the Dutch economy.
It also identified several key success factors for world-exposition pavilions in general.
We are looking forward to visiting the World Expo in 2025 in Osaka!
Last but not least, "Osaka ranked among best big cities the world over" which you'll find interesting, thanks