Have you ever heard of "Karaoke" or are you into "Karaoke" now, say, keep on singing your favorite songs enthusiastically without having to release the microphone or have you got tired of singing at the "Karaoke house" already?
"Karaoke", well, when it comes to having fun, you sure agree that you can't beat it, right?
That's because even whenever and/or wherever you are in a melancholy mood causing from stresses from work or after quarrel with your girl or boy friend or your spouse, or contrariwise when you are in a happy time, no one dispute that Karaoke is best.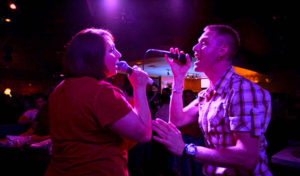 So today I'd like to talk about Karaoke which are now an international term and most people the world over would be enjoying to sing songs at Karaoke house, public house or tavern.
What's Karaoke?
Prerecorded musical accompaniment, usually on compact or laser disc. An essential part of one of the most popular leisure-time activities in Japan: the singing of songs backed by karaoke musical accompaniment at bars and pubs, at parties, or at home.
Karaoke (you pronounce "kæriˈoʊki" but we Japanese pronounce "kaɾaꜜoke") comes from a portmanteau of the words "kara" means "empty" and "ōke" means "orchestra".
And it is a form of entertainment developed in Japan in which an amateur singer sings along with recorded music (a music video) using a microphone.
The music is typically an instrumental version of a well-known popular song. Lyrics are usually displayed on a video screen, along with a moving symbol, changing color, or music video images, to guide the singer.
Karaoke, nowadays not only in most Asian countries such as China, Cambodia or the Philippines, Malaysia, South Korea and so on are available, but also North America, Europe and Australia.
The global karaoke market has been estimated to be worth nearly $10 billion and forecasted that it will increase more in the future.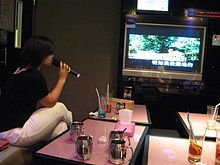 A person singing Karaoke in Hong Kong.
History of Karaoke
Recording studios and radio stations started using music-only karaoke tapes in the mid-1960s, and in the 1970s bar owners hit upon the idea of outfitting their establishments with karaoke sound systems so that patrons could sing along (today's systems display the song lyrics on a separate video monitor, and smaller systems are available for home use).
Most karaoke estalishments have a large and eclectic catalog of songs; the sentimental songs known as enka and contemporary music are among the most popular selections.
As more music became available for karaoke machines, more people within the industry saw karaoke as a profitable form of lounge and nightclub entertainment. It is not uncommon for some bars to have karaoke performances seven nights a week.
Commonly with high-end sound equipment superior to the small, stand-alone consumer versions. Dance floors and lighting effects are also becoming common sights in karaoke bars. Lyrics are often displayed on multiple television screens around the bar.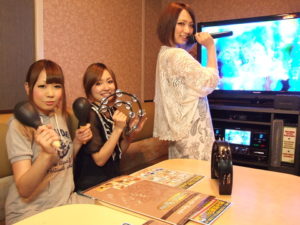 Karaoke Culture in Asia, North America, Europe and Australia
In Asia, a karaoke box is the most popular type of karaoke venue. A karaoke box is a small or medium-sized room containing karaoke equipment rented by the hour or half-hour, providing a more intimate atmosphere.
Karaoke venues of this type are often dedicated businesses, some with multiple floors and a variety of amenities including food service, but hotels and business facilities sometimes provide karaoke boxes as well.
But on the other hand of enjoyment, there are many drawbacks behind it and I'll report some as follows,
In some traditional Chinese restaurants, there are so-called "mahjong-karaoke rooms" where the elderly play mahjong while teenagers sing karaoke.
The result is fewer complaints about boredom, but more noise. Noise regulations can be an issue, especially when karaoke is brought into residential areas.
Violent reactions to karaoke singing have made headlines in Malaysia, Thailand and the Philippines, with reports of killings by listeners disturbed by the singing. In the Philippines, at least a half dozen killings of people singing "My Way" caused newspapers there to label the phenomenon "My Way killings"; some bars refuse to allow the song, and some singers refrain from vocalizing it among strangers.
Prostitution has been an issue in certain Karaoke boxes in Cambodia, Sri Lanka, Thailand and other parts of Southeast Asia despite being illegal in those countries.
In Thailand, "karaoke girls" are brought in not only from Thailand but from neighboring countries and are sent to other parts of the world.
Asian karaoke establishments are often fronts for gentlemen's clubs, where men pay for female hosts to drink, sing, and dance with them. Such a business is called, and a piano bar in Japan.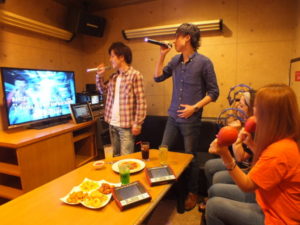 In North America and Europe,
A karaoke bar, restaurant, club or lounge is a bar or restaurant that provides karaoke equipment so that people can sing publicly, sometimes on a small stage.
Most of these establishments allow patrons to sing for free, with the expectation that sufficient revenue will be made selling food and drink to the singers.
Private karaoke rooms, similar to Asia's karaoke boxes, are commonplace in communities such as Toronto, Los Angeles, Chicago, New York City and San Francisco.
Toronto's Koreatown is one example of an area where popularity is growing to the point that private karaoke rooms require reservations on the weekends.
Karaoke is very popular in Scotland with dedicated karaoke venues in most reasonably large towns. Aberdeen is home to a number of notable karaoke bars including Wagleys, The Spirit Level, Bardot's Karaoke Bar, Sing City.
Throughout much of North America, live band karaoke is also popular. With live band karaoke, singers sing with a live band instead of the prerecorded backing track.
Karaoke made a brief appearance in Sofia Coppola's 2003 movie Lost In Translation, and it was, three years before, the primary focus of Bruce Paltrow's 2000 film Duets, written by John Bynum and starring Paltrow's daughter Gwyneth and Huey Lewis, "anchor-man" of Huey Lewis and the News.
Also popular among the international performing arts community in Europe, a group of Finnish producers organized an international karaoke competition called KWC (Karaoke World Championships). Their 2011 international karaoke competition has attracted ABC producers to help host America's karaoke competition in Las Vegas Nevada called Karaoke Battle USA.
The competition is promised to select 1 male and 1 female contestant to represent the U.S. in the international arena.
Largely supported by the Broadway community in Times Square, Pulse Karaoke Lounge sponsored 2011's New York state karaoke finals to select individuals representing New York in the eastern finals.
According to The New York Times, the dozens of karaoke bars in Portland, Oregon make it not just "the capital of karaoke" in the United States, but "one of the most exciting music scenes in America.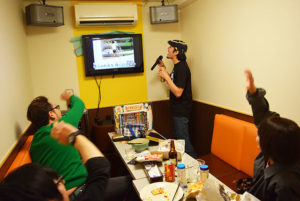 In Australia, karaoke was gradually popularized in the late 1980s. A number of Filipino migrants brought with them their own 'minus-one' music from cassette music tapes and video tapes purchased mainly in the Philippines. A number of Philippine-imported karaoke units with two cassette drives were used in private households.
Commercially, karaoke was first introduced into Australia in 1989 by Robin Hemmings who had seen karaoke operating in Fiji. Prior to this, karaoke was generally unknown to the broader population.
Hemmings, of Adelaide, South Australia, offered systems manufactured by Pioneer which utilised 12in (30 cm) double-sided laser discs containing a maximum of 24 songs with accompanying video track and subtitled lyrics.
In the mid-2000s, a number of karaoke bars sprouted in Sydney with karaoke boxes frequented by Japanese students and tourists and a few locals, especially on Thursday nights and weekends. A number of clubs such as RSL, League Clubs and restaurants and bars mainly feature karaoke nights to entice more customers and to entertain guests.
Sunfly Karaoke is probably the major karaoke brand in Australia as well as the UK.
Finally, upon reading the articles, don't you feel like singing your most-liked songs?
Let's go to the karaoke House, shall we?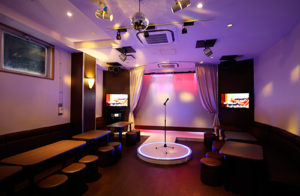 Karaoke is waiting for your coming and singing!