Hi  Messrs. & Mses. Japanophiles,  how are you?   "Origami ( art of paper folding) that is one of "Cool Japan", when it comes to folding paper, truth be told, I'm all thumbs.
I sometimes feel how awkward my fingers are moving to fold something. So I'm not so confident to talk about the folding paper, Origami.
What's Origami ( art of paper folding)?
If we say more detail of Origami, it is the art of folding paper into various figures.
I am asking therefore skillful persons about how to fold paper for Origami and I have something important and valuable talk about the relationship between the hand and the brain.
In Japan, most people do origami when they're children. No special equipment or tools are required-just a square of paper to fold. You don't even need scissors or glue.
Can all kinds of things be fashioned with origami?
Here' an iris,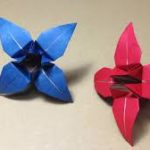 a crane,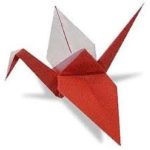 a paper balloon,
From wild flowers to objects found around the house-with origami, a child's imagination can run free.
Since the old days in our country, paper was not just something to write or paint on, it was a sacred object invested with spiritual meaning.
An ancient custom involves cutting paper into the shape of a person and letting it float away down a stream.
This is done as a symbolic way to get rid of impurity.
Paper has also long been important as a wrapping material for gifts. And about 600 years ago, strict rules of etiquette were established, govering the way paper was folded and wrapped.
In this way, each method of gift wrapping was endowed with its own specific meaning.
While folding the paper, people would bless it with their prayers, so that no impurities were transferred to the gift inside. Then, wrapped in the paper, the gift would be delivered to the recipient.
The techniques used in gift wrapping eventually gave rise to the sophisticated craft that is called origami.
This origami form is known as renzuru, meaning "linked cranes".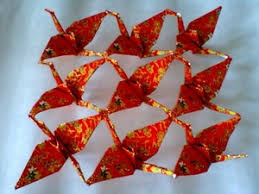 With a few incisions, a single sheet of paper can be folded into numerous cranes, all connected. In the 18th and 19th centuries, origami techniques of this type were developed to a remarkable level of sophistication.
Origami cranes took on a special significance after World WarⅡ. The children's Peace Monument in the Hiroshima Peace Memorial Park depicts a girl lifting a paper crane towards the sky.
The girl who was the model for this statue was exposed to radiation in the bombing of Hiroshima when she was two years old.
Nine years later, she developed leukaemia. One day, lying in her hospital bed, she heard that folding 1,000 paper cranes would make her with come true.
Her wish was to get well, so she began folding paper cranes using medicine wrappers and whatever paper she could find. But her wish did not come true, and she died at the age of 12.
The story of this girl became widely known, and later, people began to consider sets of 1,000 cranes to be a special form of origami imbued with hopes and prayers.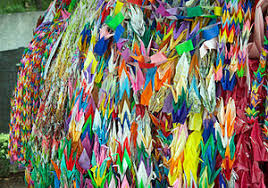 For people in Japan, origami is more than just a leisure activity, it's a compact form of art reflecting people's thoughts and feelings.
Have you ever heard of "Using your fingers makes your brain better" before?
Using a lot of hands stimulates brain cells, leading to activation of the brain.
There seems to be a research result that the blood flow of the brain rises about 10% when using hands compared to when not using hands.
If the blood flow of the brain is low, the nerve cells will die and will never be resurrected again. As nerve cells decrease, forgetfulness may become intense or blurring may occur.
It seems from these places that gymnastics using hands for the prevention of dementia and recommended to move the mouth which occupies the next largest proportion of hands with the previous image are from these places.
However, it is not a problem of just using hands. Acting like "using chopsticks" like doing in everyday life is not very stimulating.
I think that it will be very stimulating if "foreign people used chopsticks for the first time", but acts that they can do without thinking are not very effective in revitalizing the brain.
It is to move hands thinking that it is effective for activating the brain. In particular, playing instruments such as piano and keyboard typing etc. are said to be very good as you can use your head while moving your hands.
The piano thinks the strength of the sound and rhythm etc. by thinking with the head while chasing the score, so many stimuli are transmitted to the brain in order to move a lot of fingers.
However, it is quite hard to start a musical instrument that I have never done since one. Compared to that, keyboard typing just starts typing keys thinking about what you want to beat, so anyone can start it relatively easily.
In addition to doing other things to do normally with the dominant hand and the opposite hand it will be a stimulus to the brain so it may be a good idea to live a little consciously.
In conclusion
How was that. I like Rubik's Cube and I am doing well, but I've heard that "Using my fingers makes my head better", I tried to find out that it is a good opportunity as I am concerned.
As a result, it was a feeling that the memory part got better rather than having a better head overall, but I was able to know the proper reason.
I have never felt that Rubik 's cubes and typing are "stimulating the brain" or "I have elevated my brain' s blood flow by 10% …", but I have never felt that my future memory and health.
Because I think that it is important to move your fingers consciously from the usual, everyone should also consciously move your fingers and stimulate the brain a lot!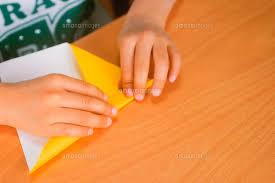 From I got beneficial idea in folding Origami with my fingers, shall I start making Origami for the purpose of not suffering from dementia in future even though I'm not good at folding that.