Hi how are you? Today's topic is the story of 90-year-old "Takimika-san"(we put "san" after her name to show kind of respect), the oldest sports instructor in Japan, who gave me tremendous courage and re-motivation when I was depressed by some illnesses with aging.
So I'd like to talk about the 90-year-old active fitness instructor "Takimika-san" who embodies her lifelong career, and her secrets of energy and her dreams.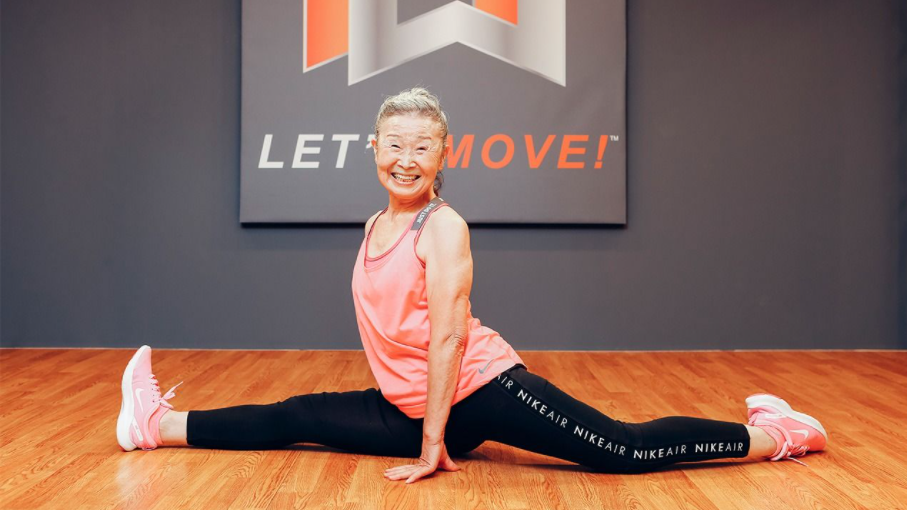 For those who are suffering from illnesses like me, who want to lose weight, or who are depressed, I would be very happy in listening to her energetic tips and cherished dreams gives you courage, hope, and motivation to live.
Who's "Takimika-san" and what brought her to be an instructor?
Real namae : TAKISHIMA Mika, born January 15, 1931
Height: 144cm (abt 4.7ft)   Weight: 44kg (97lb)   Body fat persentage: 27.7
Japan, with a 100-year-old population of over 80,000, is one of the longest-lived countries in the world.
Elderly people are playing an active role in various fields, and Ms Mika Takishima, the fitness instructor who turned 90 on January 15, 2021, is one of them.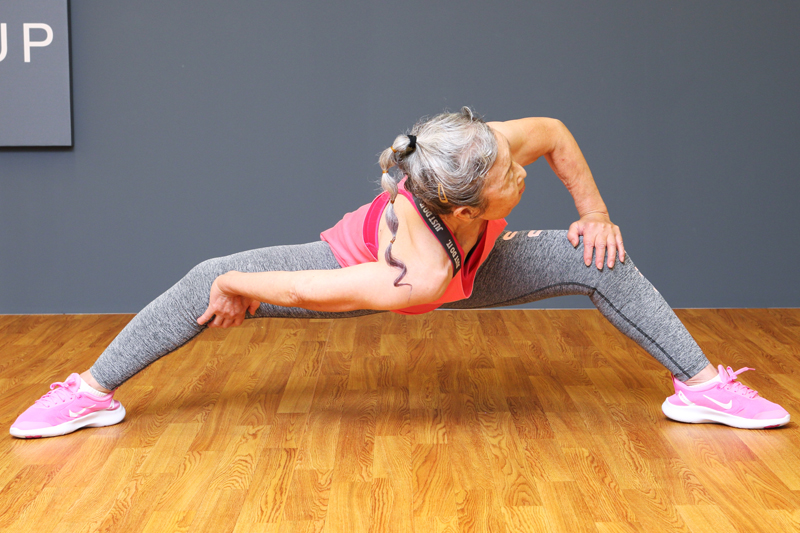 Ms Mika Takishima had been a full-time houswife after the child-rearing of two daughters, who had nothing to do with exercise.
One day "You get fat" pointed out by her husband and his casual word triggered herself that she had to do something to lose weight.
Her husband is so sweet that he found the fitness gym for her and she went to the gym at the age of 65 and started exercising.
She was immediately fascinated by fitness and she lost 15kg in five years, as shown the pants she wore which the size of her pants was about double as large as it is now.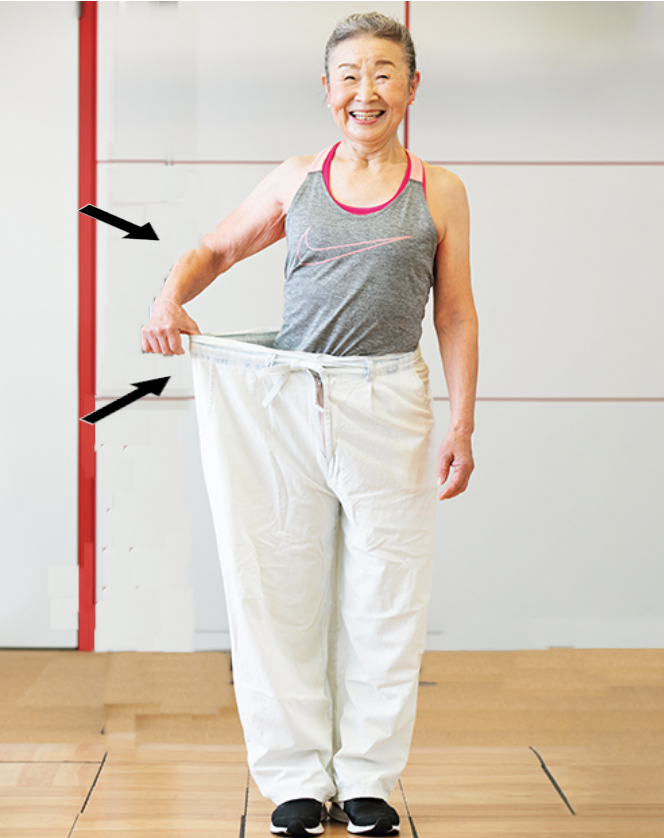 Then she received personal training at the age of 79. She became a fitness instructor at the age of 87.
Eight years later, an unexpected turning point was reached.
Tomoji Nakazawa (a representative of the fitness gym) told suddenly her saying, "You were going to be an instructor from today."
Mr. Nakazawa looks back on those days.
"Ms Takimika loves training, and her feelings are overflowing from all over her body.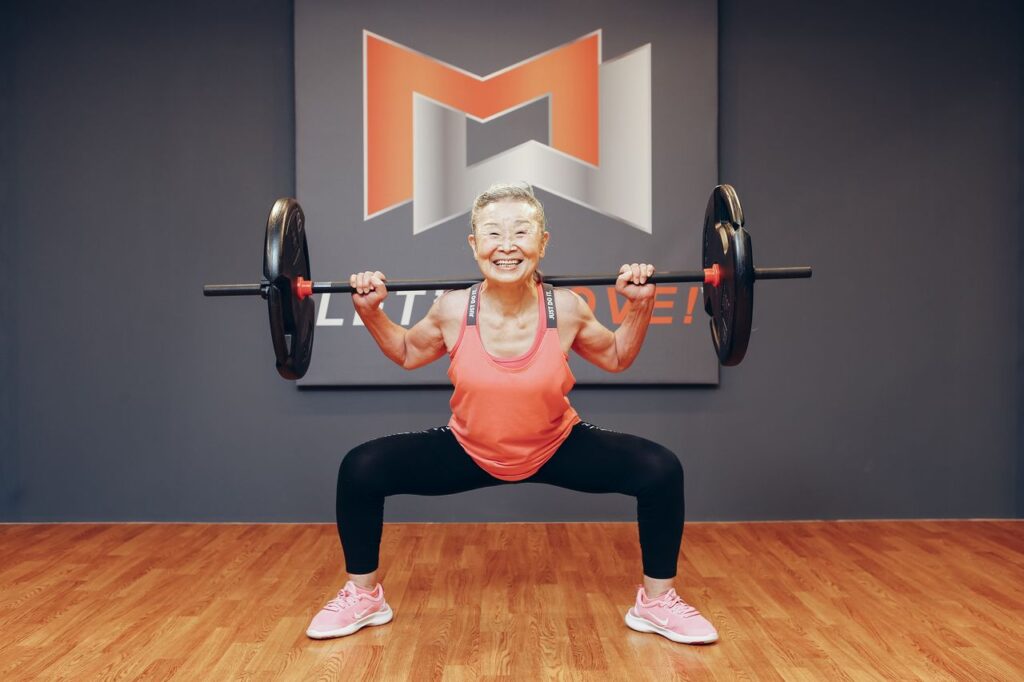 In addition, she is also a good talker. Every time he teaches her, he feels that "it is a waste to keep her as just a student", and forcibly he left it to her.
She was shy at first, but it was much better than expected.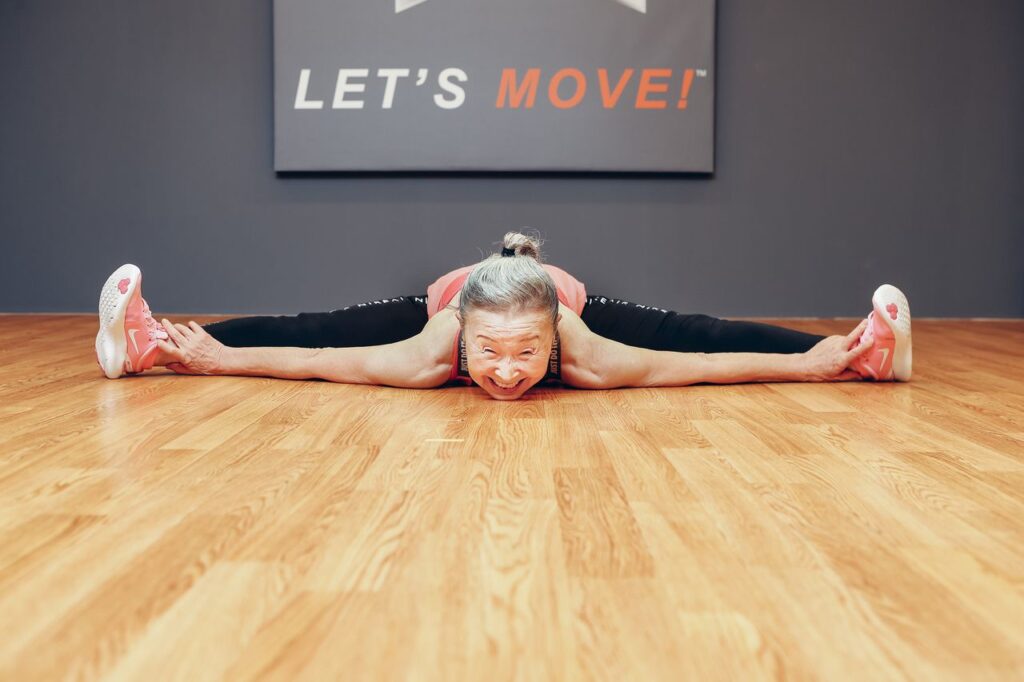 Now that we are now in a big trouble of the Corona pandemic, she teaches 20 men and women in their 40s and 60s her "Takimika Gymnastics" and core training that they devised by giving 60 minutes of online lessons once a month.
Takimika's lessons, which keep her incredible youth, are full of convincing, and her rich facial expressions and voices capture the hearts of the students.
Ms Takimika started exercising at the age of 65 and became a fitness instructor at the age of 87.
Her life of her embodies her belief that "Age is just a number" Yes, it's never too late to start anything.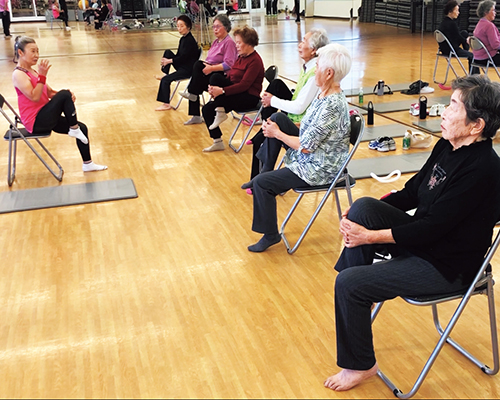 What does she do daily routine ?
She is quite busy every day, even from the early moring.
It's enough to sleep for 3-4 hours. she fells asleep around 23:00 and woke up around 3 am. Get up in the dark and work hard on walking and jogging.
She says that "I left home at about 4 o'clock and walked 4km, then jogging about 3km. Finally, I walked backwards 1km. Unless it rains, I always do it every day. 2 hours is so fast to pass in the morning."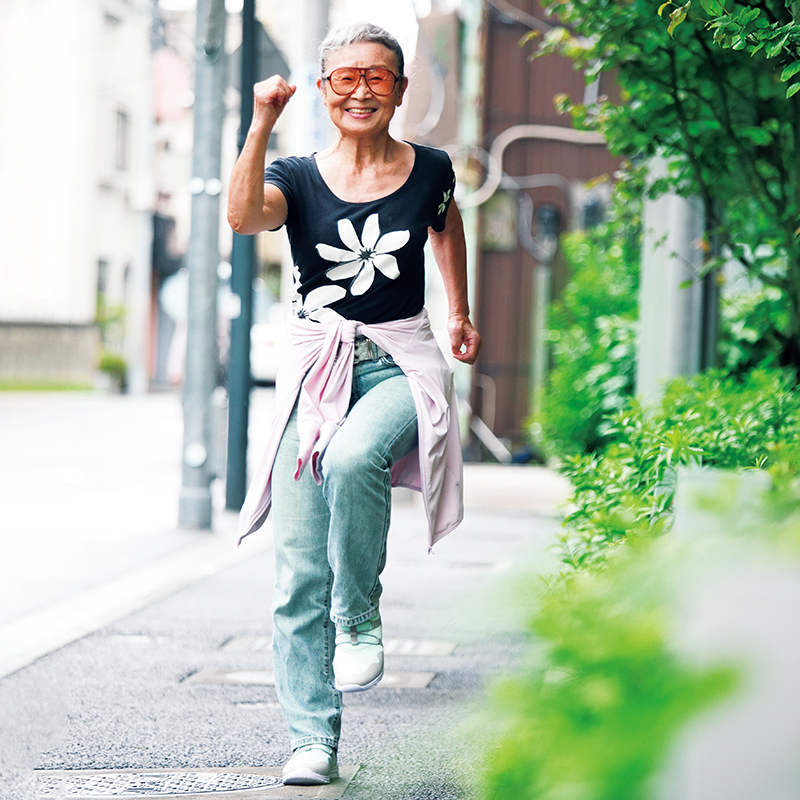 After plenty of physical activities, breakfast time starts after 7 o'clock.
After breakfast, does laundry and housework for cleaning, and sometimes stretches.
When I watch TV, I dent my stomach and my spine is straight. When I walk in the house, I always raise my heels.
She is not overdoing it. The more I did, the more I was happy to get results, and when I realized it, it became a habit.
After light lunch, be sure to move your body even on days when there are no lessons. Stretching intensively without playing music, followed by muscle training. It takes about 2 hours.
What about diet?
In breakfast, she grills horse mackerel and salmon and two packs of natto, eggs, tofu, and kimchi (Korean pickles).
It's a well-balanced menu with plenty of fermented foods and protein.
Lunch is light as only a banana with Yakult (a Japanese sweetened probiotic milk beverage fermented with the bacteria strain)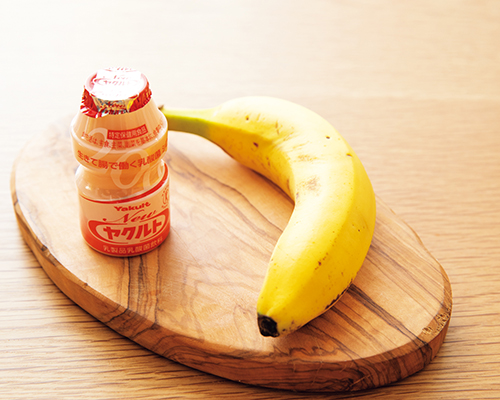 She says that's enough for lunch because if you eat too much, we'll get sleepy.
But she eats a lot of dinner, first of all, she enjoys wine before meals.
"I love red and white wine. I get wine and then eat slowly. I often eat vegetable soup with chicken. I often boil white vegetables, mushrooms, potatoes, carrots, konjak, etc. and add chicken.
The water from the vegetables is sweet and delicious. I love seasonal vegetables, and in winter I have plenty of carrots. " she says.
Takimika keeps in mind a well-balanced meal in the day. She doesn't eat anything that contains additives or preservatives, but she says these meals haven't changed since she started going to the gym.
In other words, it has nothing to do with stoic dietary restrictions.
She's eating as much as she likes and desire, that' because she eats cake, at first, she thinks she'll leave half and eat tomorrow, but she couldn't stand it and she ate it up.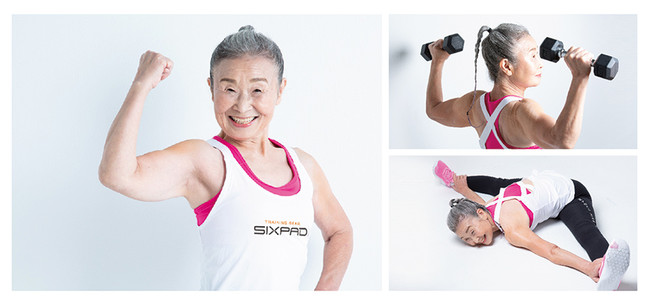 After dinner, she finally has free time, however, she works on the training tasks given by Mr. Nakazawa, that's how to operate smartphone and computer and concentrate on acquiring English.
She wants to connect with people all over the world and as many people as possible. She's working on it voluntarily with that intent.
Dream of the oldest instructor in Japan
"I started fitness from the desire to lose weight. When I lost weight, I wanted to tighten my butt like a Brazilian, and when I could do that, I wanted to make it an inverted triangle … I became an instructor. I never imagined such a life."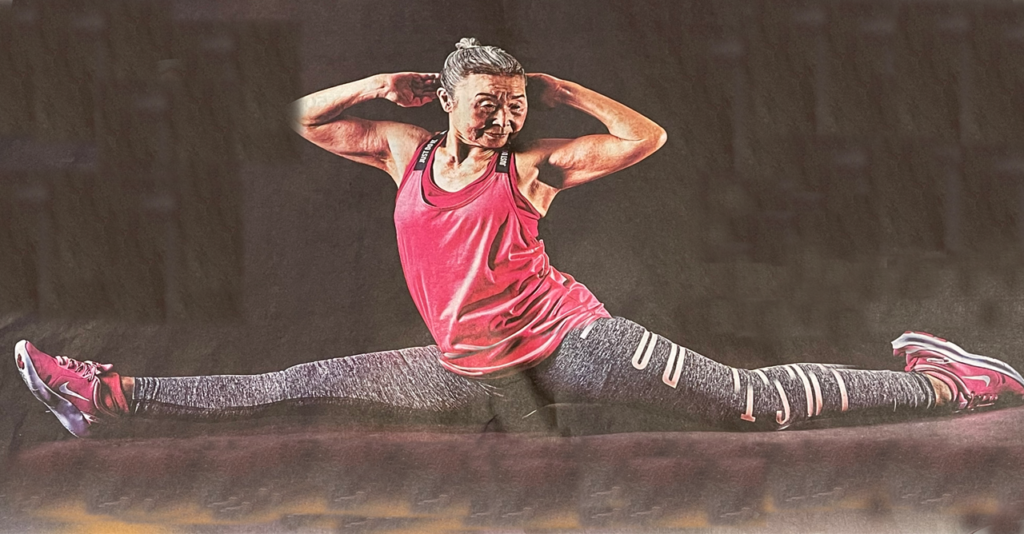 Ms. Takimika, who has become the oldest instructor in Japan, has a dream. That is,
One day, she received a message from someone who watched her video.
"I wanted to die, but when I saw Ms Takimika, who was full of energy, I changed my mind. I will live positively from now on."
After reading this, Ms Takimika thought,
"What I'm doing may help reduce withdrawal and loneliness. With that in mind, I set a goal. I visit 47 prefectures all over Japan and I want to see many people my training.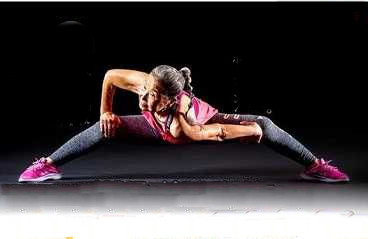 It doesn't matter if you just look at it. If you move your heart, you'll be motivated to try it. I want to continue till 100 years old as an instructor as long as I give energizing everyone. That's my dream.
Some may think, "A 100-year-old fitness instructor? It's impossible!" However, when I see Ms Takimika laughing innocently like a child, there is no sense of discomfort.
She says "Age is just a number," as she proves herself.
In the end, we have ,"Everyone in their 70s and 80s ! Let's start learning personal computers to cope with IT related to the Internet",
"It's still too early to call us old men!", and "Supercentenarian, Ms Kane Tanaka 116, World's Oldest Living Person by Guinness World Records" all articles being well-worth browsing, thanks