"Shall we offer a minute of silent prayer?" "Thanks", hi everyone, how are you? Today's theme is "Denuclearization" which has been demanded for over a half century.
On the occasion of ceremony which was marked the 75th A-bomb anniversary by Hiroshima on August 6 and Nagasaki on August 9, we observed a minute of silence for the atomic bomb's victims respectively.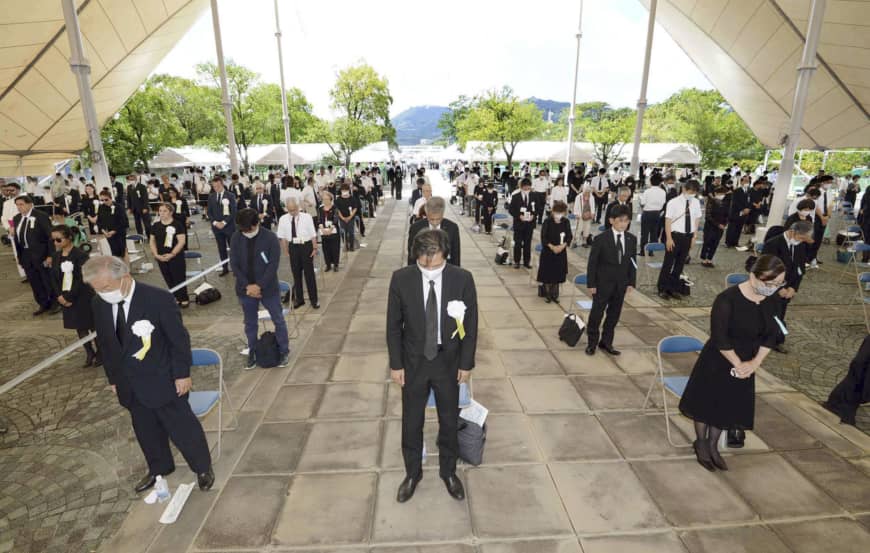 Participants in a ceremony marking the 75th anniversary of the atomic bombing of Nagasaki observe a moment of silence at 11:02 a.m., the exact moment the bomb was dropped on the city, at Nagasaki Peace Park on Sunday.
This year's ceremony was restricted to about 500 guests due to the coronavirus pandemic. Though attendance was reduced by about 90 percent this year, representatives from about 70 countries attended.
Has the long-cherished wish of the denuclearization achieved?
In Nagasaki Mayor memorial address on the 75th anniversary of the atomic bombing of the city, the mayor specifically asked the government to sign and ratify a U.N. treaty banning nuclear weapons that was adopted in 2017 but is still not in force.
At the same time and place, he pushed the government to take more action toward achieving a world free of nuclear arsenals amid a global lack of leadership on the issue.
However, Prime Minister Shinzo Abe failed to mention the Treaty on the Prohibition of Nuclear Weapons in his address that followed.
"If, as with the novel coronavirus which we did not fear until it began spreading among our immediate surroundings, humanity does not become aware of the threat of nuclear weapons until they are used again, we will find ourselves in an irrevocable predicament," he said in his speech at Peace Park.
But Abe did not refer to the treaty when he delivered his address at the ceremony, which was also the case when he was present at the commemorative event in Hiroshima three days ago.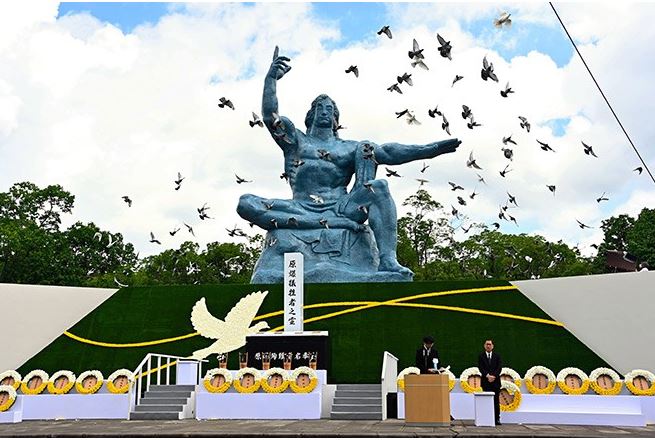 Doves take off from Nagasaki Peace Park on Aug. 9., where the ceremony to memorialize victims of the atomic bombing was held near the Peace Statue.
The statue's right hand pointing upward depicts the threat of the atomic bomb, the left hand stretching horizontally symbolizes eternal world peace including nuclear disarmament, and closed eyelids express the consolation for the war dead.
Abe said Japan will adhere to its three anti-nuclear principles against producing, possessing and allowing the entry of nuclear weapons into Japanese territory while working as a bridge between countries taking differing positions on nuclear weapons.
He also said Japan will push to promote dialogue between those countries.
Recollections from the survivors
Songwriter Kino Fumio lost his wife and children to the atomic bomb on that August 9, 75 years ago and went on to express his sadness and feelings about peace through music. In his memoirs he wrote the following:
"The tragedy that unfolded beneath the reddish-black mushroom cloud that spread out on that day is deeply embedded in my heart. The awful sight of hideously burned people covered in flames.
Innumerable corpses scorched until they were almost carbonized and spread around the debris like logs and women wandering about with leaden eyes, phantasmagoric visions such as this vividly revisit my mind as the day of August 9th comes around each year."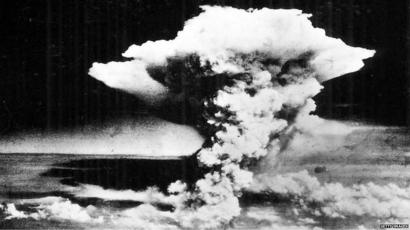 Shigemi Fukahori, 89, one of the dwindling number of survivors of the nuclear blast, gave the Pledge for Peace.
He worked at Mitsubishi Heavy Industries Ltd.'s Nagasaki Shipyard when the plutonium bomb detonated. Four members of his family were killed in the atomic bombing of the city, which occurred at 11:02 a.m. on Aug. 9, 1945.
Fukahori, a Catholic, presented a wreath when Pope Francis visited Ground Zero in Nagasaki in November last year (2019).
In the Pledge for Peace, Fukahori said, "I will continue to champion my conviction that Nagasaki should be the world's last atomic bombing site, inspired by the papal call for the abolition of nuclear weapons."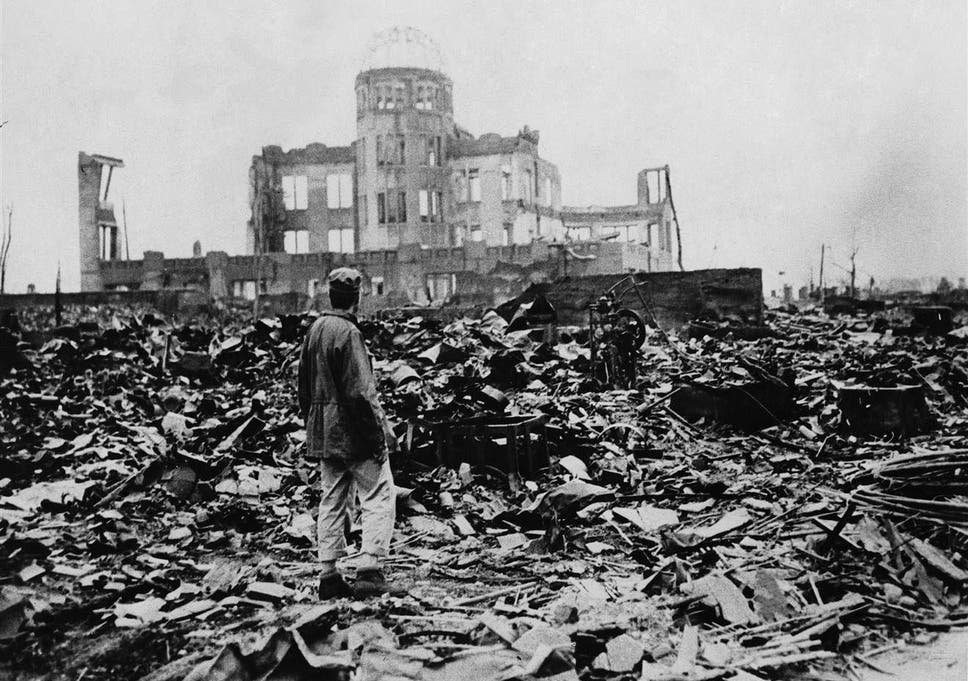 Appeal for the denuclearization from around the world
When the Pope visited Nagasaki last year, he said two things that may be keys. The first was that "To make this ideal of a world of peace, free from nuclear weapons a reality calls for involvement on the part of all."
I hereby appeal to everyone around the world.
Setsuko Thurlow, born 3 January 1932 is a Japanese–Canadian nuclear disarmament campaigner and Hibakusha who survived the atomic bombing of Hiroshima on 6 August 1945.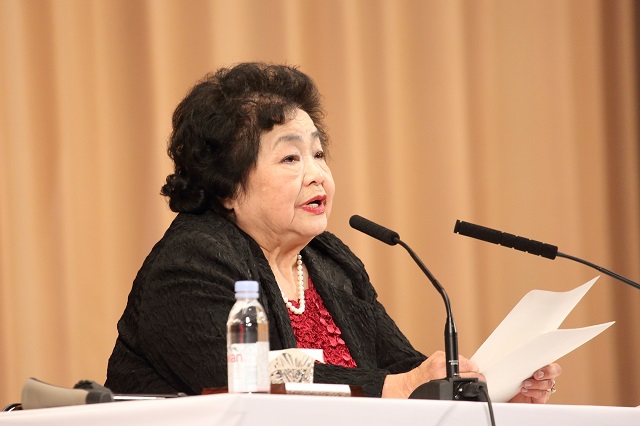 She is mostly known throughout the world for being a leading figure of the International Campaign to Abolish Nuclear weapons (ICAN) and to have given the acceptance speech for its reception of the 2017 Nobel peace prize.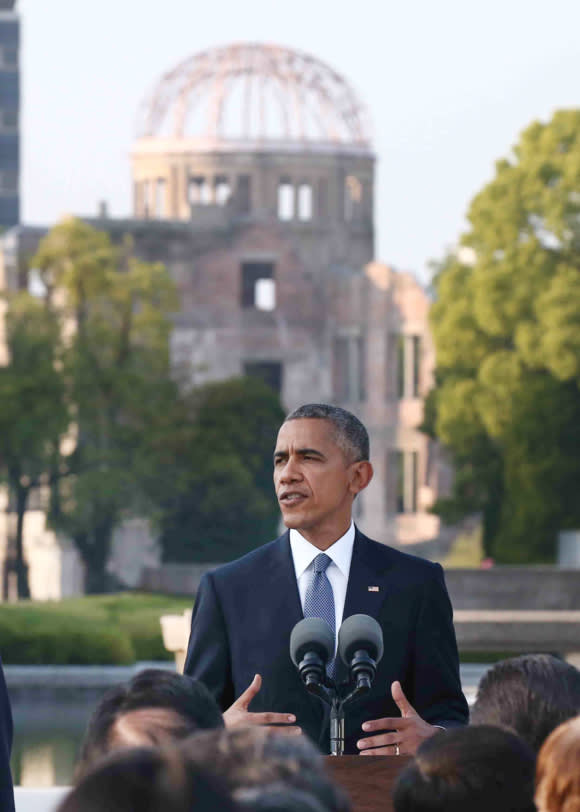 "Seventy-one years ago, on a bright cloudless morning, death fell from the sky and the world was changed. A flash of light and a wall of fire destroyed a city and demonstrated that mankind possessed the means to destroy itself.
Why do we come to this place, to Hiroshima? We come to ponder a terrible force unleashed in a not-so-distant past. We come to mourn the dead, including over 100,000 Japanese men, women and children, thousands of Koreans, a dozen Americans held prisoner.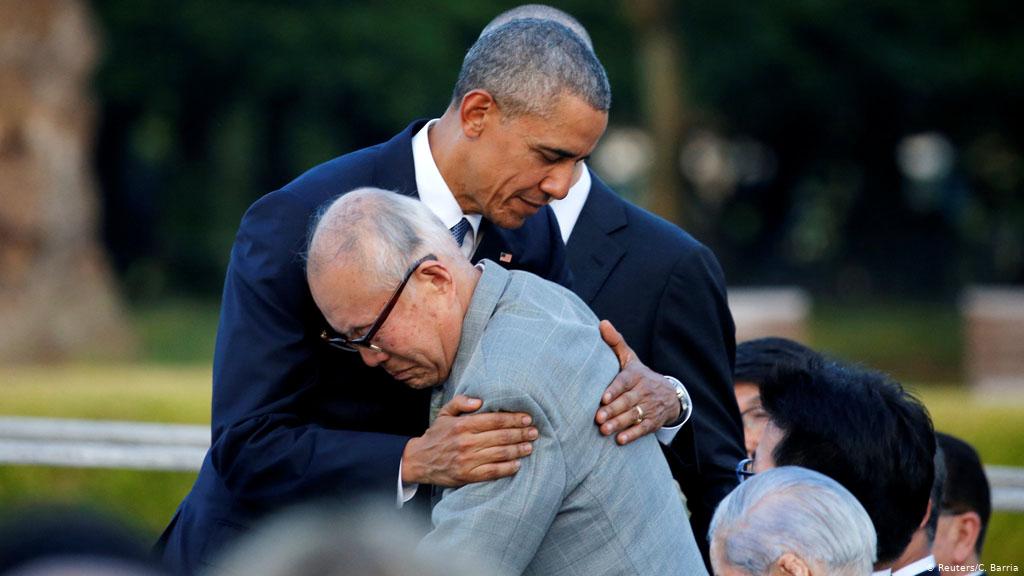 Their souls speak to us. They ask us to look inward, to take stock of who we are and what we might become."said Barack Obama.
Former U.S. Vice President and Presumptive U.S. Democratic presidential nominee Joe Biden marks Hiroshima anniversary with vow to work for nuke-free world.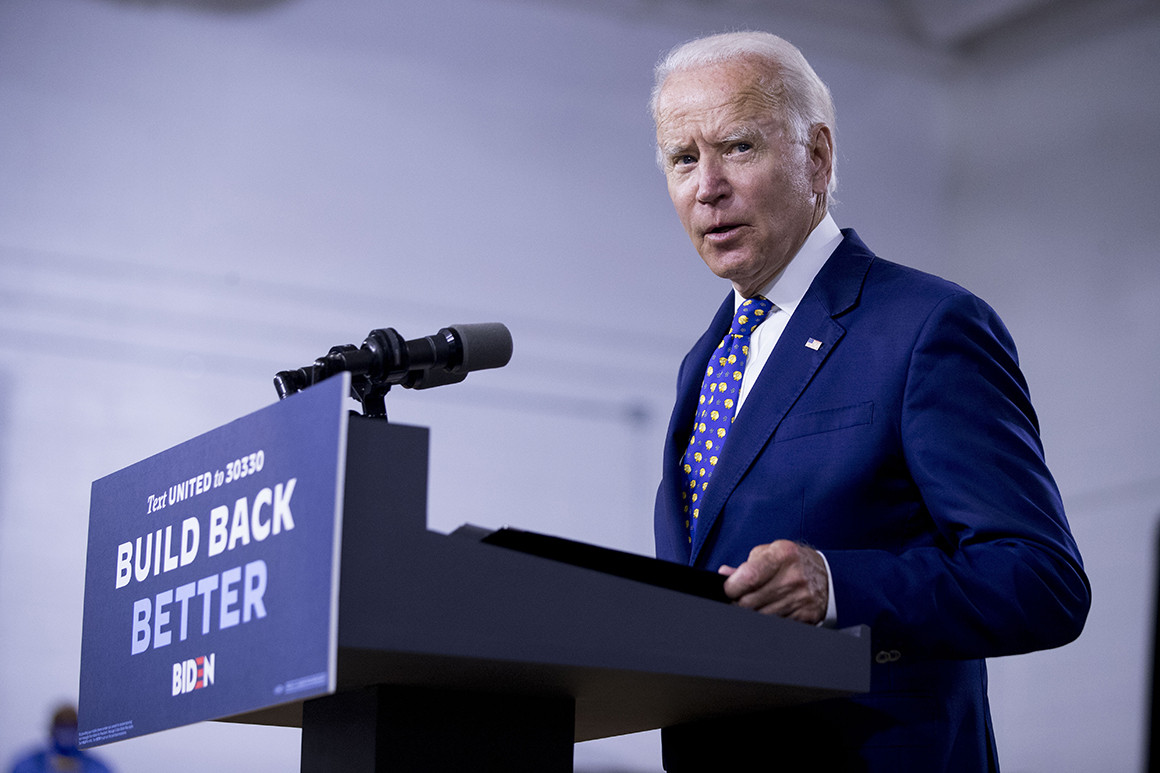 He will strive for a world without nuclear weapons, criticizing Republican President Donald Trump for undermining past efforts to curb the dangers of such arsenals.
"I will work to bring us closer to a world without nuclear weapons, so that the horrors of Hiroshima and Nagasaki are never repeated," Biden said in a statement, touching on a long-term goal set by former President Barack Obama when Biden served as vice president.
The statement was released on the 75th anniversary of the U.S. atomic bombing of Hiroshima in 1945. A second atomic bomb was dropped on Nagasaki three days later and Japan surrendered six days after that, marking the end of World War II.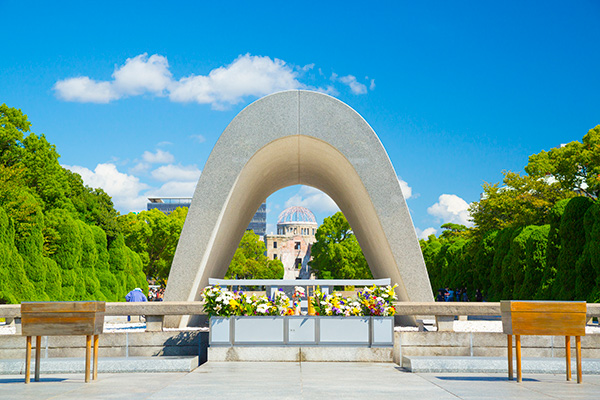 Hiroshima Peace Memorial Park
"The United States became the first, and so far only, country to use a nuclear weapon in war," Biden said, adding that "the scenes of death and destruction, first from Hiroshima and then Nagasaki, still horrify us, three-quarters of a century later."
The former vice president said there is a "collective responsibility" to ensure such weapons will never again be used, but suggested that steps toward that "ultimate" goal would be incremental.
Efforts should begin with the United States and Russia agreeing to extend their nuclear arms reduction pact, which is set to expire in February, he said.
"For decades, American leaders of both parties have understood that the United States has a national security imperative and a moral responsibility to reduce nuclear threats, including by negotiating treaties and agreements to control and eventually eliminate these weapons," Biden said.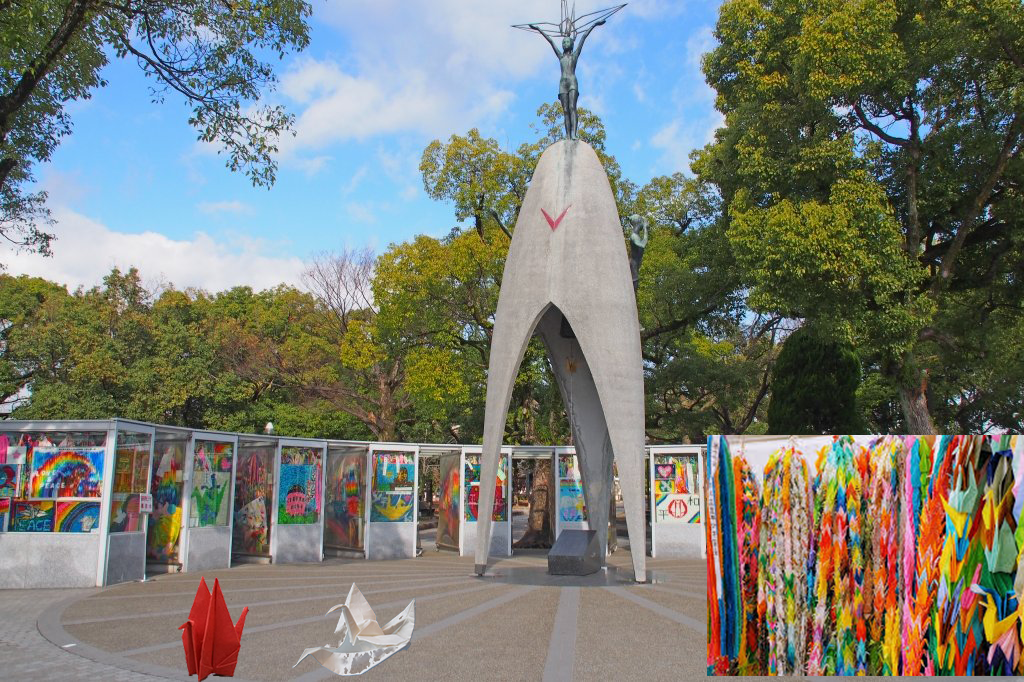 The Children's Peace Monument (Atomic Bomb Children Statue) is a monument for peace to commemorate Sadako Sasaki and the thousands of child victims of the atomic bombing of Hiroshima.
This monument is located in Hiroshima, Japan. Sadako Sasaki, a young girl, died of leukemia from radiation of the atomic bomb dropped on Hiroshima on 6 August 1945.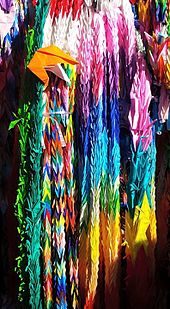 Paper cranes hanging outside of the Children's Peace Monument
May You Rest in Peace