After a long two-month damp rainy season, in August, we are now in the day when the heat wave relentlessly hit upon us, and at the same time, we were threatened by the coronavirus every day. But today's topic is "face mask" that we want to avoid to wear on hot days and when eating and drinking.
Hi everyone, how are you doing under these unfavorable situations? And we generally don't like to hear news from media about how many people infected with the virus and died from it, in addition the number of people were hospitalized due to the heat stroke and died.
On these unfavorable conditons, what we absolutely need is to take balanced meals and enough sleepness to keep or improve our immunity to fight these enemies.
Actually we want to eat unreservedly, however, we have to observe social distance in every cases including eating and drinking.
As you would know already, we can't talk freely without face mask in restaurant, or at home.
So I'd like to introduce a unique face mask devised by Saizeria restaurant these days.
What's the unique face mask, then?
Japan's Saizeriya restaurant 'develops' face mask to wear when eating.
Japanese restaurant chain operator Saizeriya Co. has "developed" a face mask for use when eating and drinking, possibly a boon to eateries around the world hit hard by social distancing necessitated by the coronavirus.
The method unveiled by the Italian restaurant chain Friday in a YouTube video and a news conference attended by President Issei Horino involves using origami paper-folding craft-like technique to combine an existing mask and a regular paper napkin.
Explanations in video in Japanese but I believe non-Japanese people would be almost understandable, I hope;

In the video, a Saizeriya official demonstrates how a mask is folded in half to expose the wearer's mouth, with the napkin hanging like a handkerchief from the mask, allowing users to put a spoon in their mouth.
"It might look fragile, but the paper napkin can prevent droplets," Horino said during the news conference in Tokyo.
The company, which owns subsidiaries in Australia, China, Hong Kong, Taiwan and Singapore, is encouraging other restaurants to follow suit and introduce the readily available, lost-cost masks for meals.
▼ The first step, removing your own mask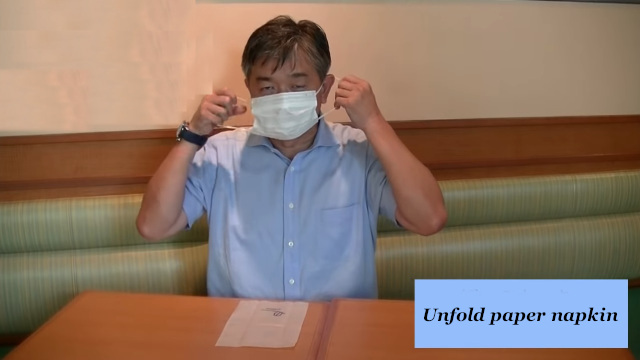 ▼ You then fold your mask in half, wrap the plastic sheet around it, and then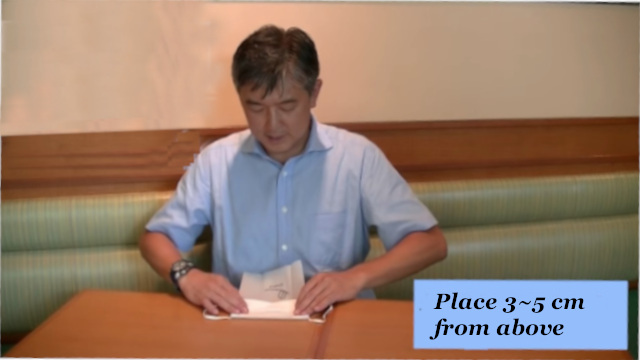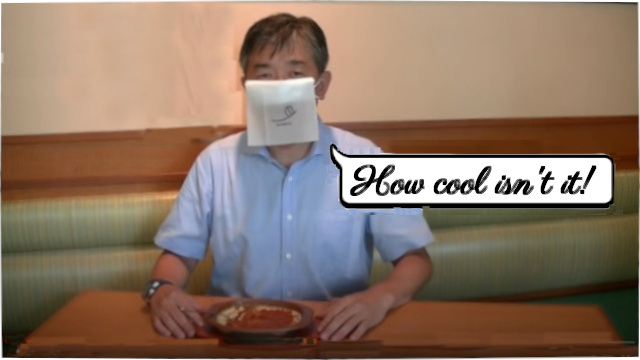 ▼ With only the dangling sheet covering your mouth, you can eat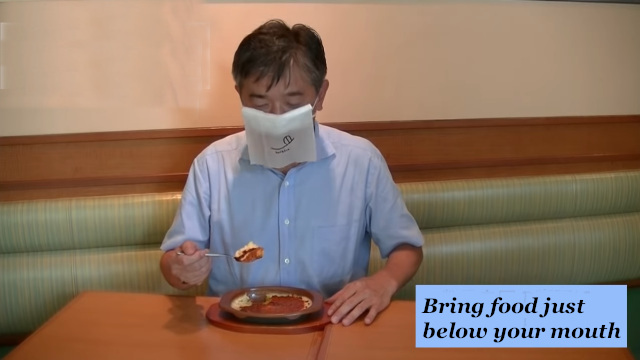 ▼ …and drink while wearing it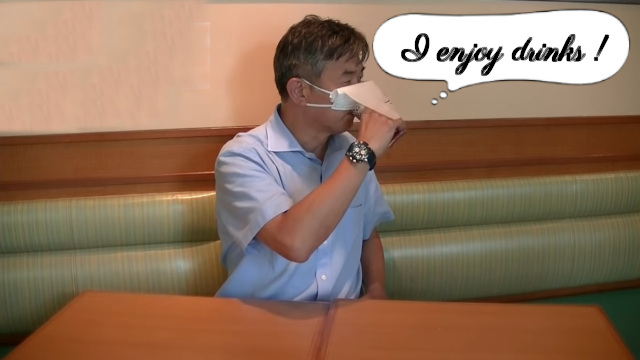 If you're sitting at a table with three, four, or more people, "developed mask isn't going to do much to prevent you from sucking down each other's oxygen.
And that's not even taking to account laughing or louder voices that could send the whole thin sheet flying upward anyway.
"We want people to enjoy dining out even in the time of the coronavirus calamity," Horino said.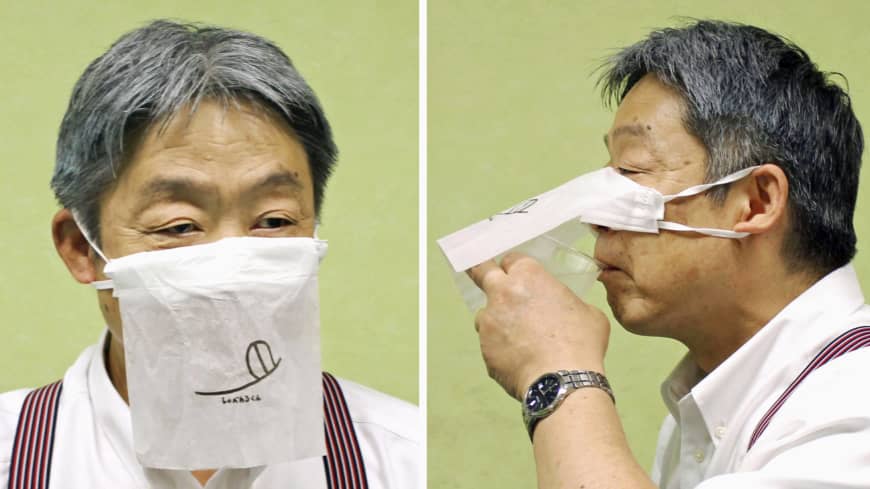 Even though masks were already a common sight in Japan, many businesses have had to adapt to their even more widespread use.
Everything from karaoke parlors using "mask effects" on music to masks that can translate speech into different languages.
Speaking of face mask developed for eating, Tokyo Mixed Chorus has also developed by itself "mask for singing" recently.
What's "the mask for singing"?
The Tokyo Mixed Chorus is a chorus that was founded in 1956 and represents Japan.
Throughout numerous concerts, such as regular concerts in Tokyo and Osaka, and co-starring with orchestras both in Japan and abroad, it has conveyed the wonder of chorus.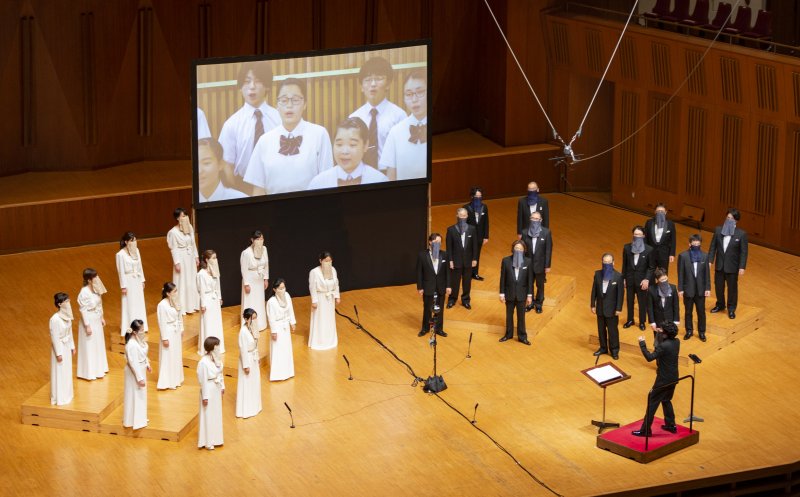 However, the spread of the new coronavirus also affected the choir's activities, and the cancellation was continued after the concert at the end of February 2020.
In addition, with the outbreak of chorus members infected and the danger of singing becoming widespread, the choir decided to restarts performances with a mask on in order to respond to professional pride and the values of the with coronavirus era. .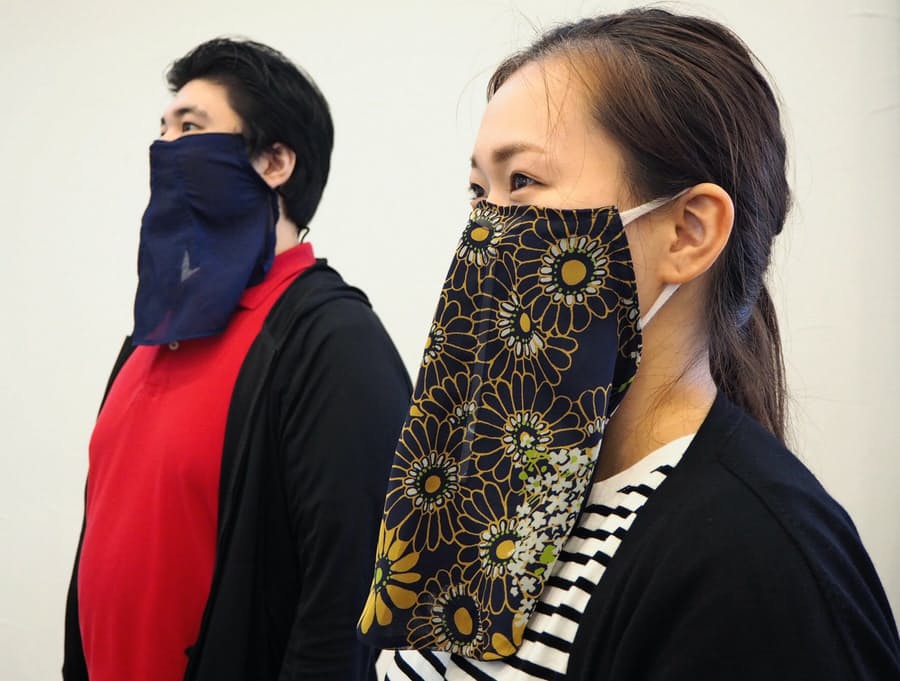 At first, they tried a mask that is on the market, but when they took a breath, they couldn't use it because it stuck to their mouth.
The Secretary-General asked several manufacturers and apparel companies to produce chorus masks, but it was said that it would take half a year from everywhere.
"We have no choice but to make it ourselves," the team members began working on in June.
Aiming for a mask that can be sung, they made trials and errors while making various prototypes of shapes and materials.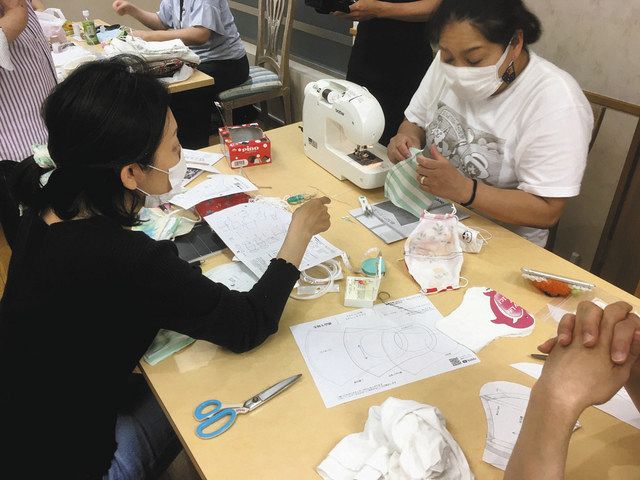 Upon completion, they asked an acoustic expert to analyze the results and found that there was almost no difference in how they were heard with or without a mask.
On July 31, the concert for the first time in about five months was held at the Tokyo Metropolitan Theater in Ikebukuro.
In addition to implementing infection control measures such as spacing the audience seats, about 30 members wore masks for chorus to create beautiful harmony.