Hi  Messrs. & Mses. Japanophiles.  how is it going?  Today I'd like to report that only one-here tradition is brought to life on the river called "log rafting".
What, Why, and Where is "log rafting"?
Kitayama Village lies deep in the mountains of the Kii Peninsula in central Japan. It is a small village, with a population of about 450. Some 97 percent of its area is covered with thick forest.
In the old days, therefore, the main industry was forestry, and the lumber cut in the mountains used to be transported to the coast by assembling the logs into rafts and floating them downstream on the Kitayama River.
Around 40 years ago, the village decided to revive that tradition and offer tourists the opportunity to ride down through the rapids on similar log rafts.
Kitayama Village is the only place in the world that offers visitors an experience of this kind.
But think sitting in an inflated raft while rushing down white-water rapids is hardcore?
You haven't tried the wildest rafting experience in Japan, have you?
Kitayama village, located about three hours from Osaka in Wakayama prefecture, offers tourists a chance to discover what it's like to sail down the swift currents of Kitayama River on traditional logging rafts.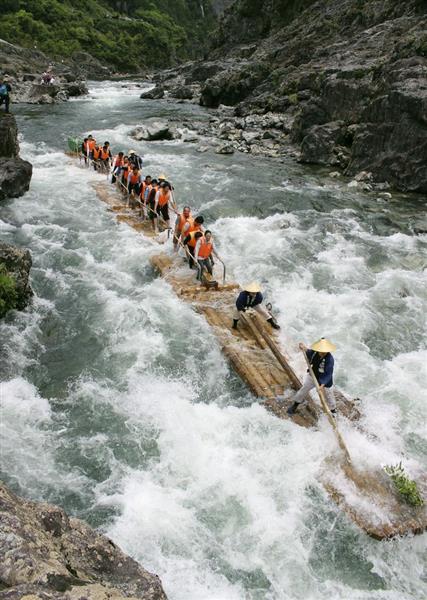 Deep in the heart of Wakayama lies the Kitayama River. For over 400 years, specially trained ikadashi (rafter) have been navigating the gorges and waterways to bring logs 30 kilometers downstream in what is known as Ikada kudari (downstream log rafting) to the city of Shingu for both construction and export all over Japan.
The area is home to many hinoki (Japanese cypress trees), which have a high quality timber used in the construction of temples, shrines, and castles.
Sugi (Japanese cedar trees) are also found in the region and these too were transported downstream by raft. The cedar tree is the national tree, and commonly found planted around shrines and temples.
The prized hinoki trees are what the ikada (log raft) is crafted from. The logs are tied together with a special rope that is made from hinoki bark.
The Ikada usually consists of seven or eight separate sections called yuka that span eight logs across (4-5 meters), tied together to slink down the river like a giant wooden snake.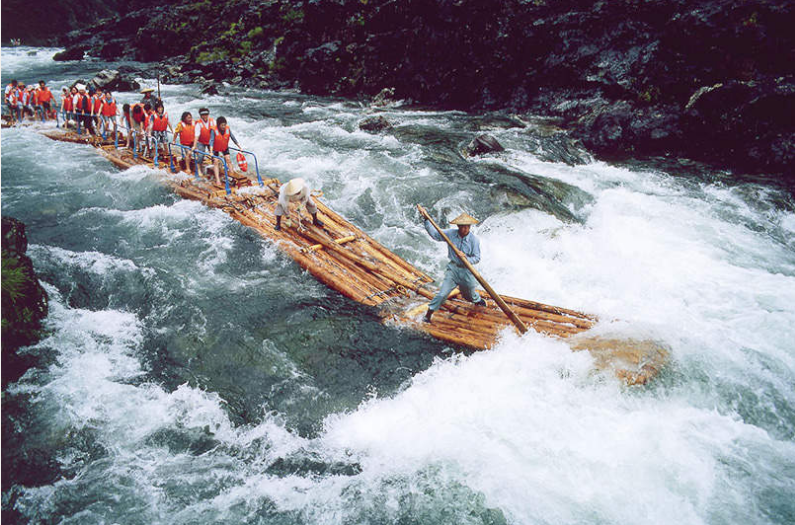 The five-and-a-half kilometer ride transports passengers back in time as the ikadashi rush about wearing traditional sugegasa (pointy straw hats), happi (traditional coats), and tabi (traditional shoes), all the while floating down a pristine, blue-green river by cascading waterfalls and through a mountainous landscape.
Wooden oars in hand, they pilot the rafts down the river rapids while standing, wearing happi,tabi ,and a sugegasa hat… and no life jacket.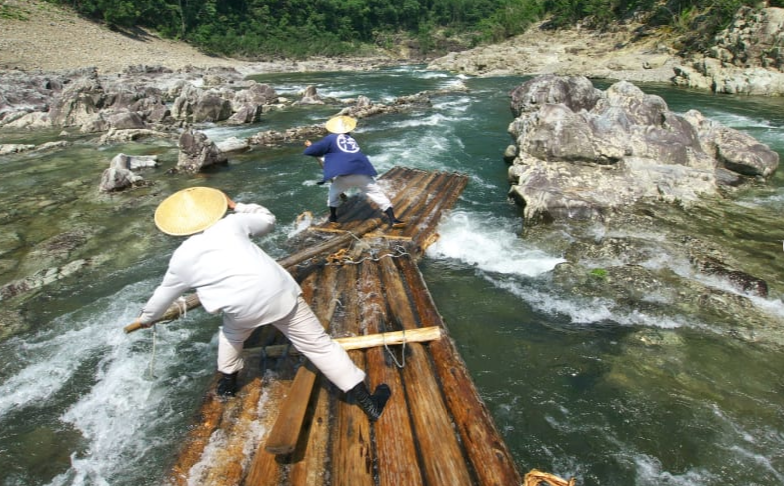 The fourman ikadashi team uses different kinds of poles to navigate the waterways.
On the front yuka stand two ikadashi, one uses the kaji-bou (oar) to steer while the others skillfully rotate around along the sides of the ikada scouting the current ahead.
The raft operator uses kai (paddles) looped through rope to help steer, and sao (a long stick) to push-off the rocks that the raft narrowly edges alongside.
The beautiful scenery lulls you into a state of awe only to be jarred back by one of several stretches of white-water rapids that will have you both shouting and laughing as you are whisked downstream.
You can expect to get wet as the water washes over your feet and ankles while the raft dips through the rapids and river spray rushes up to greet you.
But here's the kicker — you're not even seated.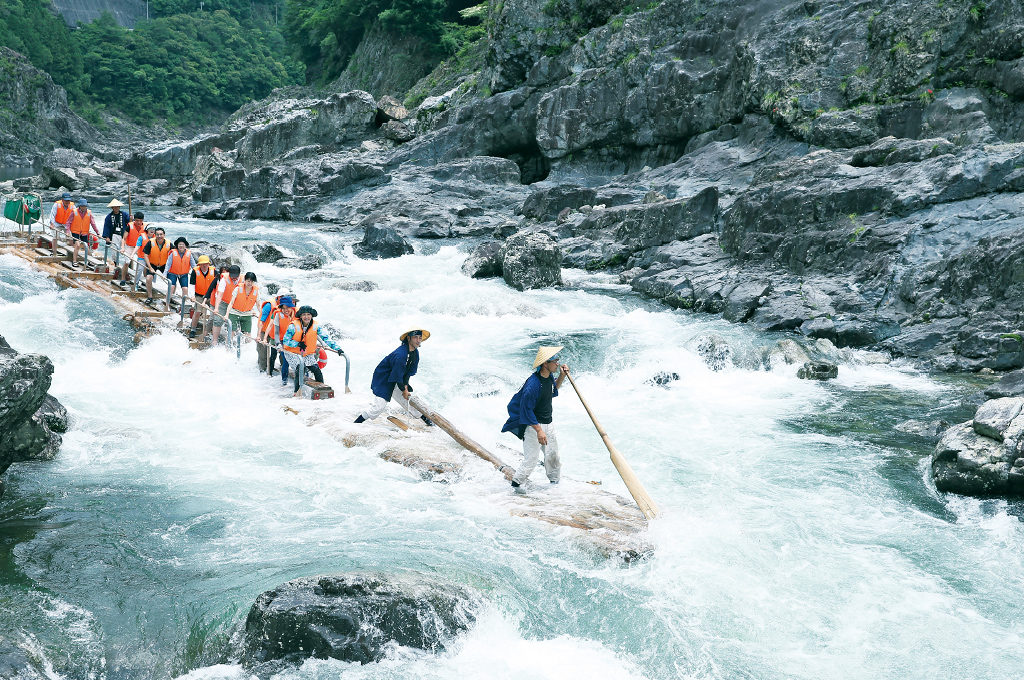 For the whole time, riders stand in a line on the sturdy, long wooden rafts, clutching only the metal/wooden handles that rise from the base of the rafts.
Ikada Kudari is fun for the whole family; anyone from age 10 to 75 is allowed on board, but that doesn't mean there aren't plenty of thrills to be had.
The ride lasts a little over an hour with around 10 sections of whitewater rapids to encounter.
May marked the start of the rafting season that will last until the end of September, with peak season being in July and August.
The rafting season lasts from May to September, with reservations accepted from April 1. Days and times vary depending on month. Minimum age to join is 10 years old.
Price is 6,000 yen ($53) per adult, 3,000 yen per child.
To book online, visit Kumano-travel.com.
More Information
Ikada Kudari is operated out of the Kitayama Village Tourism Center
• Price: ¥6,000 per person (plus a ¥2,000 deposit per person paid when booking)
• Tel: 0735-49-2037
• Email: jabara@kitayamamura.net
• Access from Osaka: Kintentsu Ltd Express from Tsuruhashi Stn to Kumanoshi Stn, then a bus from Kumanoshi Stn to Kitayama
• Times: May, June & September – weekends only • July & August – every day except Thursdays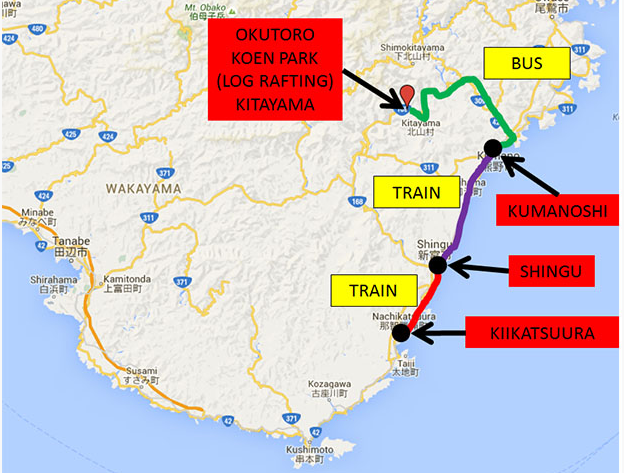 Review of Kitayamamura Log Rafting
1) Unique experience only in Kitayama (from Hong Kong)
I had tried white water rafting so this will not be as excited but for those who had never any rafting before, this is a very good start. My husband loves it and enjoys it very much.
Its a pretty safe experience since the staff are very professional and will steer the raft safely in the river. There were about 5 times going through rapid water and it was fun. There other times we are allowed to sit and enjoy the scene.
We booked through Kumano travel without fuss. Drove from Kii Katsuura station after watching tuna auctionand had lunch at Yamazaki(next to the registration centre) before joining the 1:00p.m. tour.
A bus will take you to the river and the rafting takes about 1.5 hours before returning by bus back to the tourist centre.
Date of experience: July 2019
2) A wonderful experience (from Singapore)
I have done white water rafting but log rafting was new to me. Log rafting is only available from spring to September. It is actually quite safe as there are hand rails for you to hold on and you can sit if the water is calm.
It was raining when we did the log rafting. The scenery along the river was amazing. Waterfalls can be seen and it made the journey so much more pleasant.
It was fascinating to watch the rowers pull and steer the rafts along the river.
It is a lot of hard work and I think the JPY6,000 that we had to pay for the ride was worth every penny!
Date of experience: September 2018
3) Fun, beautiful and very unique (from Florida, USA)
I discovered this log rafting tour on on the internet when I was doing my research for Japan and knew I had to to this as it is unique and the only place known to do this anywhere.
It was worth all the effort to get here. It was crazy, fun, beautiful and peaceful. They have a fantastic base facility.
Travel is about experiences and you should add this one to yours!
There is no English web site so use google translate.
I am not even sure what the "name" is that they go by.
I got in touch with the Kitayama tourist office and they in turn helped me with this.
You can email the log raft folks at Jabara@kitayamamura.net. Just ask for help in English. It may take a few days before you get a response.
You will need a car to get here and the road is in great shape but narrow at times. Worth it for an unusual experience I think.
Date of experience: June 2017
In closing, the adventure sport was inspired by Japan's traditional lumber industry, in which felled wood was assembled into rafts then sent down the river — a transport method used for more than 600 years.
In the late 1970s, it was introduced to tourists.
Why don't you have a thrilling moment on the raft?