Hi  everyone how have you been? Today'd topic is " Asakusa Yabusame " "horseback archery" in Samurai Days which is one of "Cool Japan" and it was held yesterday on April 20, 2019.
This event called Asakusa Yabusame is held on the 3rd Saturday of April at Sumida Park every year.
What's " Asakusa Yabusame "?
"Yabusame" riding a running horseback and shooting arrows aiming to targets, although it looks that they don't need so hard to do that as they are professional, but it's quite much more difficult to hit the target from a moving horse than we can imagine.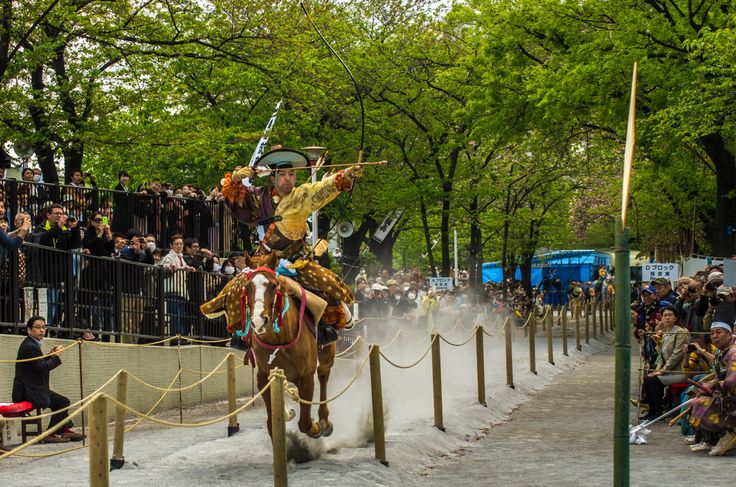 Yabusame is the impressive Japanese martial art of horse-mounted archery, embodying the samurai spirit and shinto traditions.
Today in Asakusa the traditional art is demonstrated as a tourist event, yet in respect of its requirement and with much solemnity.
Yabusame takes place in the afternoon on a narrow strip of land on the bank of the Sumida River.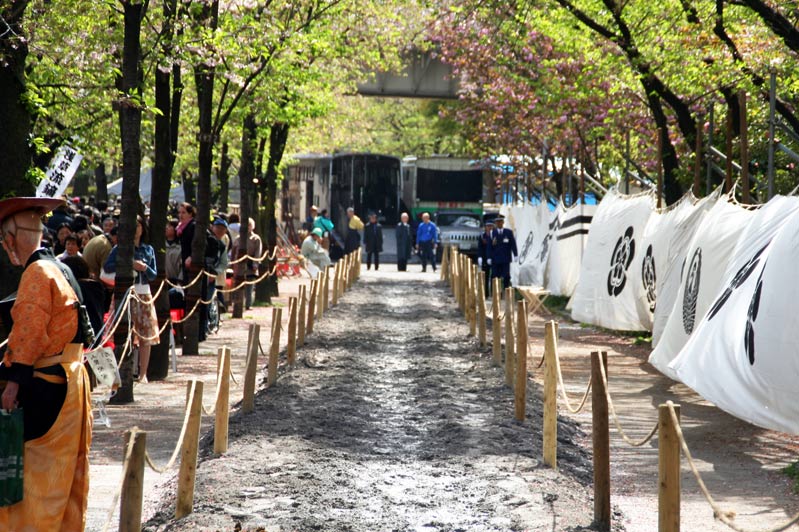 It is utterly spectacular to see each archer on a horse, bursting into full gallop, fire three arrows at three wooden targets in succession.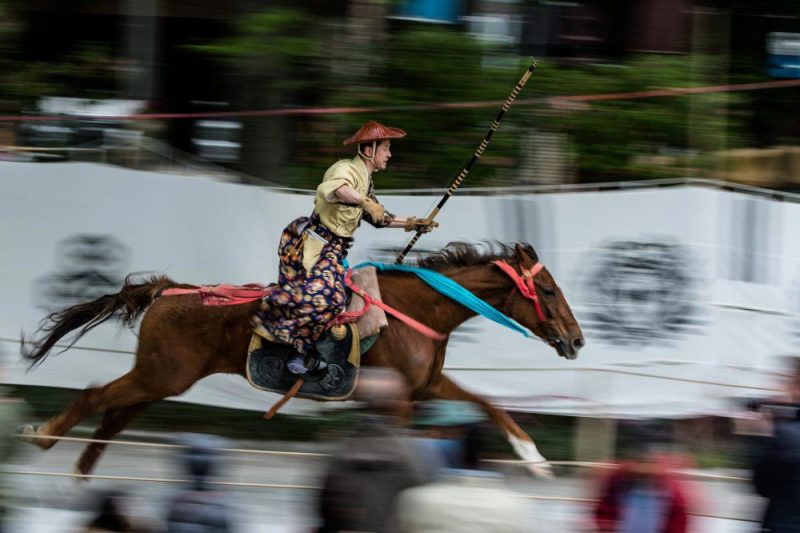 When hit, the target splits into two to emit white confetti in the air, to the delight of spectators.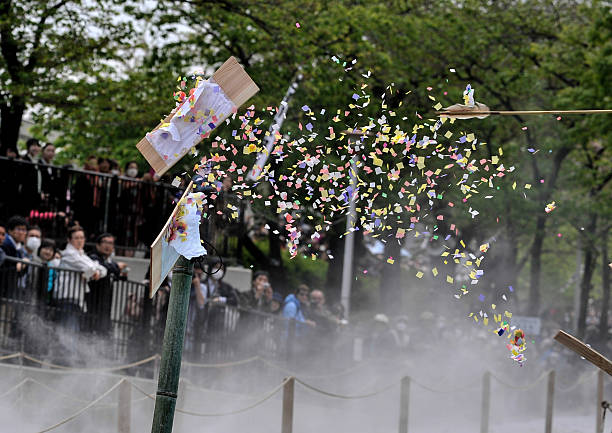 Yabusame is the art of shooting arrows on horseback, performed as a traditional ceremony that derives from horse riding exercises for Samurai Warriors.
Yabusame and Samurai
Yabusame (horseback archery) has its roots in the Kamakura period (1185-1333) when samurai used the competition to improve their skills (indeed, Kamakura is host to a much larger event that takes place three times per year).
Here's more information on Kamakura where of the place & of the website you should visit, thanks for understanding.
During the Edo period (1603-1868), the horseback archery event was held on 5 January at Asakusa Shrine, but today takes place annually in mid-April in the nearby Sumida Park.
The archer wears in traditional hunting attire—aim while riding on the running horse is brave and powerful
to hit all three targets with a special arrow which has a turnip-shaped tip.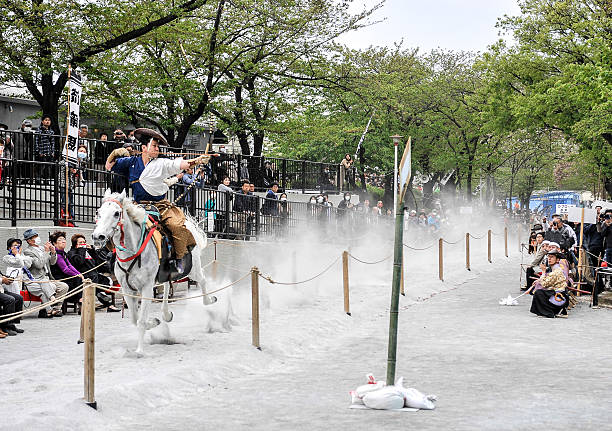 Today the traditional art of yabusame is demonstrated as a tourist event, yet in full respect of its rwquirement. Prior to the yabusame, a less known, tradtioanl art of "Kusajishi" will be performed. Both the kusajishi and the yabusame will start with a procession of participants clad in colourful kimono costumes.

Almost full cherry blossoms are viewing in the background.
Kusajishi
The archers demonstrate kata(forms) of kyudo (the Japanese archery), using a deer-shaped target made in leather.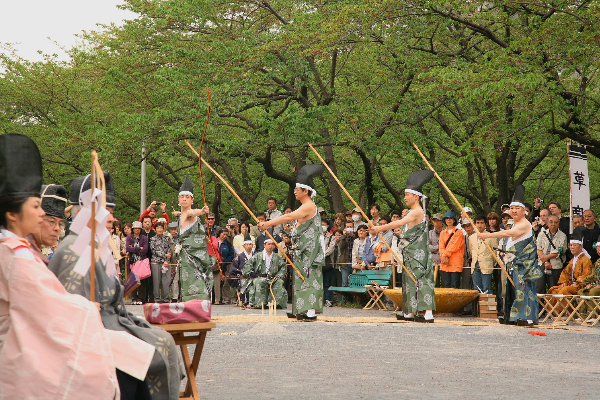 yabusame
It is utterly spectacular to see each archer on a horse, bursting into full gallop, fire three arrows at three wooden targets in succession.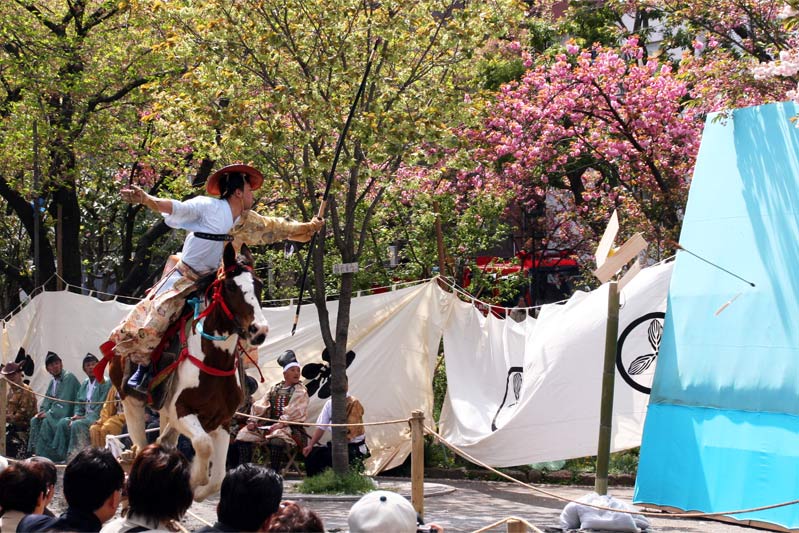 Here's a video of Yabusame,

Summary
Don't miss this chance to see a thrilling demonstration of a rare martial art. Yabusame (horseback archery) is pretty hard to practice as a hobby, requiring intricate attire, special equipment, a horse, and most challenging of all – a large amount of space. Every year.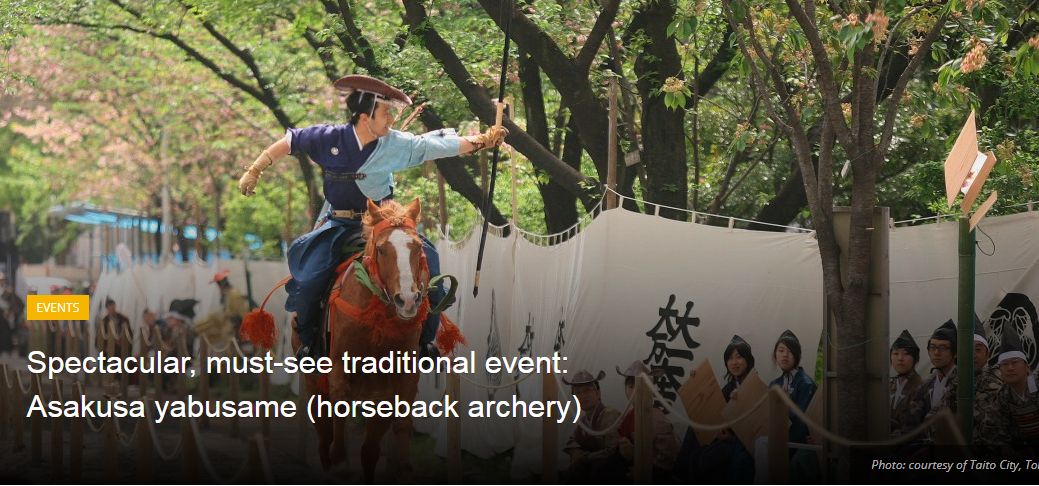 Yabusame is not really popular in Japan, there are only few events to show this spectacular Japanese martial art. This is a rare opportunity to watch the amazing horse-mounted archery in Sumida Park.
Incidentally
This is also the right time and place to do "hanami" (cherry blossom viewing).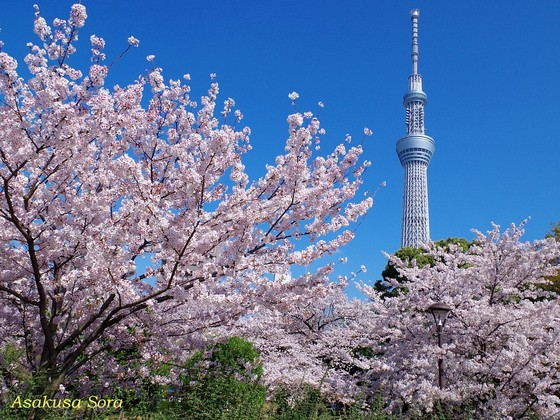 "Tokyo Skytree" 634.0 metres (2,080 ft), making it the tallest tower in the world is seen in the background
Let's enjoy both Yabusame and Cherry blossom viewing next time!
At the same time, you would enjoy seeing Light-up cherry blossom.

Finally, We'd like to recommend you to visit the following sites "Kyudo(Japanese Archery)", "Samurai", thanks