Hi  Messrs. & Mses. Japanophiles. how is it going?  I'd like to talk, today, about "8K Television" now that I went to see it with my own eyes how clear and beautiful we could enjoy the images the other day.
The day of both 4K and 8K UHDTV(Ultra-high-definition television) broadcasting has finally come on the 1st of December, 2018.
World's first announcement was made that we broadcast 8K TV, whereas 4K already used in US, UK and some other countries a couple of years ago.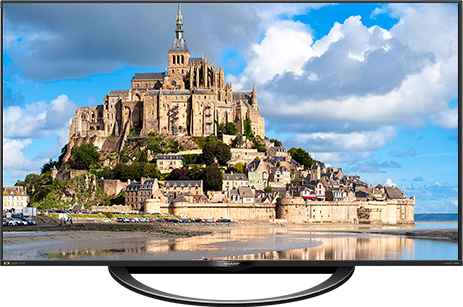 We have long been waiting for the moment when we could see the most beautiful images on the TV screen.
That's because you will see big differences why we can enjoy watching the finest TV screen from the chart below, regarding their resolution and pixels if you compare with 2K TV which we generally use at both home and office almost every day.
| | | | |
| --- | --- | --- | --- |
| | Format | Resolution | Pixels |
| 2K | Full Hi-Vision | 1920×1080 | 2,073,600 |
| 4K | 4K UHD | 3840×2160 | 8,294,400 |
| 8K | Super Hi-Vision | 7680×4320く | 33,177,600 |
The greater the number of pixels per inch, the greater the resolution.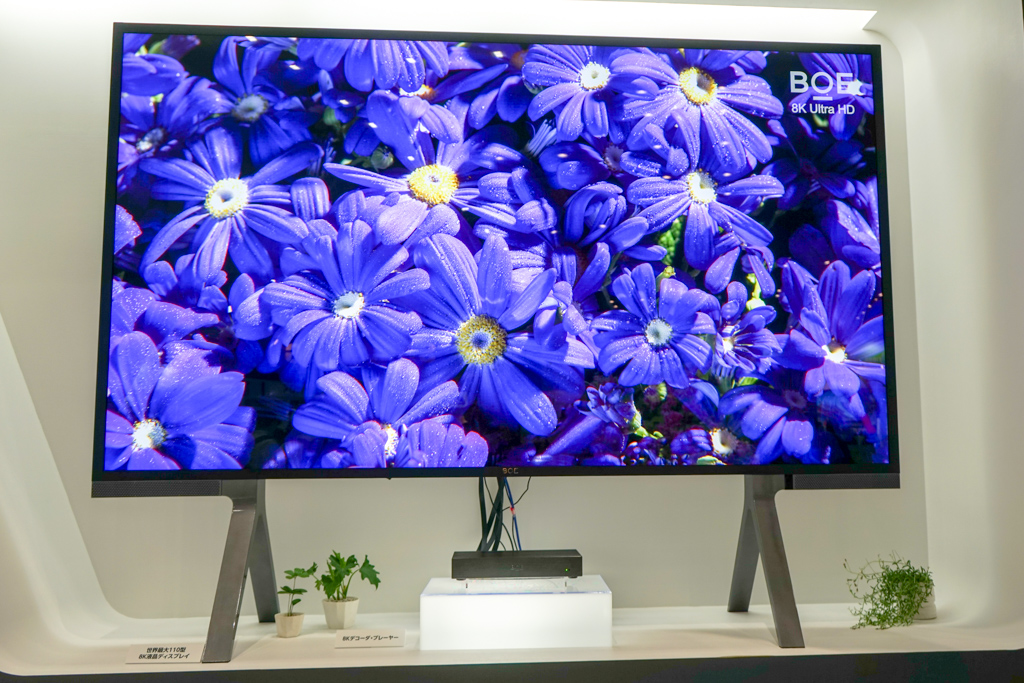 What's 8K Television?
8K resolution refers to any screen or display with around 8000 pixels width. 8K UHD is the current highest ultra high definition television (UHDTV) resolution in digital television and digital cinematography.
8K in 8K UHD refers to the horizontal resolution of 7,680 pixels, forming the total image dimensions of (7680×4320), also known as 4320p, which refers to the vertical resolution.
8K UHD has twice as many horizontal and twice as many vertical pixels as 4K UHD, as well as four times the linear resolution of 1080p (Full HD), and six times the linear resolution of 720p.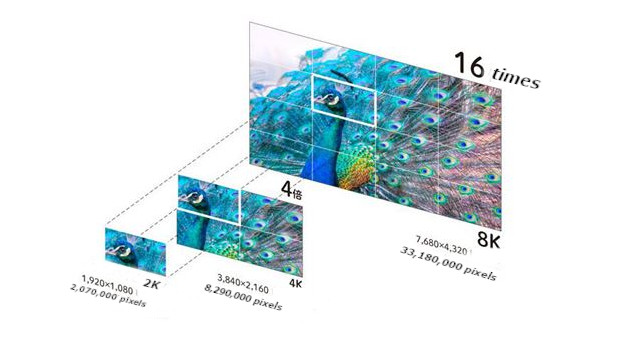 High-resolution displays such as 8K allow for each pixel to be indistinguishable to the human eye when viewed at a typical distance from the screen.
8K resolution can also be used for the purpose of creating enhanced lower resolution videos through a combination of cropping techniques and/or with downsampling techniques used in video and film editing.
Resolutions such as 8K allows filmmakers to shoot in a high resolution with a wide lens or at a further distance, in the case of potentially dangerous subjects (such as in wildlife documentaries), by being able to zoom and crop digitally in post-production.
The technique involves taking a portion of the original 8K image and cropping it to match a smaller resolution such as the current industry standard for high-definition televisions (4K, 1080p, and 720p).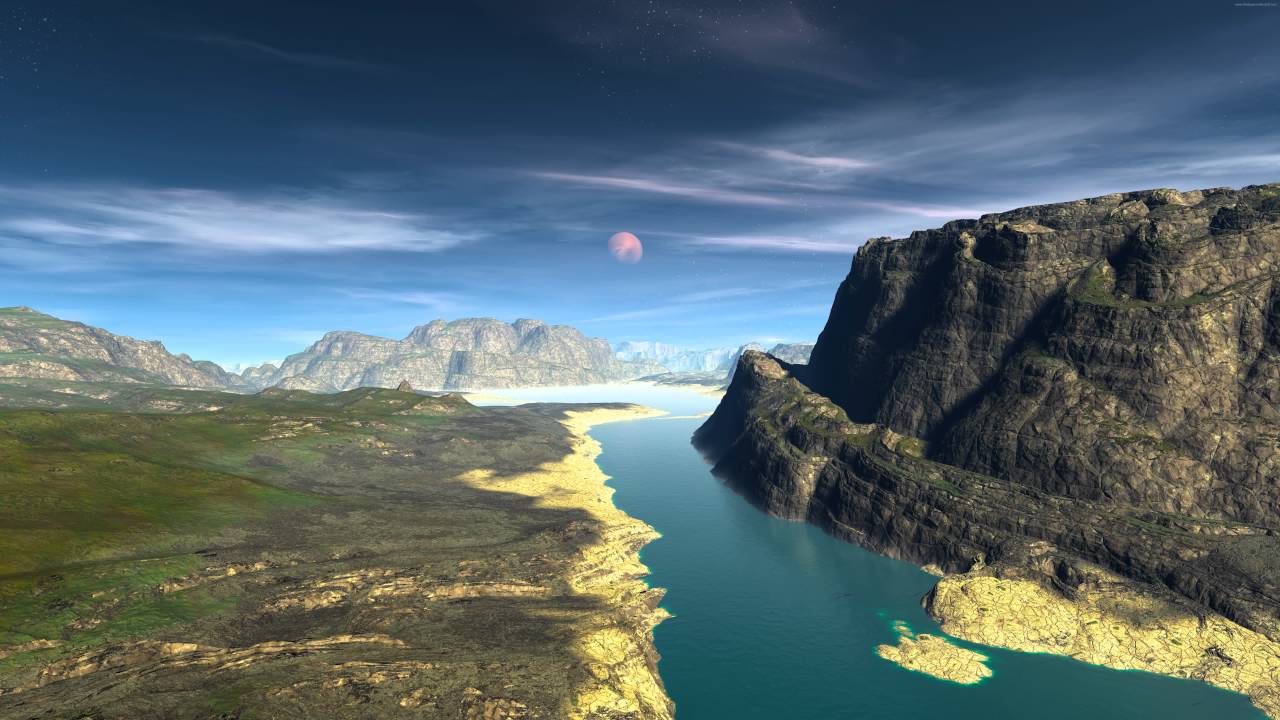 8K display resolution is the successor to 4K resolution. TV manufacturers pushed to make 4K a new standard by 2017.
The feasibility of a fast transition to this new standard is questionable in view of the absence of broadcasting resources.
As of 2018, few cameras had the capability to shoot video in 8K, with NHK being one of the only companies to have created a small broadcasting camera with an 8K image sensor.
By 2018 Red Digital Cinema Camera Company had delivered three 8K cameras in both a Full Frame sensor and Super 35 sensor.
Until major content sources are available, 8K is speculated to become a mainstream consumer display resolution around 2023 as mentioned in UHD forum Phase-B recommendations.
Despite this, filmmakers are pushing demand for 8K cameras due to their ability to capture better 4K footage.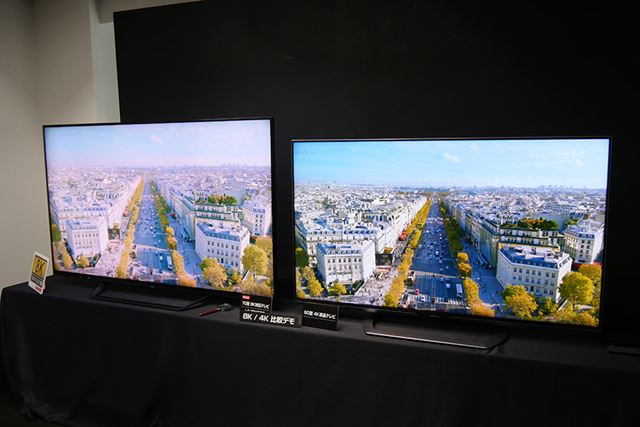 left 2k, right 4k
History
Japan's public broadcaster NHK was the first to start research and development of 4320p resolution in 1995.
The format was standardized by SMPTE in October 2007, Interface standardized by SMPTE in August 2010 and Recommended as the international standard for television by lTU-R in 2012.
Followed by public displays at electronics shows and screenings of 2014 Winter Olympics in Sochi and public viewings in February 2014 and the FIFA World Cup in Brazil in June 2014 using HEVC with partners AstroDesign and Ikegami Electronics.
On January 6, 2015, the MHL Consortium announced the release of the superMHL specification which will support 8K resolution at 120 fps, 48-bit video, the Rec.
2020 color space, high dynamic range support, a 32-pin reversible superMHL connector, and power charging of up to 40 watts.
On March 1, 2016, The Video Electronics Standards Association (VESA) unveiled DisplayPort 1.4, a new format that lets the use of 8K resolution (7680×4320) at 60 Hz with HDRR and 32 audio channels through USB-C.
On January 4, 2017, the HDMI Forum announced HDMI 2.1 featuring support for 8k video with HDR, will be "released early in Q2 2017".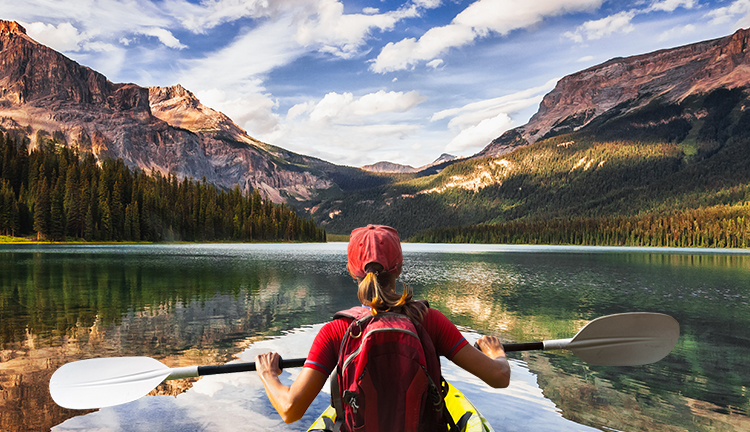 Broadcasting
Japanese public broadcaster NHK began research and development on 8K in 1995, having spent over $1 billion on R & D since then.
Codenamed Super Hi-Vision (named after its old Hi-Vision analog HDTV system), NHK also was simultaneously working on the development of 22.2 channel surround sound audio.
The world's first 8K television was unveiled by Sharp at the Consumer Electronics Show (CES) in 2012.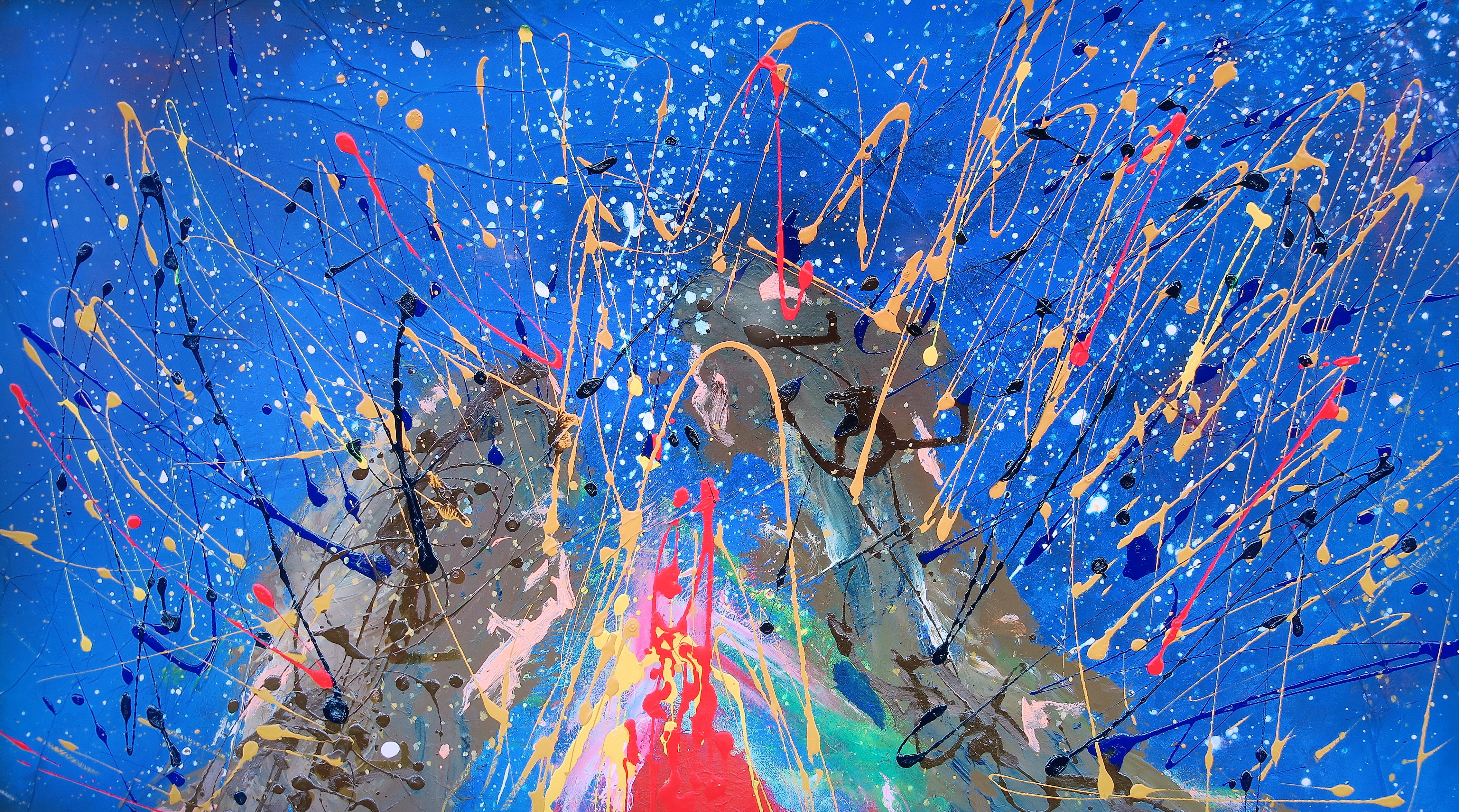 Experimental transmissions of the resolution were tested with the 2012 Summer Olympics, and at the Cannes Film Festival showcasing Beauties À La Carte, a 27-minute short showcased publicly on a 220″ screen, with a three-year roadmap that entails the launch of 8K test broadcasting in 2016, with plans to roll out full 8K services by 2018, and in time for the 2020 Summer Olympics.
On December 1, 2018, NHK launched BS8K, a broadcast channel with 8K capability.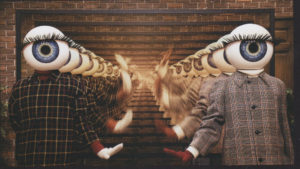 This is an interesting phenomenon of endless same images all ofwhich are as clear as perfectly using 8K devises of connected the monitor and the camera.
Finally, let's enjoy yourself with the World's Most Beautiful Pictures on 8K TV !
Thanks for browsing.