Welcome to Kanazawa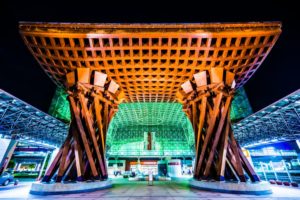 Hi  everyone how are you doing?  kanazawa, today's Must-See spot where I'd like to introduce you.
But before that, may I ask you to start the following question? That is,  Can you guess what above-photo structure is?
Here's answer:  That is the entrance gate of Kanazawa station, the gate of which is similarly outlined to Torii gate that stands at the shrines?
To explain in a bit more detail、it is a huge wooden gate called the Tsuzumimon in Kanazawa station. A tsuzumi is traditional Japanese hand drum, that is one of traditional Japanese musical instruments, and "mon" means gate.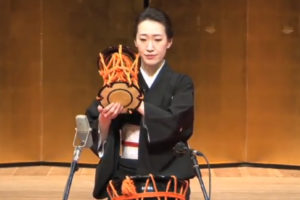 When you arrive at Kanazawa station, you can feel the welcoming mood and historical atmosphere right away. And you could enjoy seeing various unique works as Kanazawa is well-known for its lively activities in arts, crafts, and traditional culture since many artists and artisans reside here and produce a great number of works.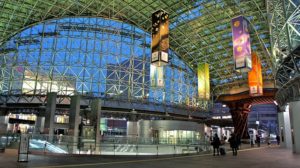 Another feature of Kanazawa Station is that it has a huge glass dome called the Motenashi Dome. The Motenashi Dome looks like a huge umbrella and it is said that this dome is offering visitors an umbrella as Kanazawa has many rainy days. This shows a welcoming ("motenashi") atmosphere to visitors.
So Let's go to Kanazawa by Shinkansen (bullet train) which has been opened in 2015 and we can reach there within three hours from Tokyo. From Osaka, it takes almost same time as from Tokyo, within three hours by express train, not Shinkansen though since Shinkansen is not available at the present. Or you can reach there about 4 hours by bus or car.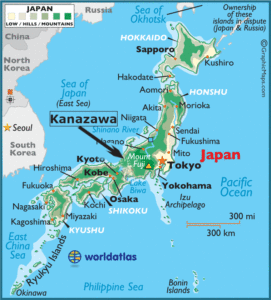 Kanazawa is located in the northern part of the Chubu region. During the Edo period, it flourished as a castle town of the Kaga clan.
It's well known today for retaining many aspects of traditional culture, including the tea ceremony and a variety of arts and crafts.
It' also known as a gastronomic city. Fresh ingredients from the nearby mountains and sea are sold at Omicho Market in the city center.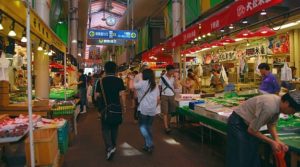 Omicho Market has been in the center of Kanazawa for more than 280 years. In the market, there are large numbers of stores,including fish stores, vegetable stores, grocery stores, and so on.
In some fish stores, they offer a special sushi where you can taste fresh fish caught in the Sea of Japan. You may also find unique Kaga vegetables grown in the Hokuriku area.
Omicho Market is always very crowded, but it's well worth a visit.
Open: ~8am to ~6pm (depending on the store)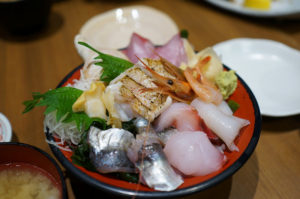 All kinds of ingredients are served using beautiful local ceramics and lacquerware. Food is one of Kanazawa's major tourist attractions.
Great crafts as lacquerwares and ceramics
Kanazawa lacquerware enjoys a very high reputation. It has been produced in the city since the 17th century.
How did the lacquerware tradition begin? It had a lot to do with the local feudal clan's desperate bid for survival.
The Kaga clan was one the biggest in the country. Greatly distrusting it, the Tokugawa shogunate attempted to break it up many times. Maeda Toshitsune, the second chief of the Kaga clan, tried to show their loyalty to the shogunate by spending a great deal of money on artistic and cultural activities. He gathered renowned craftsmen from Edo and Kyoto, and requested them to make all kinds of exquisite household items.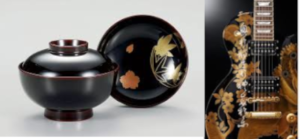 The lacquereware production begun at that time has continued to this day, and Kanazawa's lacquerware is now regarded as among the finest in the country.
On the other hand, regarding ceramics they make various kinds of ceramics as seen almost everywhere, but artificial human teeth are uniquely produced here and enjoyed a good reputation throuout the country.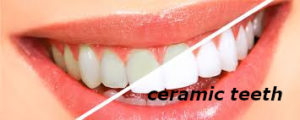 the Samurai's relic・・ fishing lure
The Kaga clan's policy of placing emphasis on cultural activities affected even the domain's low-ranking samurai.
Not allowed to practise martial arts, they spent most of their time fishing for sweetfish. They even made elaborate flies themselves.
Today, local artisans still make the kind of flies devised by the samurai.
Fly-making is a very delicate process. The hook is about eight millimetres in length. Bits of feather are carefully wrapped around it to resemble the wings and legs of a fly.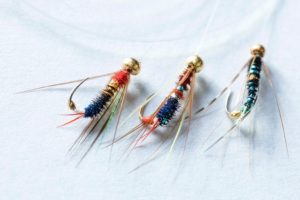 The Kaga artificial flies are true works of art, and it's interesting that the tradition of making them was unintentionally started by samurai who were prevented from practising martial arts.
Kanazawa was a samurai town, but it also say a flowering of the arts, which is why it's a unique and fascinating city.
must-see places of interest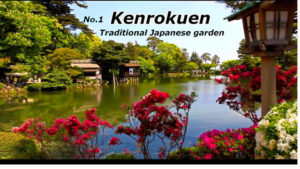 It is said that there are 3 must-see Japanese Gardens in Japan. Kenrokuen is one of them. It is located next to Kanazawa Castle in the center of Kanazawa city. Kenrokuen used to belong to the Maeda family, who ruled the Kaga Clan from 16th century to 19th century.
You can feel the fresh air as you enjoy the ponds, fountains, and waterfalls in the garden and enjoy the traditional craftsmanship with beautiful stone bridges and stone lanterns. In the garden, there are many trees, like plum, cherry, pine and so on. You will be impressed by magnificent scenery in all seasons. In the winter, you can see yukiduri, the placement of some ropes from the top of the trees and branches in order to protect it from heavy snow.
Open: 7am to 6pm (8am to 5pm in winter)
Admission fee:
Adult: 300 yen (free for those over 65)
Age 6-18: 100 yen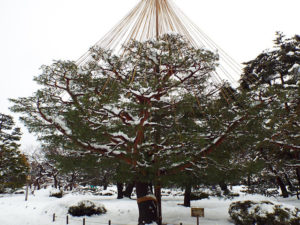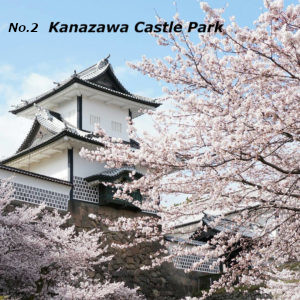 There was a castle of the Lord Maeda Toshiie. Although the original castle was burned in a fire, some of the parts were rebuilt again and again. The Ishikawamon Gate and Sanjikken Nagaya (a storage house of about 50 yards) have both been designated as important cultural assets in Japan.
The place used to be as a base of Japanese army, then a university campus. The place was opened to the public in 1996.
Open: 7am to 6pm (8am to 5pm in winter)
Admission fee: free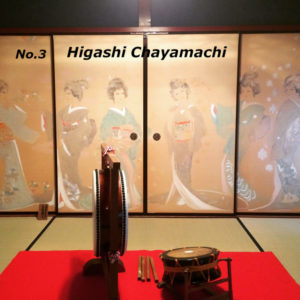 A chaya is a house where visitors enjoy feasts and Japanese traditional performances, like Japanese dance and live performances of Japanese instruments like the koto or the shamisen. Areas where there are many chaya is called a "chayamachi". There are 3 famous chayamachi in Kanazawa, and the Higashi Chayamachi is the biggest one. It has also been designated as a Japanese cultural assets.
In the Higashi Chayamachi, there is a house called Shima. Shima has also been designated as a national important cultural asset. At Shima, everything has been left the same as it was in the Edo period, so you can truly feel the atmosphere of the early 19th century.
Shima's hours: 9am to 6pm
Admission fee:
Adults (high school and up): 400 yen
Children: 300yen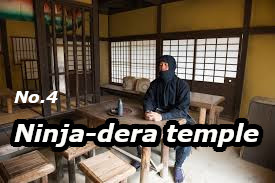 There are many temples in Kanazawa and one of the temples is Ninja tera Temple (Myouryuji Temple). The Maeda family regarded those temples as shields from sudden attack of Tokugawa Shogunate. In Ninja tera Temple (Myouryuji temple), there were many tricks to escape from emergency attack and it still remains in its original shape. You can enjoy real ninja tricks in this temple.
Open: 9am to 4:30pm Advance reservatin required. Call 076-241-0888.
Admission fee:
Adult: 800 yen
Children: 600 yen
Children under preschool age are not admitted.
In the end, I'd like absolutely to recommend you visiting Kanazawa at least once to get to know another aspect of old Japan, good luck and have a big fun there!