Hello everyone, how are you?  The topic is blousons that are attracting attention again due to the revival of street fashion after in the 1950s.
Today, I would like to introduce Sukajan which is one of three short-length blousons that were popular after World War II.
The other two are Sutajan(award jacket in USA), and MA-1(A type of military jacket derived from the flight jacket worn by the US Air Force in the 1950s).
What's Sukajan?
Sukajan is Japanese souvenir jacket, as its name implies, it has its roots in the "souvenirs" brought back to their home countries by U.S. troops stationed in Yokosuka after the war.
It is a compound of "Suka" from Yokosuka and "Jan" from Jamper, and is called "Suka-jan" in Japan, and "Souvenir jacket" in English.
Speaking of the appeal of sukajan, it is the overwhelming one-off feel of the glittering satin fabric with colorful embroidery and gorgeous decorations.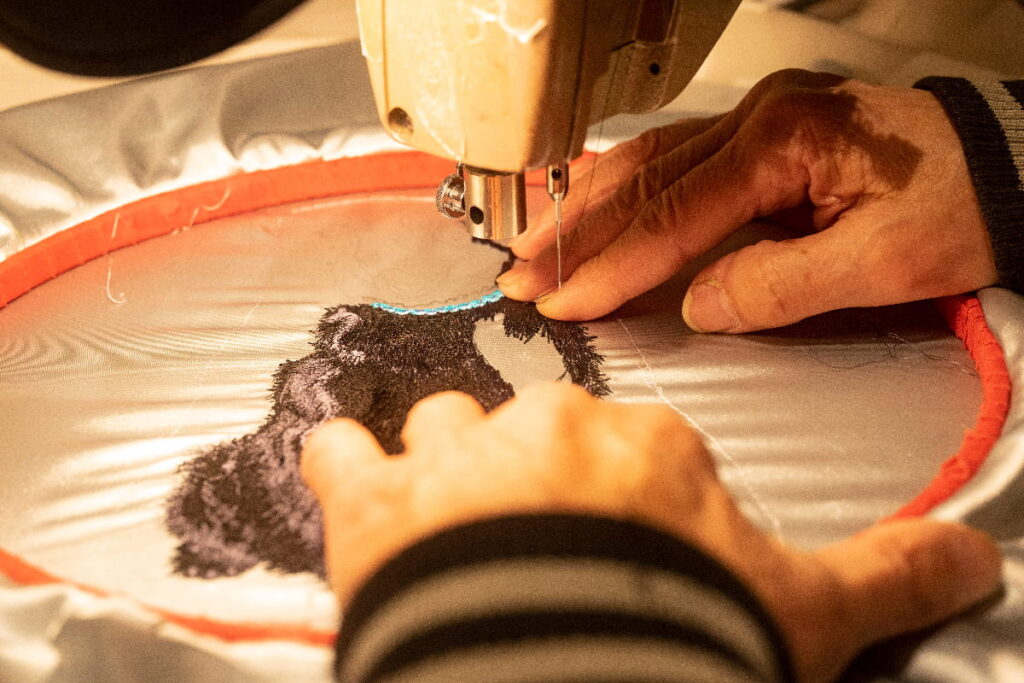 On the other hand, there is also a "winter specification" sukajan with a quilted body called "velveteen", which is made of weft yarn called "cotton velvet" and woven into a pile, and has a fluffy surface.
Ingrid Nilsen and the History of the Sukajan
Let's look at the materials first
★ acetate rayon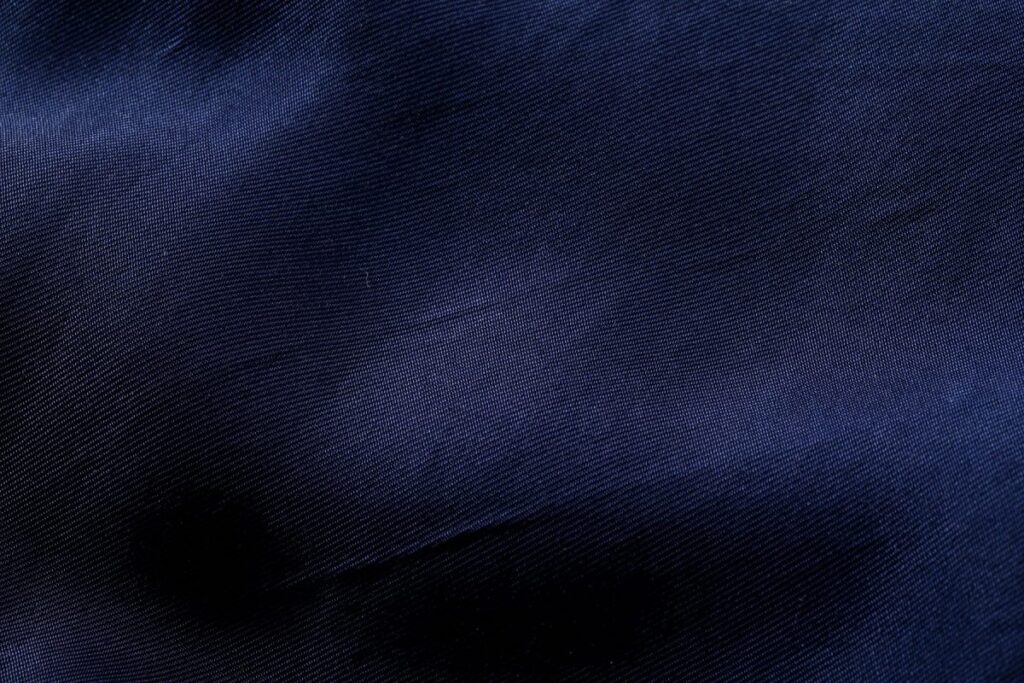 Most of the sukajans that appeared after the war were made of this acetate rayon.
It has a luxurious feel similar to silk, while its unique drape and the way it ages attracts vintage fans.
★ velveteen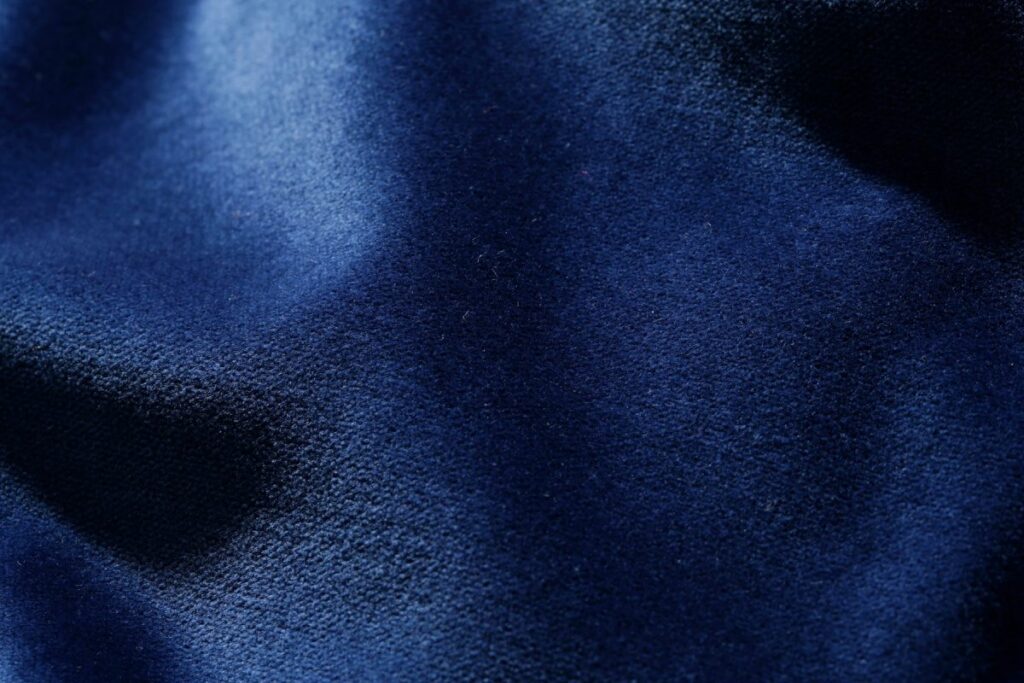 Another attractive feature of sukajan that is different from satin-type materials is its velveteen body.
Although the term "velveteen" is a Japanese word coined from "velveteen" (velour material), it has been established as one of the materials used for sukajan.
It is characterized by its velour-like texture with fluffiness, also called cotton velvet.
★ quilting

It is often used on one side of a reversible padded sukajan. While having the effect of preventing the padding from being unevenly distributed, it also serves as a design accent in its own right.
It is a well-known sukajan to be worn in winter.
★ vintage finish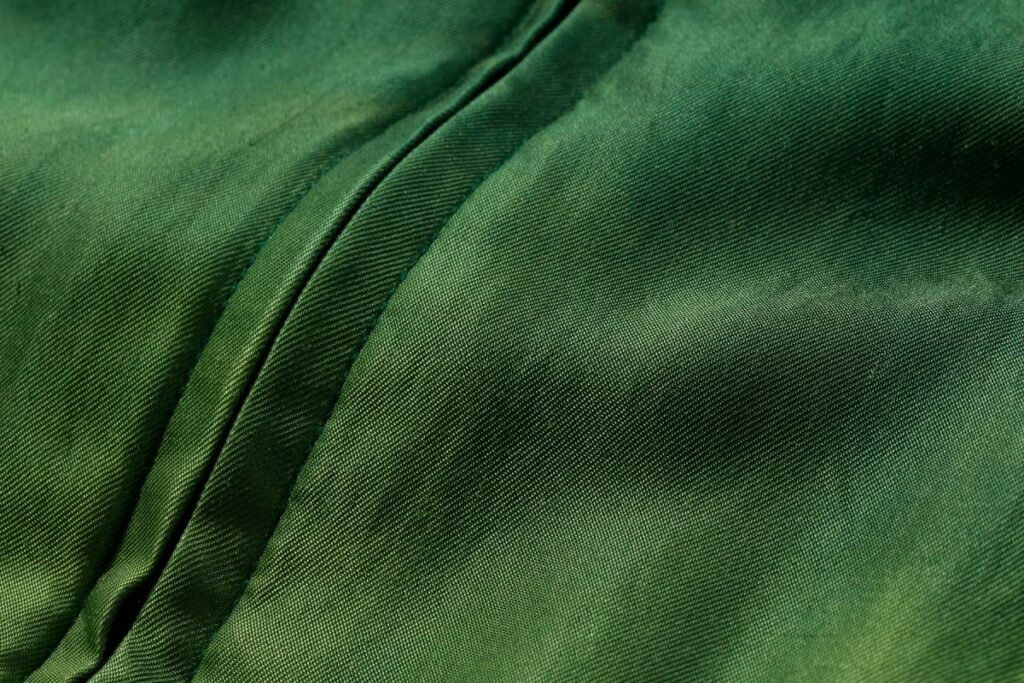 A new processing technology for suka-jackets proposed by Tailor Toyo. We have succeeded in realistically expressing a real vintage-like faded look by post-processing without damaging the fabric.
What is the meaning of the embroidery pattern?
★ Tigar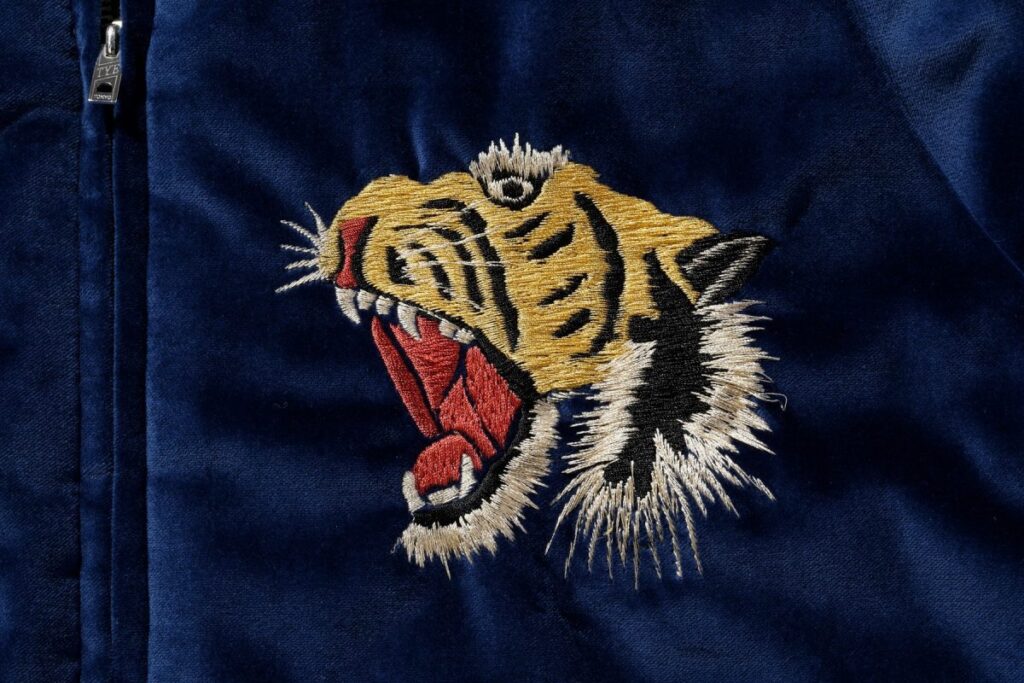 In addition to its image as a mammal representing Asia, the tiger has been popular in Japan since ancient times and is a symbol of the strong, making it a popular ironclad design favored by Americans.
★ Eagle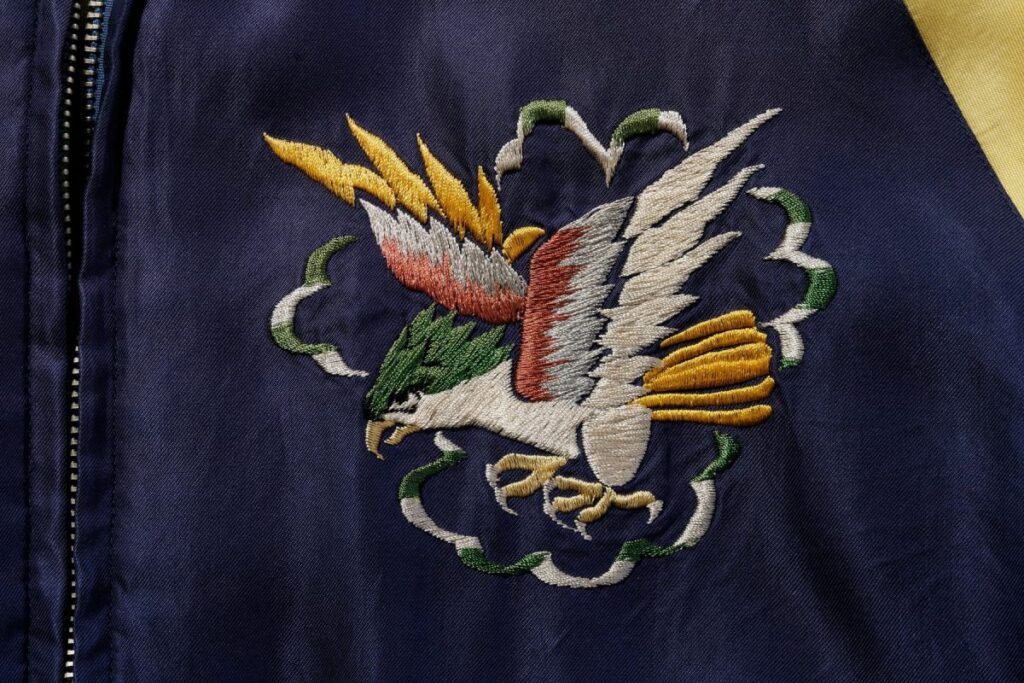 The eagle (= eagle), also known as the national bird of the United States, with its masculine and majestic appearance, is one of the most favorite motifs of Americans.
It is often used as a bomber, a symbol of peace, etc.
★ Dragon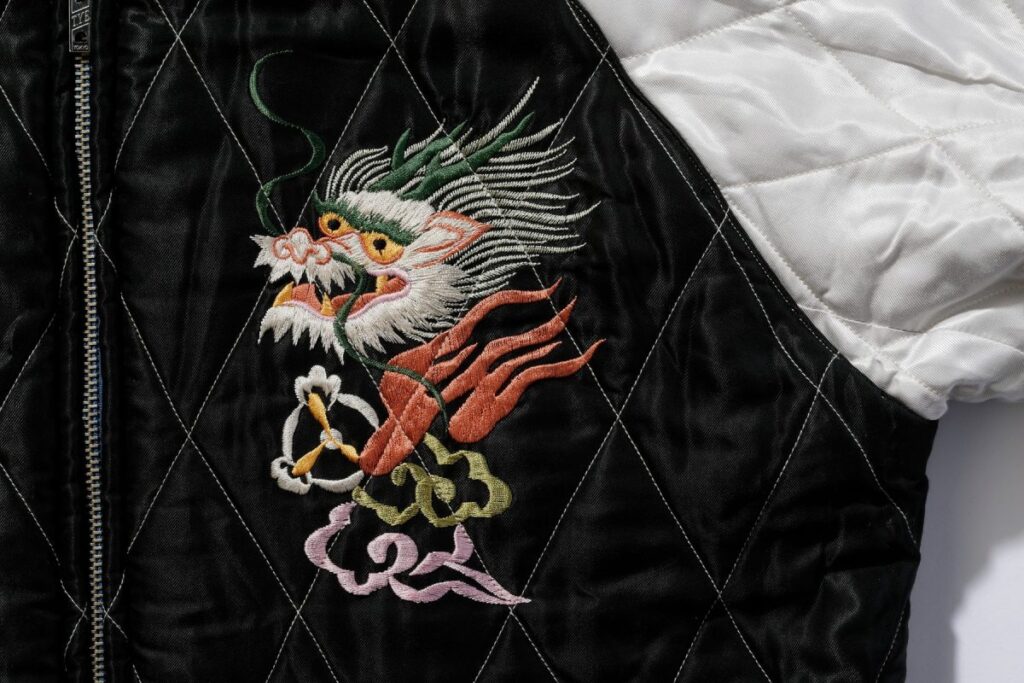 Originally a fictional creature of traditional Chinese origin, Americans, with their penchant for oriental patterns, seem to have favored this decorative design.
It is also known for having the largest variety of designs.
★ Japan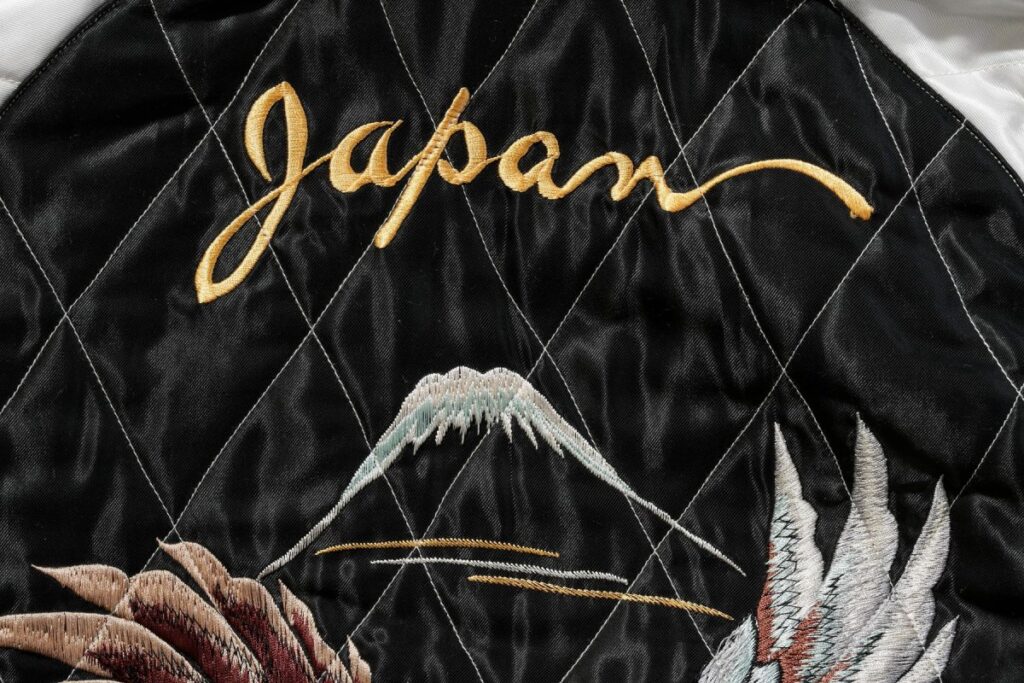 They are often placed on the top of the back in sets with embroidered designs reminiscent of Japan, such as Japanese gardens, Mount Fuji, and geisha.
This is a sure sign that the Sukajan existed as a "souvenir.
The time to show off the charm of the Sukajan is when the seasons change.
"Sukajan" is a standard item of American casual fashion. There are various designs, from embroidered tigers and dragons to plain ones.
Black is gaining popularity recently due to its ease of coordination. There is presence just by putting on one piece, and it becomes a point of fashion coordination.
Let's enjoy coordinating our outfits at that time as follows,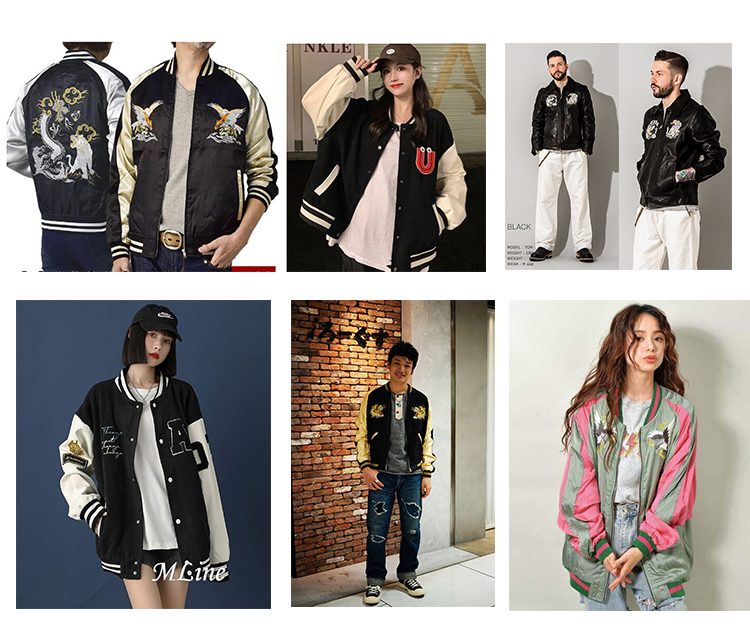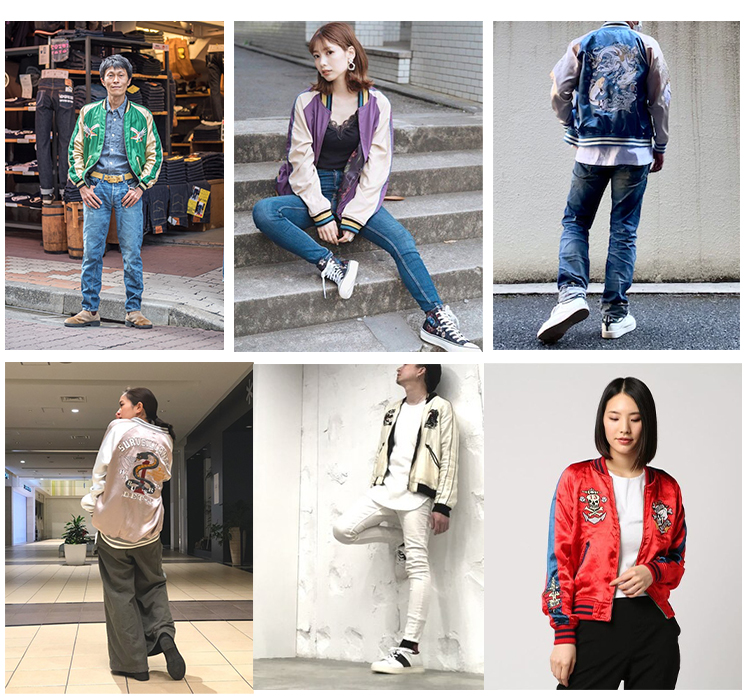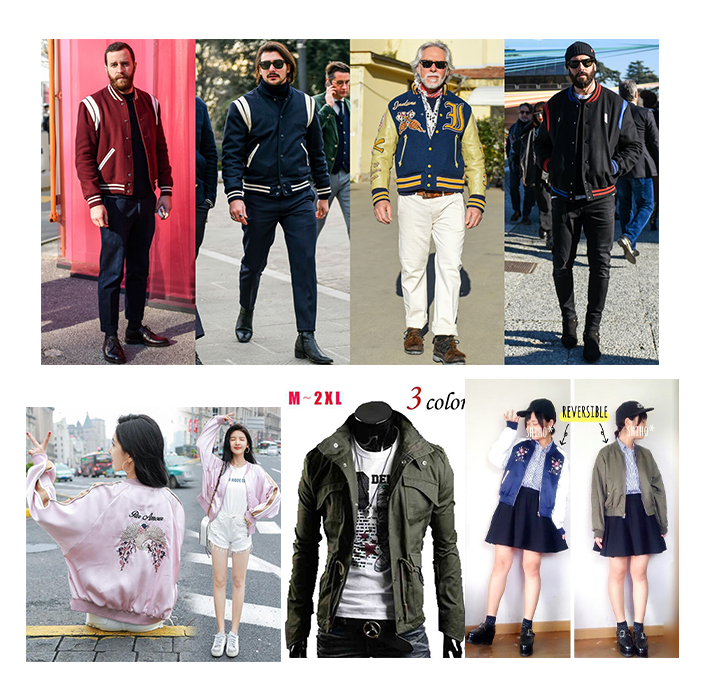 Finally, Sukajan Exhibition has been holding at Yokosuka Museum from November 14 to December 25, 2022, I visited there on the first day of Nov14.
There, I was lucky enough to try on an expensive vintage sukajan and even took a photo to commemorate the occasion.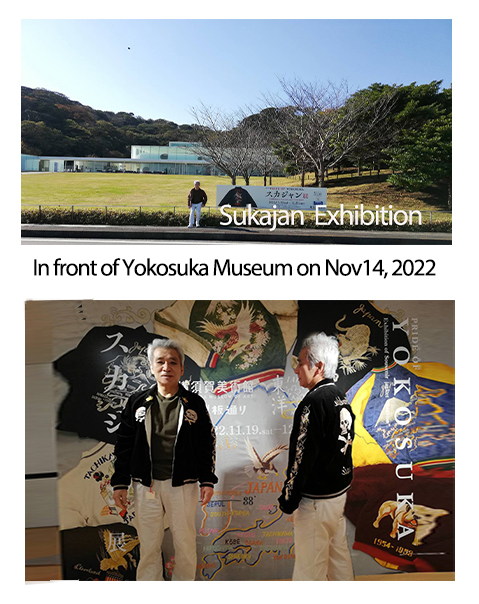 How do you like a 76 year old's sukajan?
Thanks for visiting the blog.
Recommended Sukajan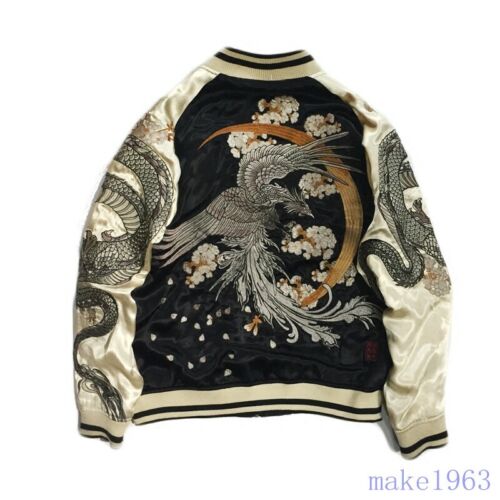 Sukajan Souvenir Jacket Japanese Luxury Embroidery Reversible Dragon Men's Coat
Enjoy!


https://news.yahoo.co.jp/articles/b8856e881c5fb9ed4a96766f6ba871df42c8ad6b
海外から脚光を浴びる「スカジャン」:米軍基地文化から生まれたメイド・イン・ジャパン