Hi everyone, how are you?  Today's topic is " Sumo-2 " as the Grand Sumo Tounament which is one of "Cool Japan" finished yesterday.
Before talking about Sumo, however, I'd like to just report of this abnormal weather as it's extemely hot in almost all over Japan, despite we're in May and we felt a little cold yesterday.
As you could guess, we are not getting used to this awfully crazy hot weather for this month of May, so we feel something unusual around our globe.
Today in particular, Japan's record-setting coldest prefecture now lays claim to the nation's hottest temperature ever recorded in May, with the thermometer reaching 39.5 C. degrees (103 F) in northern Hokkaido, to my big surprise.
According to the Japan Meteorological Agency (JMA), it marked the first time in its observation history that the temperature exceeded 35 degrees in Hokkaido in May.
Other parts of Japan's northernmost main island also broiled in the unseasonable heat, with the temperature hitting nearly 40 degrees (104 F) everywhere in Japan.
As a result, the hot weather led to the death of several men in the northeastern prefectures where were considered cool or rather cold and at least 600 people across the country were taken by ambulance to hospitals to be treated for heatstroke symptoms, according to official data.
Therefore, we have to be urging to drink water frequently and wear hats or caps to avoid suffering from heat stroke.
What's other hot topic about " Sumo-2 ", today?
Under this hot weather, we have another hot topic today, that is visiting U.S. President Donald Trump and his wife, Melania, watched the last day of the Summer Grand Sumo Tournament at Ryogoku Kokugikan in Tokyo alongside Prime Minister Shinzo Abe and his wife, Akie.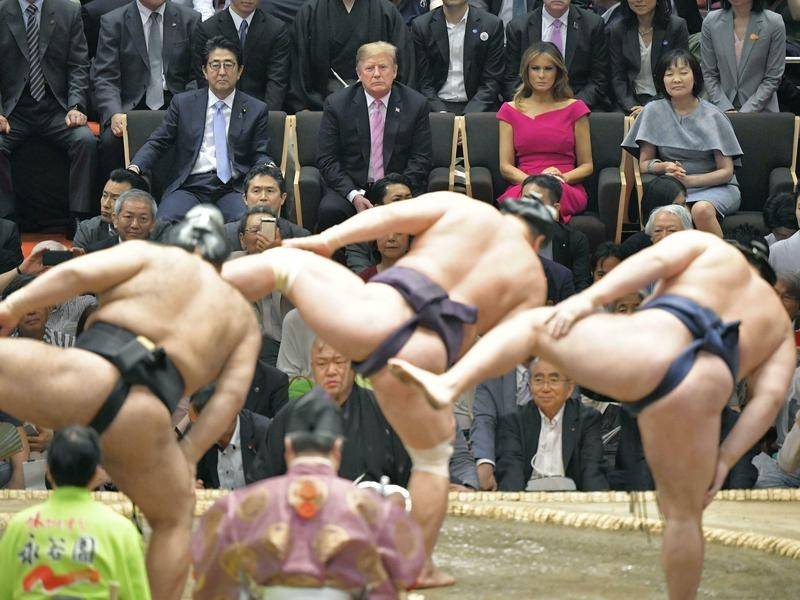 Trump climbed into the dohyo to present the massive "U.S. President's Cup" to the tournament winner, Asanoyama, a No. 8 maegashira, in the awards ceremony after the conclusion of the 15-day tournament.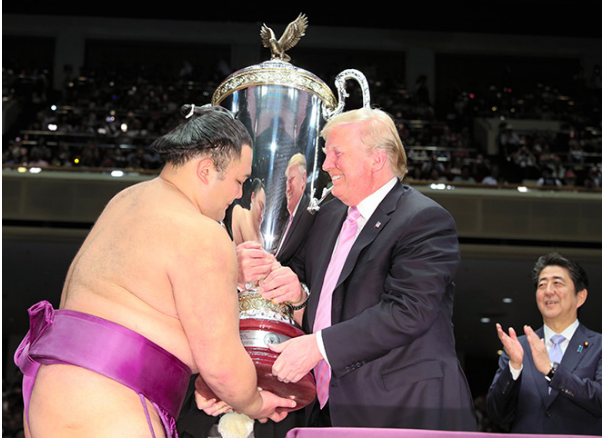 U.S. President Donald Trump presents the "U.S. President's Cup" to Asanoyama, winner of the Summer Grand Sumo Tournament, at Ryogoku Kokugikan in Tokyo on May 26 while Prime Minister Shinzo Abe watching
According to the White House, the U.S. President's Cup is a custom-made silver trophy, which is about 137 centimeters in height and weighs 27 to 32 kilograms. It is even larger than the Emperor's Cup, the top prize given to the tournament winner, which is 107 cm high and weighs 29 kg.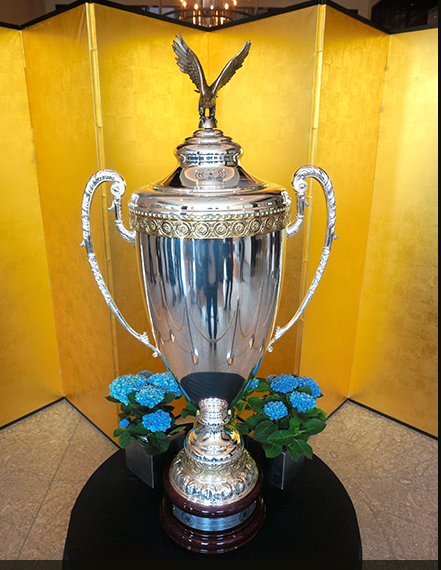 The U.S. President's Cup is similar to the Emperor's Cup in shape. However, a figure of a bald eagle, the national bird of the United States, adorns the top of the trophy.
Who's Asanoyama?
Rank-and-filer Asanoyama clinched his maiden championship on Saturday by beating ozeki Goeido with one day remaining at the Summer Grand Sumo Tournament.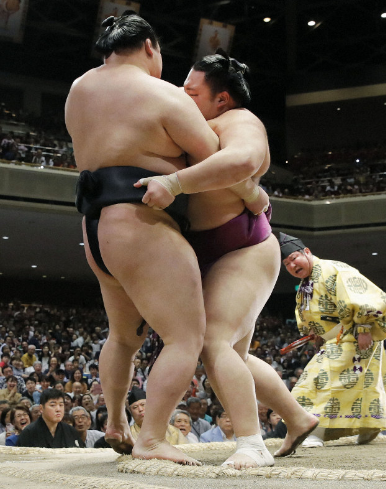 "There was a lot of pressure (to win as a maegashira), but I was still able to wrestle the way I ordinarily do the whole time. That was the big thing," Asanoyama said.
Asanoyama's 12th victory came in a hard-fought bout against Goeido (9-5). Goeido seemed to have the advantage after the initial clash, seizing a left-handed over-arm hold.
The ozeki bulldozed Asanoyama toward the edge, but lacked the final touch. The maegashira, however, was able to seize a hold of his own and shoved the ozeki from the raised ring to become the first rank-and-file wrestler to win a grand tournament since Tochinoshin in January 2018.
"I'm glad to have won the match, but as for the championship, it hasn't sunk in yet," the 25-year-old Asanoyama said.
"I wanted to get to him first, but I remained calm and didn't do anything rash, when he got the first hold. Once I got a belt hold, I was able to execute my kind of sumo."
Why New champion Asanoyama overshadowed by Trump on the final day?
The president, accompanied by Japanese Prime Minister Shinzo Abe and their wives, arrived prior to Asanoyama's bout against komusubi Mitakeumi, who were forced to stand in the ring for several minutes while the entourage entered the arena and took their seats.
The two traded slaps and shoves with Mitakeumi (9-6) getting the better of that exchange, forcing the new champion back to the straw bales and out to his third loss over 15 days at Ryogoku Kokugikan.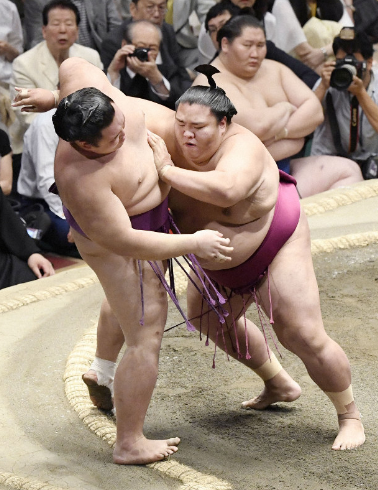 Summer Grand Sumo Tournament winner Asanoyama (L) loses to Mitakeumi on the final day of the tournament at Tokyo's Ryogoku Kokugikan on May 26, 2019.
"I felt a lot of pressure, but I was able to wrestle like I always do because I believed in myself. I still have much to accomplish. I want to do my best to become a big-name wrestler."
Asanoyama, the first rank-and-file wrestler since 1961 to win a grand tournament before reaching the three "sanyaku" ranks below yokozuna, said he tried to push thoughts of a title out of his mind.
"If I thought about possibly winning the championship, I would have tightened up, so I did what I could not to think about it," Asanoyama said after receiving the first "President's Cup" from Trump.
Security measures

In this May 26, 2019 photo, spectators watch the Summer Grand Sumo Tornament at Ryogoku Kokugikan in Tokyo's Sumida Ward.
The Japan Sumo Association is scrambling to institute security measures, some of them unprecedented, ahead of U.S. President Donald Trump's attendance Sunday at the tournament in Tokyo to present a newly created trophy to the winner.
In a very unusual step in the long history of sumo in its present form of professional bouts, the association will ask spectators coming to the last day of the Summer Grand Sumo Tournament at Tokyo's Ryogoku Kokugikan to submit their personal information including name, address and phone number, according to the association.
Any beverages bought in glass bottles or cans in the arena must be put in the cups that the shops will provide before spectators can take them to their seats, it said.
A shop on a basement floor selling "chanko nabe" stew, typically eaten by sumo wrestlers, as well as a lounge for parents with babies will be closed, the association said.
Trump will watch the bouts from behind a specially situated table near the raised ring at the center of the arena in an uncustomary arrangement, instead of from one of the more-distant seats reserved for distinguished guests.
In box seats around the ring, spectators usually sit cross-legged on cushions.
Since the tournament began, U.S. officials have been visiting the arena to inspect the area where Trump will be seated. One time they were seen removing partition pipes from some box seats, apparently to make way for the president's entry and exit.
A number of security personnel will be on alert by the president's table to protect him from flying cushions as spectators throw them to show their disappointment when a grand champion loses a bout.
"I don't know where I will be able to have my seat that day," one senior association official said with a wry smile.
One stablemaster said, "People will associate heavy security with the notion that there is someone out there planning a hit (on Trump) so there won't be the warm atmosphere that we usually have there."
Trump will pay a four-day visit to Japan as a state guest from Saturday to meet the new Emperor Naruhito and hold talks with Japanese Prime Minister Shinzo Abe among other events.
Finally, we expect the new champion, Asanoyama to exert himself for higher rank from now on.
In addtion, we have other three blogs related Sumo, "Sumo", "Young Sumo's Maiden Victory Herald New Generation On The Rise" and "The Second Oldest Iron Sumo Wrestler Tamawashi", thanks for browsing