Hi how are you doiing?  Messrs. & Mses. Japanophiles
 Today's theme is "Shikki" (lacquerware) for which I thank earnestly as we use them everyday.
Someone probably feel a little strange that why we say Shikki as japan, that's because lacquerware decorated and varnished in the Japanese manner with a glossy durable black lacquer.
Before entering the talk of the Shikki which is considered one of Japan's craft cultures, on 6/29 (Sat), 2019 I happened to notice the relevant article published by Future Brands Inc. on March 25, 2019 about Countries with the best reputations: FutureBrand Country Index 2019 results, saying Japan's reputation, world's highest reputation for "unique culture" .
What's "Future Brand Country Index 2019 results"?
Japan ranked No. 1 in the "Future Brand Country Index" based on the national and regional reputation announced by British Future Brand on the 25th.
In addition to the reliability of products and services, healthy eating, natural beauty and unique culture were highly regarded in the world.
Japan remains the country with the world's best reputation, according to new research, while the popularity of the Australia has taken a nosedive.
The Future Brand Country Index published for the first time since 2014 charts the global perception of 75 different countries, ranking them according to a nation's "brand" power. A country's "purpose" and "experience" are among a number of factors taken into account, as well as tourism potential, heritage and culture and quality of life.
Japan held on to top spot, while Norway climbed four places to second with Switzerland slipping from second to third. Scandinavian nations Sweden and Finland completed the top five.
Japan was praised for its "ever-solid identity and reputation among would-be tourists, visitors, students, residents, consumers and investors". "Japan's rich culture, which encompasses a favourable quality of life, natural beauty, and heritage beckons visitors from around the globe," the report said.
The country has seen its visitor numbers soar in recent years, from 6.2m in 2011 to 28.7m in 2017. It is likely growth will continue as it prepares to host the Rugby World Cup this autumn and the Olympics next year.
So let's back to the Shikki.
What's Shikki (lacquerware) ?
We use Shikki (lacquerware) bowls for cooked rice and miso-soup at almost every meals and also for sake(alcoholic drink) as sake-cups.
By using lacquered rice bowl for having "rice" and lacquered miso-cup for having "miso-soup", we surely enjoy more delicious taste of rice and miso-soup and we are surpriced how durable they are.
Let's take my case for example, when I got married, lacquered cups were presented by relatives for celebration. At first, they are just made of wood basically and vanished its surface with lacquer-resin, so I thought they would be ruined in a couple of years or so.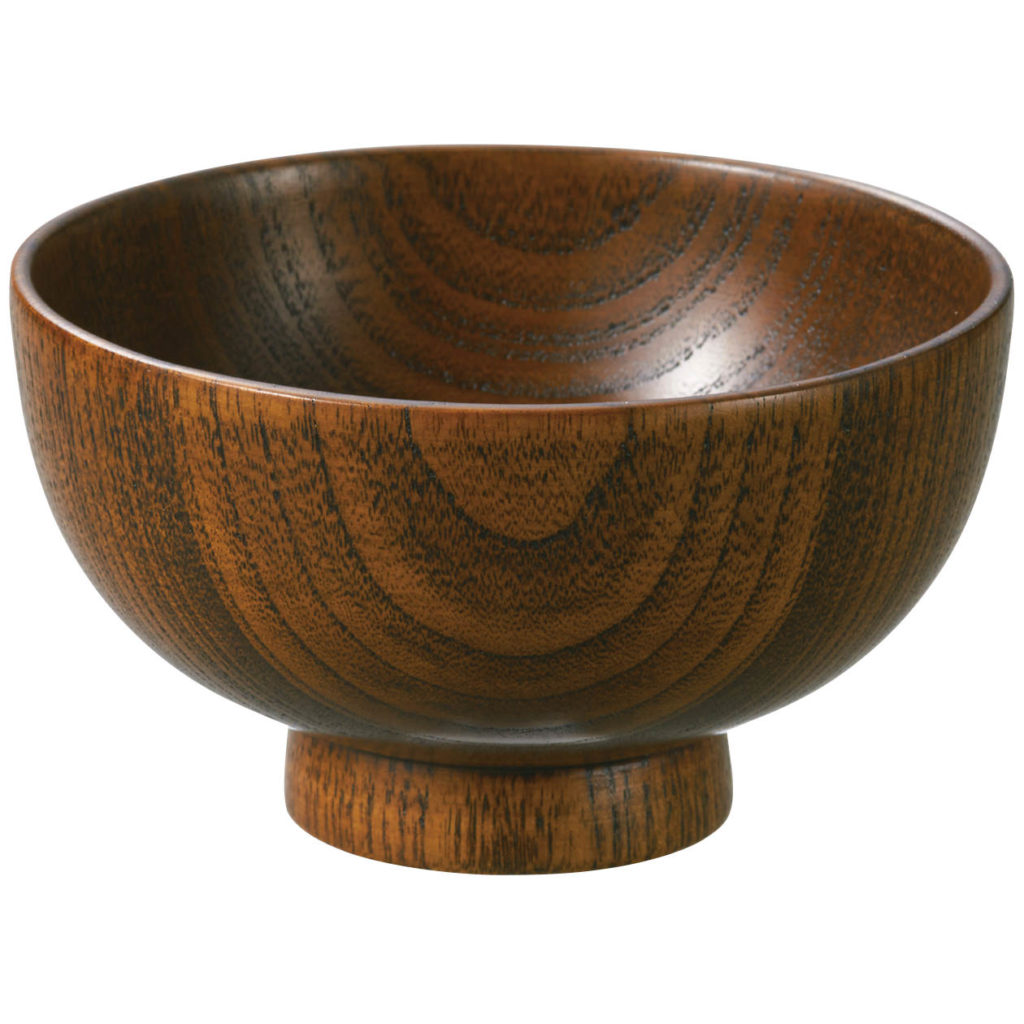 To my big surprise, neverthetheless, we could use them in nearly 10 times of my expectation, 18 years in durabilities. I had to thank for them wholeheartedly.
Lacquerware are objects decoratively covered with lacquer.
Lacquerware includes small or large containers, tableware, a variety of small objects carried by people, and larger objects such as furniture and even coffins painted with lacquer.
Before lacquering, the surface is sometimes painted with pictures, inlaid with shell and other materials, or carved.
The lacquer can be dusted with gold or silver and given further decorative treatments.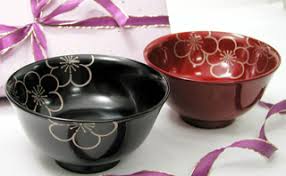 Buy It Now eBay Japan Traditional craft Lacquer ware US $845.00
The exquisite gleam of lacquer-indispensable for culinary culture
Traditional lacquerware is one of the best-known crafts of Japan. Lacquer is widely used for tableware.
From the multi-tiered boxes in which food is served at celebrations to simple bowls used in everyday meals.
lacquerware has become a key aspect of Japanese culinary culture.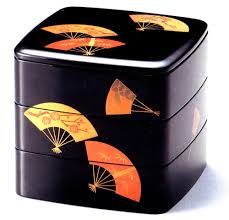 Buy It Now eBay JAPANESE LACQUER US $845.00
Each piece of lacquerware presents a different impression depending on the colour of its lacquer.
This bowl is coated with black lacquer, which adds a sense of depth and refinement to its beauty. This type of lacquerware is frequently seen in Japan.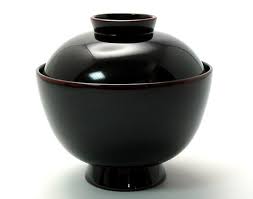 Red lacquerware is equally common. In ancient times, red was believed to be an auspicious colour that kept away evil spirits and brought good luck.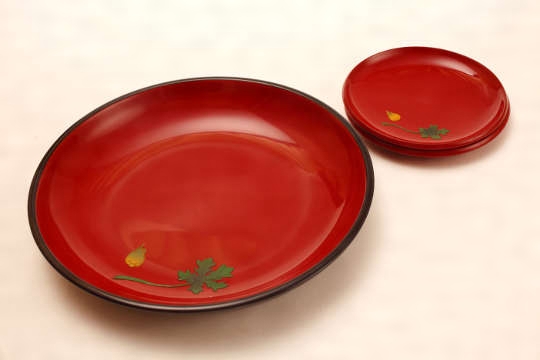 Lacquer, known as urushi in Japanese, is a natural material obtained from the sap of the lacquer tree.
When the trunk of the tree is cut, it produces a resin to try to rapair the wound. This resin is urushi.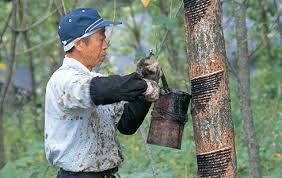 Because the resin can cause a rash if it touches the skin, it was commonly believed that urushi had special powers to ward off evil.
A single tree can only produce a few grams of resin each time it is tapped. Because it's so hard to obtain, lacquer is considered very valuable.
The resin is a milky white colour when it's collected. Various pigments are added to colour this resin. The coloured lacquer is used as a coating on the wooden base.
After a layer of lacquer has been applied evenly, it's left to dry. This process is repeated numerous times to build up a surface that gives the item durability and lusture.
Urushi was in use in Japan at least 3,000 years ago, in the Jomon period. This is a piece of lacquerware excavated at the Korekawa archaeological site, in Aomori Prefecture.
This scroll dates from the 13th century. It shows people eating from black lacquerware dishes. From around that time, lacquerware became a part of daily life.
Later, lacquerware was associated with the tea ceremony, and the decoration techniques gradually became more sophisticated.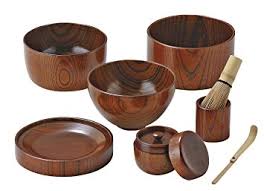 Urushi is a wonderful natural material which has played a significant role in the development of Japanese culture.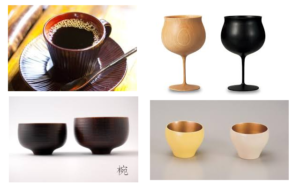 Why don't you enjoy cofffe, tea, wine and sake-cup made with pretigious Shikki・lacquerwares!
Buy It Now eBay  Shikki (lacquerware) Wajima Cup US $500.00